Every parent has them: those little shortcuts that save you time — and sanity! We asked TODAY Moms readers for your parenting tricks on our Facebook page, and you had plenty to share. (I'd even like to try out some of these on my 10-year-old and 8-year-old.) Here are some of your words of wisdom.

Keep that baby book up-to-date
Who has time to update that baby book? No one, that's who. You might BUY a book for the first baby, or even get one as a shower gift, but for the second, or third, or fourth child? Forget it. Sarah Nichols of St. Louis, Mo., however, shares this genius idea for how to keep track of all the milestones. "We have a cute white board in the nursery. When she hits a milestone, I write it down immediately on the white board. When the board is full I take a picture of it and save for later to record in her baby book."
Remember, it may be YEARS before they can cut their own food
There must be an easier alternative to cutting your toddler's meat for the billionth time. And there is, says Alicia White. "Pizza cutter is used all the time for cutting pancakes, waffles, and toast. It saves us so much prep time when everyone is hungry."
Encourage their artistic side — without the mess

Felicia Dawson shares this gem of an idea for your pint-size Picasso or mini Monet. "I put my son in the bathtub with only a diaper on, paints and paper. When he is done I set the papers to dry and remove the diaper and bathtime! Easy clean up!"
Ultimate multitasking
And while you're in there... "Clean the bathroom while the kids are in the bath playing," writes Carrie Purcell Bowers. 

Make the nights more restful — for everybody
"When my girls were little and had night-time 'accidents,' I kept two sets of sheets on their beds, with an extra "waterproof" mattress pad," says Tiffany Ermi. "Put on the mattress pad, one set of sheets.... then put on the other mattress pad OVER that set, then the other set of sheets. That way, if there was an accident during the night I could just take off the wet stuff and NOT have to deal with remaking the bed during the wee hours."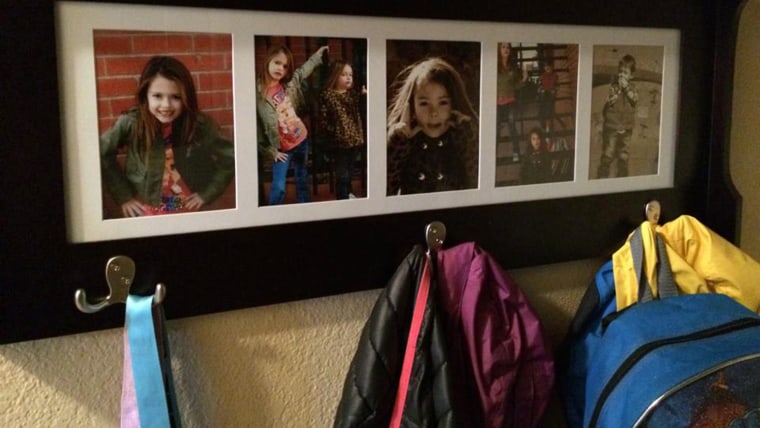 Get organized
"Each kiddo has their own hook for coats and bags," writes Chloe Resele Pozar.
Breast is best 
"Breastfeed," writes Amy Brown. "No bottle prep, no formula making, no sitting up awake in the middle of the night while you do all this and feed baby."
But if you are unable to breastfeed...
"I buy 8 oz bottled waters (the short ones) for when out and about and keep it at room temp in diaper bag," writes Lindsay Neely of Minneapolis. "That way I can just put the measured out formula in the empty bottle and pour the water in when baby's hungry. It's a lot easier to pour water into formula than the other way around — and it's one less thing I have to measure out when out of the home. And yes, I know... breast is best — do that it if it works you, but if it doesn't here ya go."
You can't argue with a timer
Kristi Kramer recommends setting timers for reducing arguments with your offspring. "Tell him 10 minutes till bed time... Let him hear the sound (usually a fun song) and tell him when he hears it that means time to brush those teeth. When it goes off I don't even have to tell him he is done and goes straight to the bathroom."
Encourage independence
"I teach my kids how to do things themselves, dress, brush teeth, shoes, clean up their own toys, buckles in car seats, etc.," Marge Tomas. "That saves time by not having to do it all myself and they gain confidence by accomplishing things."
After all, that's our job as parents: teaching them how to get by in the world.
Follow Joy Jernigan on Twitter @JoyJernigan or on Google+.