Two-week-old Evelyn Joy Debora Hall has quite a name — but an even more epic birth story.
By the wee morning hours of Monday, July 18, a very pregnant Destiny Hall was sure her second child was ready to make an entrance. Destiny, 26, had been having contractions for several hours. They became steady enough to convince her and her husband, Caleb, 28, to drive the 45 minutes from Granbury, Texas, to the hospital in Fort Worth.
But the doctors weren't convinced. "They told me I wasn't in active labor, and that they didn't even think she was coming this week," Destiny told TODAY. "They asked how bad the pain was on a scale from 1 to 10 … I told them it was an 8. They said to come back when it was an 11."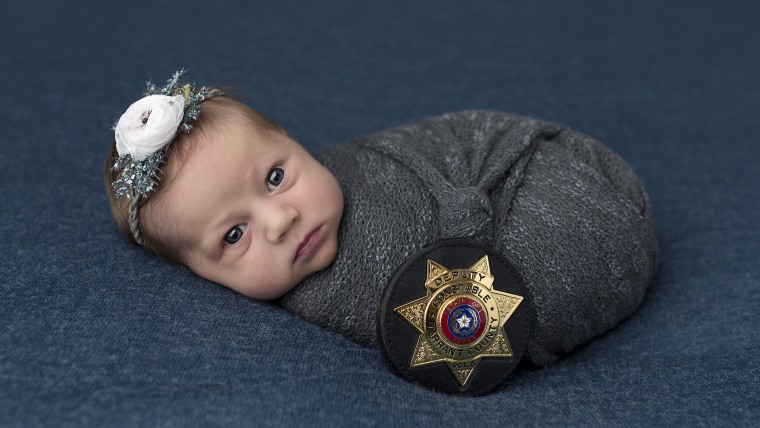 By then, it was almost 4 a.m. The Halls drove home confused. "I thought, there's no way I can go a whole week like this," Destiny said. "My body was saying, 'Hey, she's about to come right now!' But my head was saying, 'They just told me I wasn't in labor.'"
RELATED: The miracle of live-stream! Woman gives birth on Facebook Live
The contractions kept coming, hard and fast — and by 6:45 a.m., the couple were back in the car. Caleb lined the backseat with trash bags as Destiny rocked on her hands and knees in pain.
The pair traveled along the highway at a good clip until they passed Deputy Constable Mark Diebold, who was on his way to work. Diebold hadn't clocked in yet, but flashed his lights to signal that the couple should slow down. At that moment, Destiny's water broke.
At a stoplight, Caleb rolled down his window to fill the officer in on the situation. Wordlessly, Diebold turned on his lights and sirens to begin escorting the couple through Fort Worth's rush-hour traffic.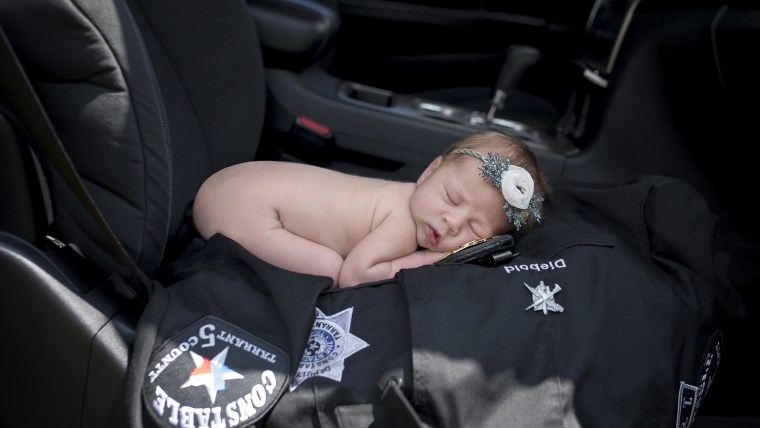 They were still 25 minutes away when Destiny realized she couldn't hold on any longer. "Caleb was shouting, 'We're gonna get you to the hospital and we're gonna have this baby!'" Destiny recalled. "I said, 'Ha! Pull over.'"
RELATED: Mom gives birth to 3 sets of twins in 5-year period
Right there, in front of the traffic (and some stunned construction workers), Destiny had her baby. "By then, I was on another planet. I just knew what I had to do," she said. "Officer Mark was holding my hand. It was one push, and then Caleb catches her.
"Officer Mark was beside himself — jumping for joy, high-fiving Caleb, yelling, 'You just caught your child!'" Destiny said. "They were like two little kids in a candy shop. Officer Mark said, 'Y'all just made my month.'"
The couple has stayed in close contact with Diebold. "We've been to lunch with him, met his family," said Destiny. "His wife reached out to tell me he had been having a rough couple weeks with all (the police violence) going on … He had asked for a sign to show that he was doing the right thing, and then this happened. She said, 'You have no idea what it means to us as a community and as a family.'"
RELATED: Mom gives birth to baby girl in Amtrak cafe car
It was that comment that sparked the idea for a photo shoot. "I wanted to give him something tangible he could look back on as a moment of hope," Destiny said. She initially wanted a photograph of Diebold holding her daughter, but given his demanding work schedule, she wound up used his badge instead.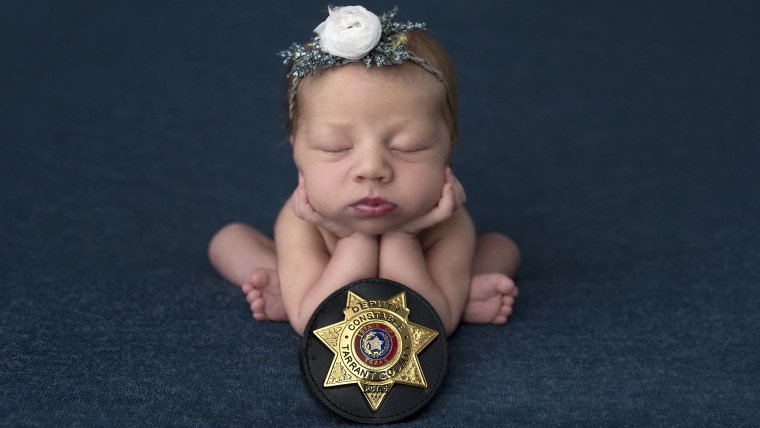 Now back to that name: Evelyn Joy Debora Hall. "Her name was going to be Elsie, but it was too big of a moment just to name her something that was cute," said Destiny. "Her birth reminded us of how life matters.
"'Evelyn' means life. Every person who heard the story said the word 'joy' at least two or three times, so we knew we had to have that in there," she added. And Debora was the name of Caleb's mother, who passed away the week before Evelyn was born. "This seemed like the perfect way to memorialize her," said Destiny.
She hopes others will see her daughter's birth as a story of a community working together — and a reminder of the many ways the police protect and serve. "Officers need to hear from people and know they're not alone," she said.
And all things considered? "We wouldn't have had her any other way," Destiny said.