Parents all suffer those moments that feel like the worst. Our kids push our buttons or misbehave and we just lose our cool, whether it's yelling at them in public or banishing them to their rooms "forever."
Whatever that worst parenting moment looks like in a family's life, it's generally not something we'd want to preserve with a photograph. But as one mom reminds us, there can be two sides to every meltdown.

Meagan Francis touched a nerve last week by posting a photo on Facebook that showed her carrying her screaming 3-year-old son Issac in a football hold away from a photo shoot at her brother's wedding. At the time, nearly 10 years ago, she was the pregnant mom of two young boys.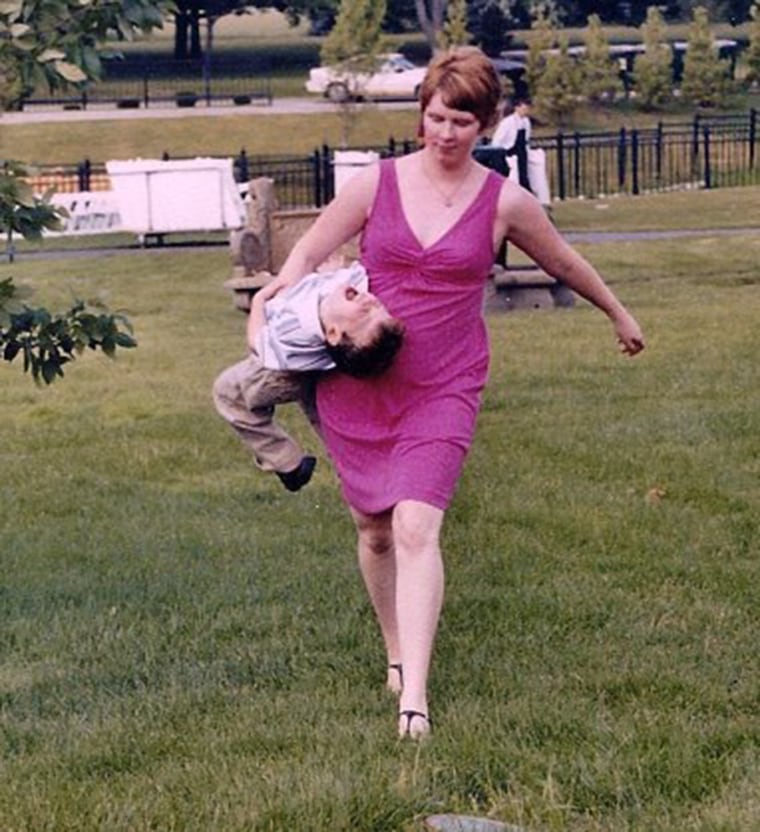 Under the headline, "The story behind my 'worst mom moment,'" Francis wrote on her website The Happiest Home that Issac was completely freaking out at the family function.

"He was a real handful back then, but he is now 13 and a more lovely young man you could not imagine," she wrote in the caption. "I just want to take my old self from this picture, give her a big hug and tell her everything really WILL be OK."
Comments from hundreds of readers were both supportive and sympathetic.
As one commenter said: "That gives me hope that my four year old will not turn into a hoodlum."
And another wrote: "This made me tear up. It's going to be OK, right? Thanks for sharing."
At the time, hauling her crying son away from the group did feel like her worst mom moment, Francis told TODAY Moms. She felt everyone was watching her and wondering how she would handle being a mother of three. But with the passage of time, she sees the day a bit differently.
"Looking back I think I handled it fine, but it was still one of those sweaty, flushed, totally embarrassing moments that most moms can relate to!" says Francis, now the mother of 5 kids.
"Now that I have more kids and 10 years have passed, I can see the situation with more humor and a lot more perspective," she says . "I'm sure people were watching and maybe a few were shaking their heads at my 'wild' child, but who cares? Now that I've got more kids and more parenting years under my belt I can also see how quickly these phases pass."
"It's so hard to parent in public sometimes, but when we look at the big picture (what's good for our kids, instead of what anyone else thinks) it's so much easier to do the right thing and feel confident about it," Francis wrote.
While these hard-to-handle moments may feel all too common, parenting educator Amy McCready says parents need to forgive themselves, learn from the episodes and put them in the past.
"It's about forgiveness," she said. "You are going to have really bad days and that's OK. You forgive yourself and move on. What can I learn from this experience? That helps us do better tomorrow."
She gave Francis high marks for acting in the best interest of her son.
"She recognized this child is melting down in a high-stress situation," McCready noted. "So often we let that public humiliation make things worse," she said. "Forget everyone else is around, deal with it and do what's best for the child in the moment."
Back on her website, Francis added a few more photos from the wedding, the final one showing her holding the hand of a smiling Issac later in the day. "I guess in the red-faced heat of embarrassment over the kids' photo-session behavior, I'd kind of forgotten this moment," Francis wrote. "No matter what you're facing, it gets better."
"Most people would say they have a list of worst parenting moments and we're often so much more critical of ourselves than we need to be," says McCready, author of "If I Have to Tell You One More Time."
"I think she did a great job," McCready says of Francis. "If you ask people what their worst mom moments are, you'll get a lot worse mom stories than that."
Have you had a 'worst parent' moment? Did you manage to learn, forgive yourself and move on? Share your experience on the TODAY Moms Facebook page.