One Conifer, Colorado, couple says they narrowly escaped unspeakable tragedy after rescuing their 3-year-old daughter from inside their washing machine.
Mom Lindsey McIver posted the story to Facebook, saying it's a cautionary tale to parents and caretakers about the dangers washer and dryers pose to children.
"On Monday my husband went to Lowe's and purchased this new front load washing machine," McIver wrote. "We thought it was the 'new and cool' type of washing machine and didn't think anything of it. We spent that evening installing it with the kids underfoot. We told them several times that they were not to touch it. They all replied 'OK.'"
Less than a day later though, everything changed.
McIver and her husband said they awoke to their 4-year-old son crying so hard he could barely talk.
"As I was trying to understand what he was saying, my husband flew out of bed and down the stairs. It was then that the realization hit. He had said: 'Kloe. Inside. Washer,'" she recounted.
Their young daughter was locked inside the washing machine with the machine rotating and water filling up inside.
"We were able to quickly stop it and unlock the door and get her out. Aside from a couple of small bumps on her head and wet clothes, she was fine. After going through all the 'what if's' and 'could have's' we know we are very blessed and God had mercy on our sweet daughter," she wrote.
Now she wants to educate other parents and caretakers about keeping your kids safe around front-load washers and dryers. She's since installed a child safety lock on the machine and encourages others to take similar measures.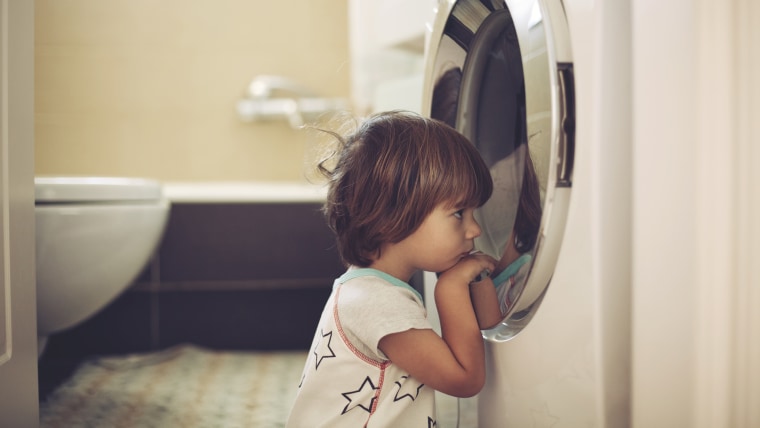 "I took this picture after we secured the door shut with a child safety lock. We also found a child lock feature on the settings that, as long as it is engaged, will not allow the washing machine to start. But it does not lock the door," she wrote.
The maker of the machine, LG, responded, issuing a statement: "We applaud Ms. McIver for telling her story and share in her efforts to make sure that consumers are aware of the child safety lock feature available on LG washing machines and dryers. We encourage people to use this important safety setting and to contact our customer support team if they need any assistance."
The most terrifying part, McIver told NBC News, was that the door to the washer was locked. "My husband doesn't remember what button he pushed," McIver said. "But I think he pushed pause and power, which helped us open the door. We believe what happened is that my daughter, Kloe, climbed inside and our son, who is 4, closed the door and pushed start. And then we think he panicked and came to get us." Their 6-year-old slept through the incident.
While the kids are "still traumatized," the McIvers haven't brought the incident up with them again, beyond reiterating safety protocols. "They are still scared about what happened. They don't want to be in trouble."
According to Taryn Brucia, Director of Public Relations for LG Electronics, the child safety lock that comes standard on all LG washers is not a requirement. "It's voluntary and optional," she told TODAY Parents via email. "LG has proactively elected to add this important safety feature to our products."
She noted that LGE can't speak for other brands in the industry.
"The child safety lock feature is available on all LG washers and models available at retailers nationwide," Brucia wrote. "On nearly every model, there is a Child Lock button on the control panel display. users should turn on the machine and then press and hold the Child Lock button for 5 seconds to activate it. Once activated, the machines cannot be used and a 'CL' (Child Lock) code will display."
Parents who need assistance can find instructions in the user manual or call LGE customer support.
More than 2,000 children each year are seriously hurt, and some die, after climbing, or falling into washers and dryers, or toppling down from them, according to Consumer Reports.
The National Center on Early Childhood Health and Wellness encourages parents to keep their washers and dryers closed when not in use. But some young children can open the doors and climb in regardless.
Watch: New gadgets that will keep your child safe at the beach or pool
The Association of Home Appliance Manufacturers issued a statement:
"Parents should feel comfortable talking with their children about safe and proper use of appliances in the home. U.S. safety standards address child entrapment, requiring that a latched door will open with 15 lbs. of force from the inside. However, once a clothes washer is activated, the door will lock and cannot be opened from the inside. Parents may also decide whether a third party latch on the outside of the washer is appropriate for their situation, depending on the age of the children in the home. We are heartened by the positive response to Ms. McIver's Facebook post, and encourage all parents to be fully aware of the proper and safe use of their home appliances. It's critically important to read the use and care manual to learn about available safety features and warnings."
To be extra safe, the Consumer Protection Safety Commission suggests installing a lock to the door of your utility room, "child-proofing" appliances and warning children to not play inside these appliances. To "child proof" your washer and dryer, the Wyoming Montana Safety Council encourages parents to install dryer locks and locking straps.