The early morning of November 5 was restless for Dacia Pittman and she spent it tossing and turning in bed. At 38 weeks pregnant with twins, she struggled to feel comfortable ever. After waking at 6 a.m. she felt cramping, which kept progressing. She realized labor had started and nudged her husband, Marcus Giffin, 26.
"I woke my husband up and said, 'Hey, I think we need to go to the hospital,'" Pittman, 23, of Caldwell, Ohio, told TODAY.
Never miss a parenting story with the TODAY Parents newsletter: Sign up here!
They packed a bag and she called her sister-in-law to meet them to pick up her older son, Harley, 8, and Billy, 5. As they drove the 25 minutes to the hospital, Pittman suddenly realized that the twins were not waiting.
"Oh lord, it just happened," she said with a laugh. "I was like, 'Babe, I don't think I am going to make it.'"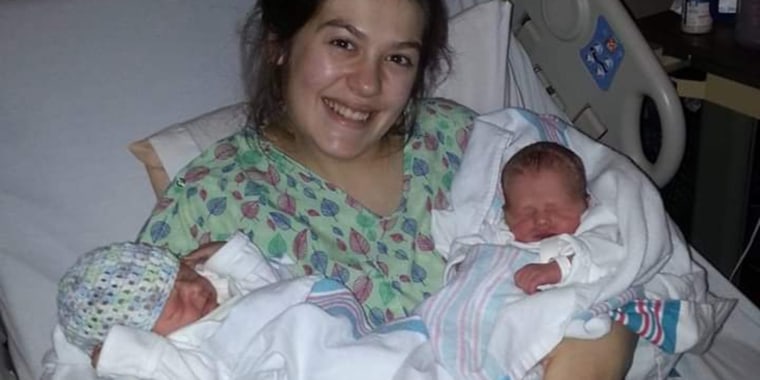 A moment later, Everett, who was 6 pounds, 3 ounces, was born in their jeep. As Pittman struggled delivering her newborn son, Giffin started asking for directions to the hospital. He had been to the doctor's office but wasn't sure how to get to the hospital.
"I showed him how to get there," she said.
About 10 minutes later as Giffin was speeding along the highway, following Pittman's directions, she started delivering Amelia, who was 5 pounds 15 ounces, and was born en caul.
"She was still in her sac. I broke it," Pittman said. "My husband was panicked a little. He said 'Babe, what do I do?" I said, "They are healthy and alive and crying … you don't have to speed.'"
When they arrived at the hospital, Pittman showed Giffin how to get to the emergency room. After parking, he again felt puzzled about what he needed to do.
"I said, 'Casually walk in and tell them we have babies out here that need to be taken in,'" she instructed her husband.
A handful of doctors came out with blankets and a stretcher for Pittman. They asked if she could walk and she said she could.
"I got out of the jeep and crawled onto the stretcher. Mind you I was naked," she said. "The doctors were pretty surprised. "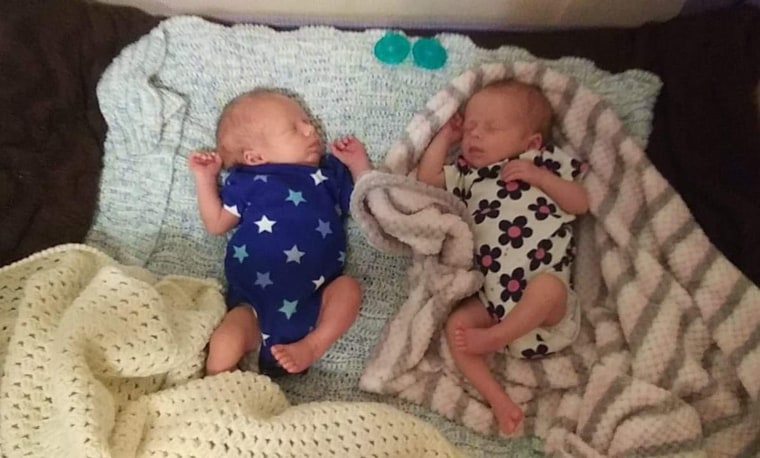 Both babies were big enough that they didn't need a stay in the neonatal intensive care unit (NICU) and they went home two days later. Pittman feels very lucky.
"I wanted healthy, good size-babies. I didn't want to deal with the NICU. My big fear was having a C-section. I didn't have a C-section but I wasn't expecting to have them outside the hospital," she said.
Everett and Amelia have been thriving and Pittman said this is the last time she'll ever be rushed to the hospital in labor. She and Giffin are not having more children.
"I'm done. I got my little girl," she said. "Four kids is enough. My luck I would have boys."