A photo shoot involving kids re-creating intense scenes from AMC's "The Walking Dead" has unleashed bloodthirsty hordes claiming the pictures are inappropriate.
New Jersey mom and professional photographer Alana Hubbard has defended her photos of children, including her son and daughter, dressed up as characters from her favorite show in various memorable scenes.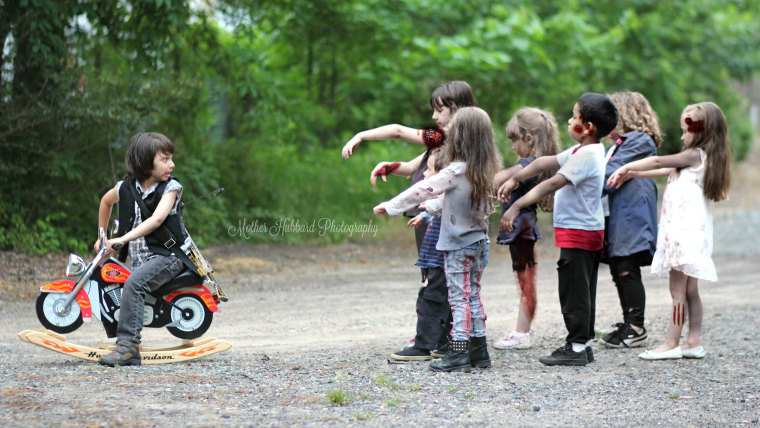 "I don't see it as a problem,'' Hubbard told TODAY. "I can't fathom how people rationalize what's acceptable and not acceptable. Apparently people can't wrap their brain around kids playing modern-day cops and robbers."
RELATED: 'Dressed to kill': Watch Natalie transform into a 'Walking Dead' zombie
The scenes re-created from the show, which aired its sixth season earlier this year, involve a number of key characters: Carol shooting the young girl Lizzie in the head, villain Negan preparing to smack someone with a baseball bat covered in barbed wire, and Daryl Dixon escaping a pack of zombies on his motorcycle.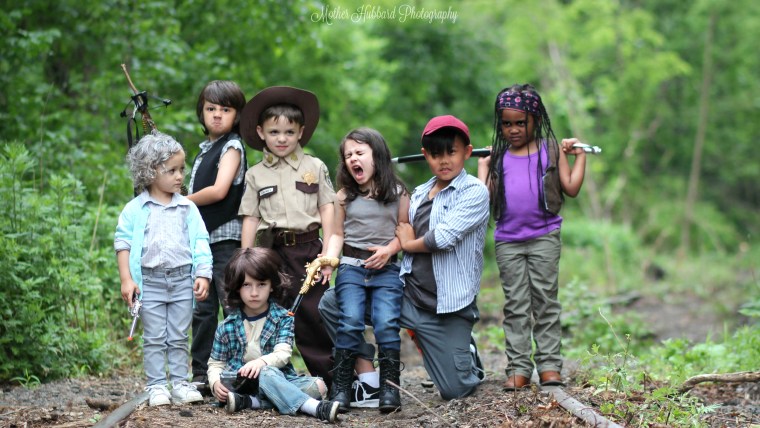 Despite many messages of support on Hubbard's Facebook album, the backlash was swift. "Good grief! I like the walking dead, but it's an adult show for a reason!" wrote one commenter. "This is just disturbing."
"I think it's pretty sick for you to expose children to the show or these ideas in general," wrote another. "Would you let them pose or 'pretend' for Fifty Shades of Grey? Equally disturbing. What a bummer for you to use your talent and public forum in this way."
Added another commenter: "What you believe is art is nothing more than undermining everything a TRUE parent needs to teach their child! Life is worth living! Showing a child death before they even understand what life is, is horrific! Teach them value so they understand the loss!"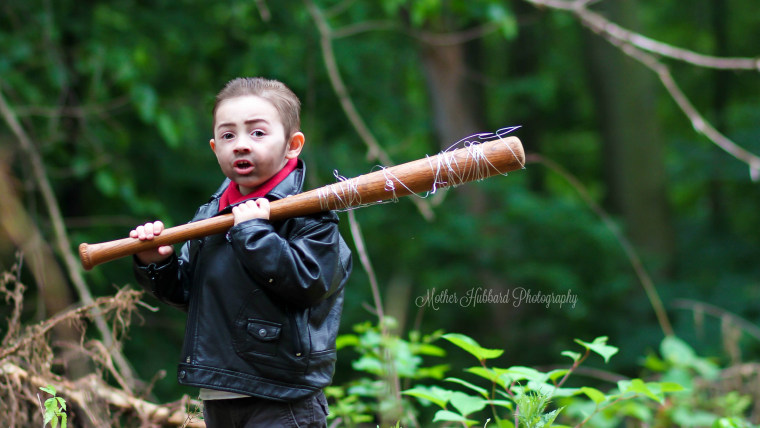 But Hubbard remains unfazed. "I don't remember people making outraged posts when Lizzie was shot on the show,'' she said. "I just re-created that scene with a photo, so I don't see the difference."
Hubbard, whose 2014 photos of a girl fighting cancer dressed as a princess went viral, had the photo shoot in the woods near some abandoned train tracks in Fords, New Jersey, on June 3 with a group of 24 kids, ages 4 to 7. The shoot included her daughter, Mariana, 3, and son, Mason, 5, who played the characters Carol and Rick in the photos.
"Art is subjective,'' Hubbard said. "Art creates emotion. If everyone just posts lollipop and gumdrop photos, what's the point of that? If this was an off-Broadway show featuring children as 'The Walking Dead' cast, do you think there would be any outrage?"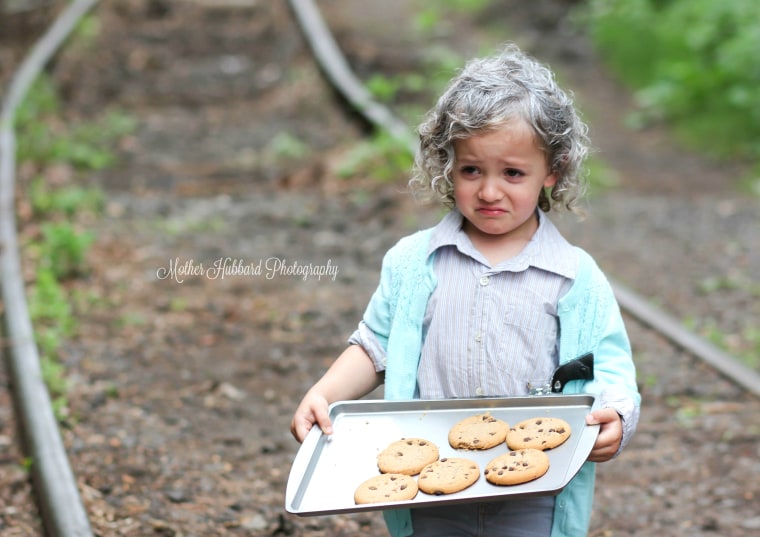 The blood and zombie guts were all added on Photoshop after the shoot, and the props were all toys, from the guns to a piece of jewelry standing in as the barbed wire on Negan's bat.
"None of the children had ever seen the show," Hubbard said. "It was more about dressing up and having fun."
Her Facebook post has been shared more than 200,000 times and prompted a torrent of comments, including hateful remarks about her parenting and others directed at her daughter.
At the same time, she received a message from Facebook saying she was being blocked from using her page for 72 hours for violating the company's policy about posting inappropriate photos. The company later admitted it was an error.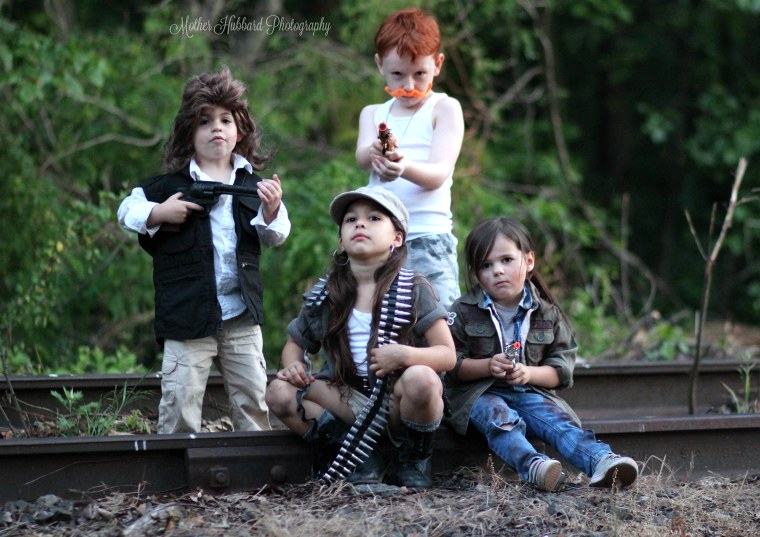 "I was furious,'' she said. "As a small-business owner, Facebook is my livelihood and I pay a lot of money to them for people to see my posts. At the most critical time of my career, they're banning me from answering people looking to book sessions and preventing me from deleting comments from people saying terrible things about my business and children.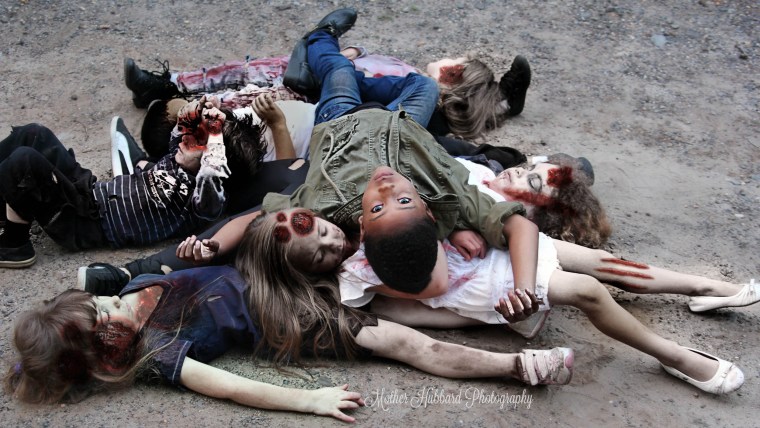 "Facebook basically tied me up and allowed the angry pitchfork moms to come burn me."
"The photo was removed in error and restored as soon as we were able to investigate," a Facebook spokesperson told TooFab.com. "Our team processes millions of reports each week, and we sometimes get things wrong. We're very sorry about this mistake."
While the photos have generated some negative feedback, they also have been popular with "The Walking Dead" fans and were even posted by the official site of the comic. And Hubbard is planning to do another photo shoot, except this time she wants to re-create the scenes with people 65 and older instead of children.
"I'm trying to focus on the positive,'' she said. "I would take all the haters, abuse, death threats and people calling my daughter horrible names if I knew this would lead to being recognized by the show. I don't regret it. I would do it over again."
Follow TODAY.com writer Scott Stump on Twitter.