When 17-year-old Sophia Davis began dating and attending dances, her mom, Susan Bitar, observed what she considered unusual behavior.
The boys still asked the girls to the dance, but the girls planned the evening. Davis and her girlfriends selected a restaurant, made reservations, arranged transportation, and figured out the check. Bitar thought if the boys were doing the asking, they should plan the date (and if the girls do the asking then the ladies should be the planners).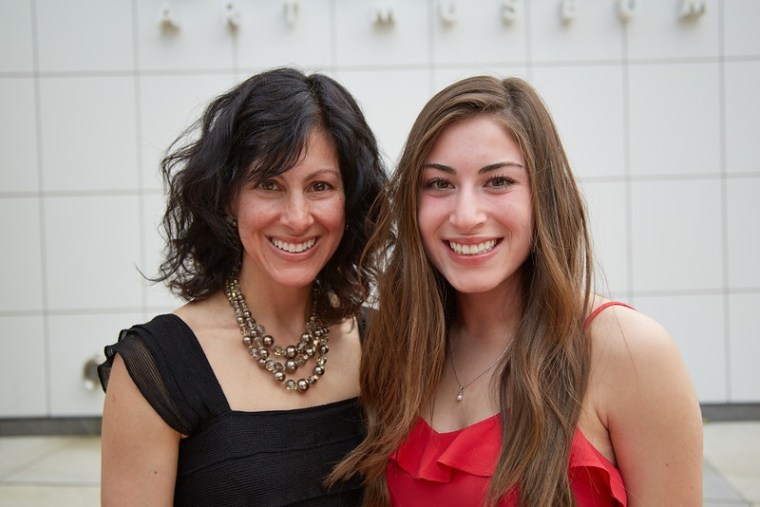 As Davis explained to her mom: "It's just easier if the girls do it. The boys won't do it," recalls Bitar.
After learning this, the single mom, who works as a PR consultant in Sacramento, Calif., started talking to her daughter about dating etiquette. 
She recommended that the girls let the boys try. The guys might learn important lessons, she said, even if they made mistakes and this might help them later in life -- perhaps during college, when some of them would need to plan a business lunch or meeting. 
Bitar believed that understanding how to plan for a dance provides them with low-stakes practice.  

This dialogue led to the creation of a dating etiquette brochure. The pamphlet, co-written by mother and daughter, discusses the basics of courting—how to ask someone out, plan for a date, dress, and use all of that silverware on the table.
"We want to bring chivalry back and hand some responsibilities to the guys," Davis says.
Bitar adds: "The hardest thing was keeping it focused on dating."
After months of writing and editing, the duo published the brochure "Dating Etiquette: It's Always in Fashion—A guide for Guys & Girls," which they distributed to students at Davis' school, Christian Brothers High School in Sacramento.
"What makes it so attractive to young [people] is because it is really short and they can just flip through it," Davis says. "We actually handed it out when homecoming came around."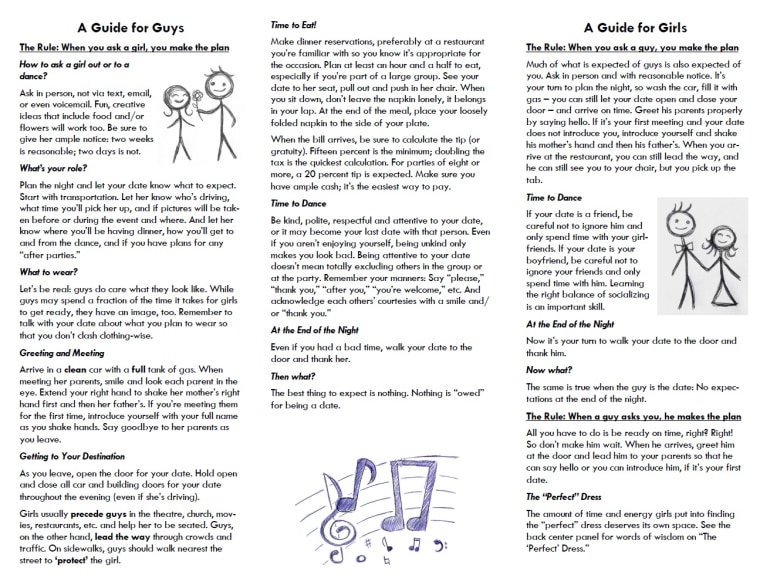 Despite generational differences, mom and daughter rarely disagreed. While texting as a way to ask someone out seemed OK, after listening to her mom, Davis realized that she liked the idea of a personal invite.
One of the very first rules offered in the pamphlet for both guys and girls is that they ask their dates out face to face. Davis believes this adds an element of fun and she should know. Two years ago, her homecoming date asked some friends to help him make a 30-foot banner inviting Davis to the dance, which the cheerleading squad raised during a football game. Not to be outdone, her date this year also crafted a banner in her honor and potential dates have even given her chocolates to ask her out.  
"It's all about face-to-face communication and that just shows respect and makes people feel very special. When they put in the effort and want to meet you face to face, it is just consideration and that is what manners are all about," Davis says.
In addition to tackling the etiquette of the ask-out, the brochure covers how to dress, stressing that a person should "show off your best self." It also covers table manners, which can seem daunting, especially when it comes to all that silverware. A cleanly designed illustration accompanies the instructions, helping teens figure out their place settings.
While Bitar and Davis referenced etiquette guides to write the brochure, some of the knowledge felt inherent to Bitar, who grew up with parents who valued proper manners.
"I had an aunt that you would have thought was related to the queen of England she was so old-fashioned [when it came to manners]," she says.