/ Source: TODAY Contributor
Angelica Sweeting was devastated by what she heard coming from the backseat of the car: Her 3-year-old daughter was saying she hated her kinky, curly hair and dark skin, and longed for straight locks, fair skin and thinner facial features.
"She wanted to look like Barbie and she wanted hair like Elsa, long blond hair and white skin," Sweeting says of her daughter, Sophia, now 4. "I was really, really sad that my daughter would think that at such a young age...I knew I had to do something about it."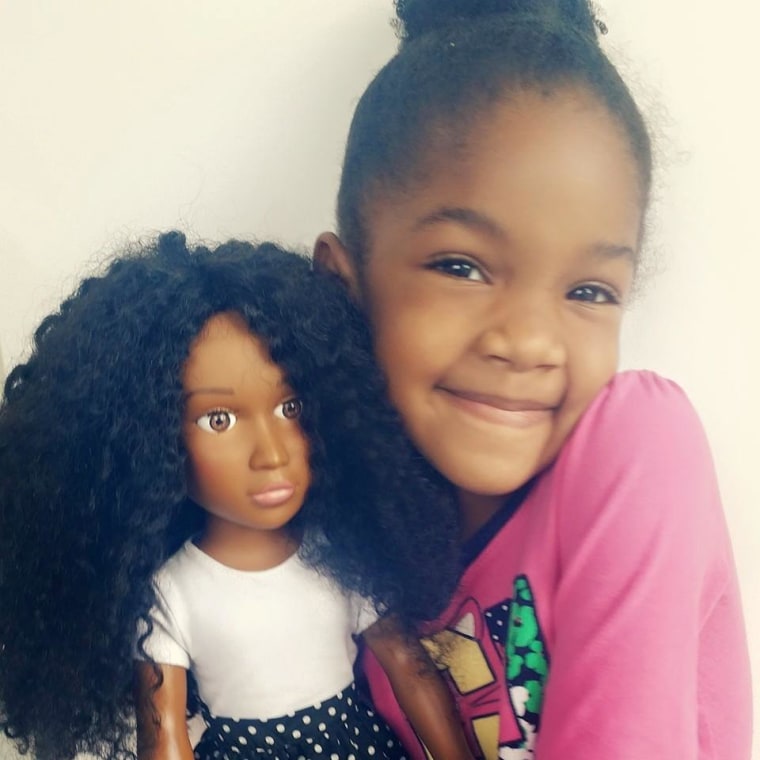 Sweeting, 27, and her husband began practicing daily affirmations with Sophia to reinforce their daughter's beauty, and she looked for a doll that truly looked like Sophia. When she couldn't find one, Sweeting decided to create one herself.
With Sophia's help, Sweeting got to work on Angelica, an 18-inch doll with natural, washable kinky hair, fuller facial features and brown eyes. The doll's facial structure was sculpted from photographs of mother and daughter, and her hair looks like Sophia's.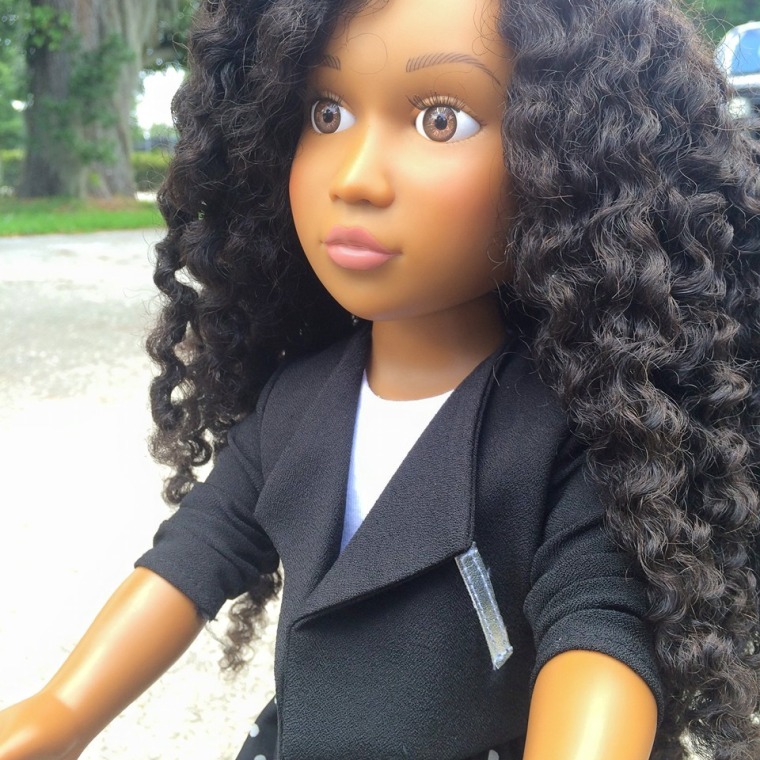 "We created the Angelica doll to help my daughter with self love, so she would always see a positive reflection of herself in the toys that she plays with," says Sweeting, whose younger daughter,Sydney, is almost 2.
"The Angelica doll has facial features that are true to women of color," she said. "She is here to expand our spectrum of beauty and to give little girls more, so they're able to see that beauty comes in different shades."
Sweeting sees Angelica as a contrast to other dolls on the market.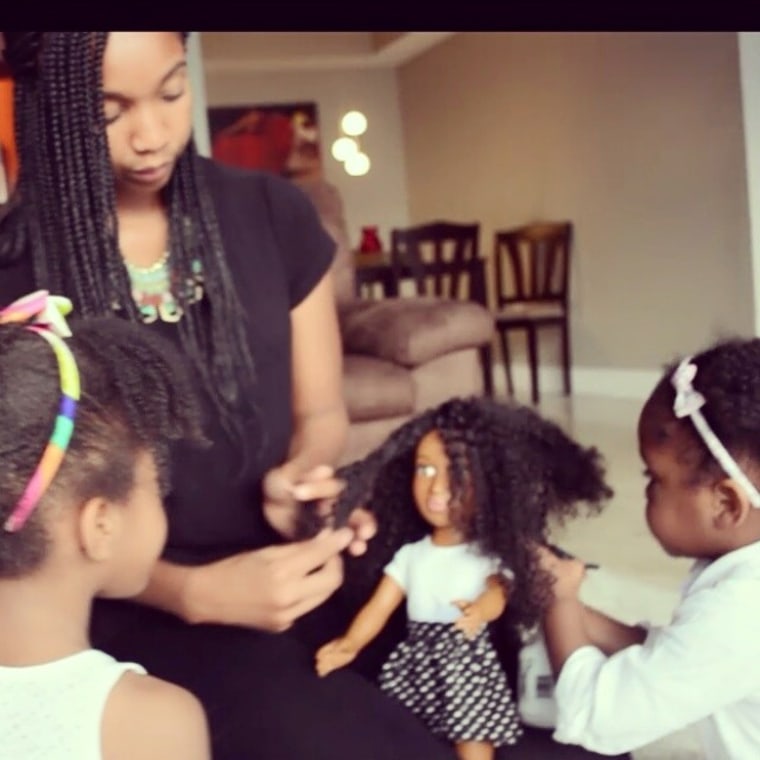 "There are other black dolls now but a lot of black Barbie dolls still have facial features that are Caucasian or more European and all have long straight hair even though it's black," she said.
Sweeting took to Kickstarter earlier this month to raise the $25,000 to enable her company, Naturally Perfect Dolls, to produce the first 1,000 dolls. She has raised more than double the amount since May 19, and hopes to produce and ship the $85 dolls in time for the holiday season.
Her husband, Jason Sweeting, a musician who also helped out on the project, said they realized "a lot of young ladies — really, really young, like 3 and 4 — have self-image issues already."
He hopes the dolls will help them see the beauty in themselves without wanting to change their looks. "There's a large and wide spectrum of beauty and I just want it all to be represented," said Sweeting, 34.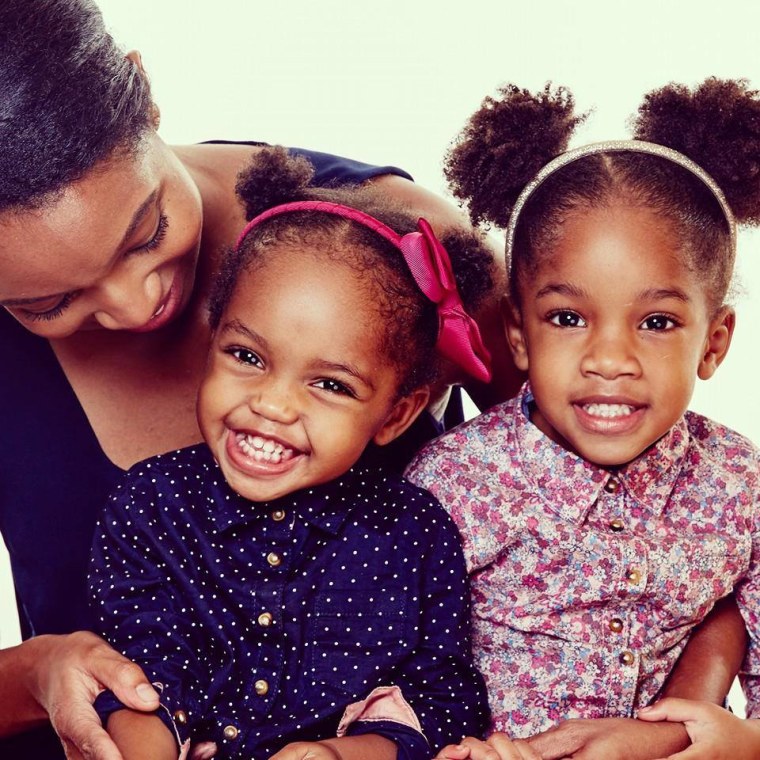 Angelica Sweeting, who quit her job as a grants manager to launch the doll, involved Sophia in the process, asking for her opinion on details such as the doll's eye color, hair texture and clothing.
"Her insight was very valuable," says Sweeting. "We always got a thumbs up or a thumbs down from her before we made a final decision."
The Angelica prototype arrived at Sweeting's Miami home in March, and her daughters have been enjoying playing with the doll and styling her hair. Sophia is learning about caring for her own hair by styling her doll's hair, lessons Sweeting hopes will help her accept her natural hair and avoid chemical relaxers later on.
Sweeting hopes to create other dolls representing a range of dark skin tones and hair textures. Like Sweeting, the Angelica doll is an "entrepreneur" but future dolls may be "engineers" and "journalists" instead of princesses or fashion girls.
Dolls are more than just children's play: In the 1940s, researchers found that young black children preferred white dolls over black ones, in studies that were used as evidence in the landmark 1954 Brown v. Board of Education school desegregation case. Sweeting says there is still work to be done.
"We would like to think we've come a long way but we really haven't," Sweeting said. "To find a black doll that is true to us is really difficult.
"We want to make this more mainstream and ensure young black girls have a positive reflection of them in store shelves or online," she added. "I can understand why little black girls would pick a white doll. It's because that's all they see, the only image that's being pushed to them on stores shelves and on TV."
The Sweetings say Sophia is happier and more confident and no longer expresses a dislike of her looks. They credit both the doll and the affirmations.
"As a mom it makes me feel proud," Sweeting says. "I love knowing my daughter loves herself and she's proud of who she is and what she looks like."
Lisa A. Flam, a regular contributor to TODAY.com, is a news and lifestyles reporter in New York. Follow her on Twitter.