/ Source: TODAY Contributor
Beth James was a single mom-of-three when she and her children were in a severe car accident 13 years ago. While two of her kids suffered only minor bumps and bruises, her youngest child, Liza, then 6, endured a blow to the head that left her with a traumatic brain injury.
Today, Liza, 20, is non-verbal and unable to walk. But, thanks to her mom, Liza travels the country, swimming, biking, running and even climbing mountains.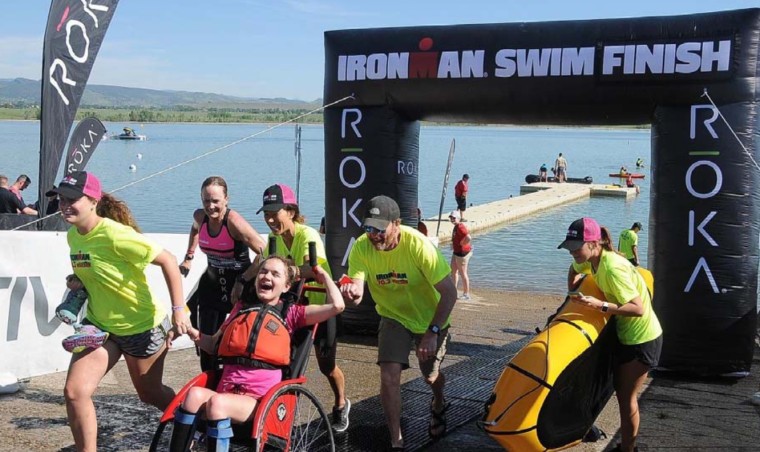 "After the accident, I decided to get Liza out of the house and keep her active — keep her included," said James, who has competed in more than ten marathons and triathlons with her daughter, in addition to numerous 5K and 10K races.
"It keeps her beautiful, special brain thinking and striving, and that's my goal," James told TODAY Parents. "I don't want her to be dark and lonely or to be sitting in a corner somewhere."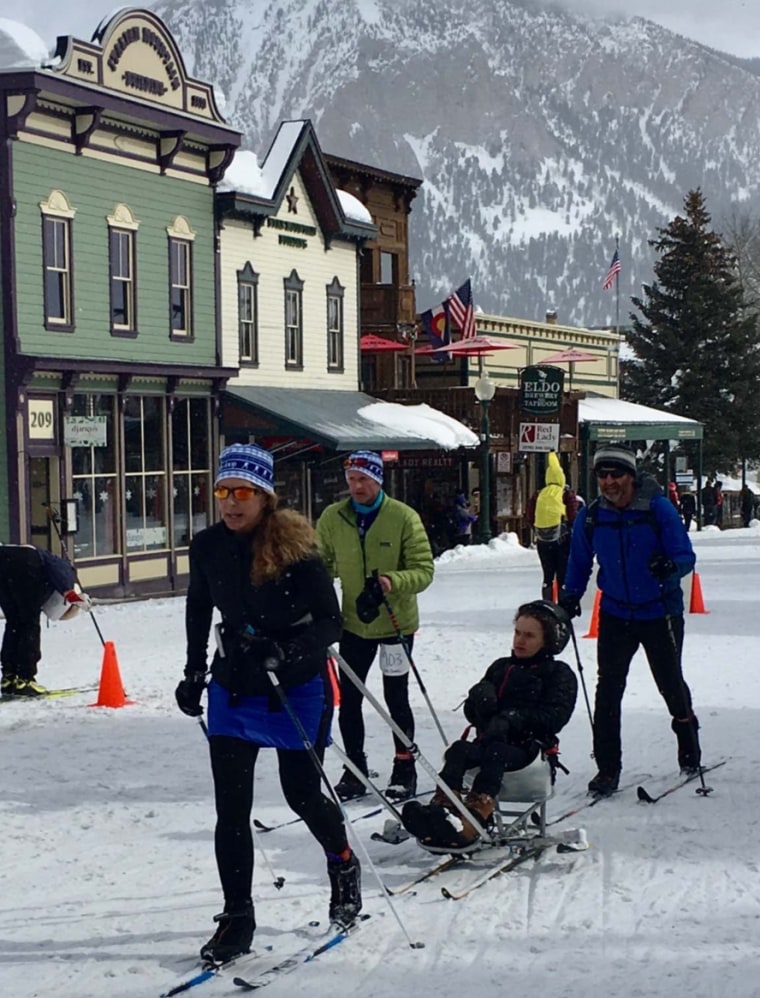 The duo most recently competed in the Raleigh Half Ironman, a North Carolina event where James swam and biked while pulling her daughter behind her, and ran while pushing her along the course.
In an interview with Raleigh news station WRAL, James detailed the specifics of the race — a 1.2 mile swim, a 56 mile bike ride, and a 13.1 mile run, all while pushing or pulling her daughter.
"Her favorite portion — besides the finish line — is the run," explained James. "That's where there's the most interaction with people...the camaraderie she has with all of the individuals participating is just beautiful."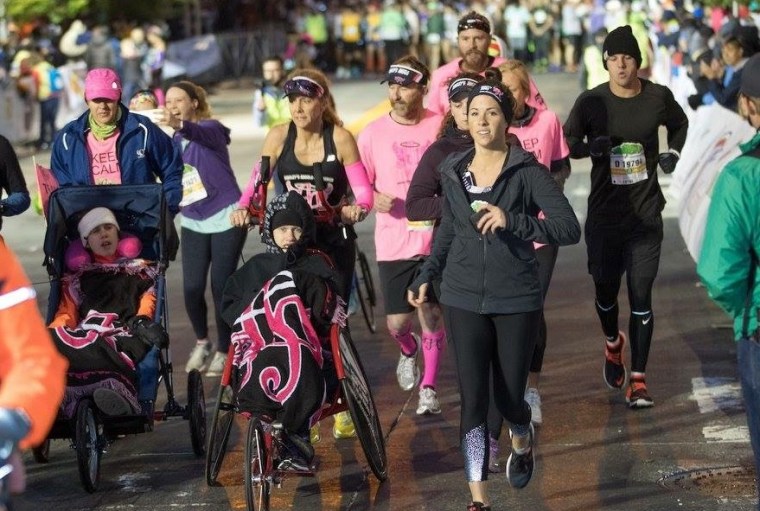 Liza and her mother are also representatives of Ainsley's Angels of America, a non-profit organization that works to enable the special needs community to participate in endurance events. Kim Rossiter and his wife, Lori, started the organization in memory of their daughter, Ainsley, who died of a rare, neurological disorder.
"Beth and Liza's dedication...reinforces their unselfishness and strong determination to educate the nation on the power of inclusion athletics," Rossiter told TODAY via email. "We are grateful to have them as such strong icons of perseverance for (our organization.)"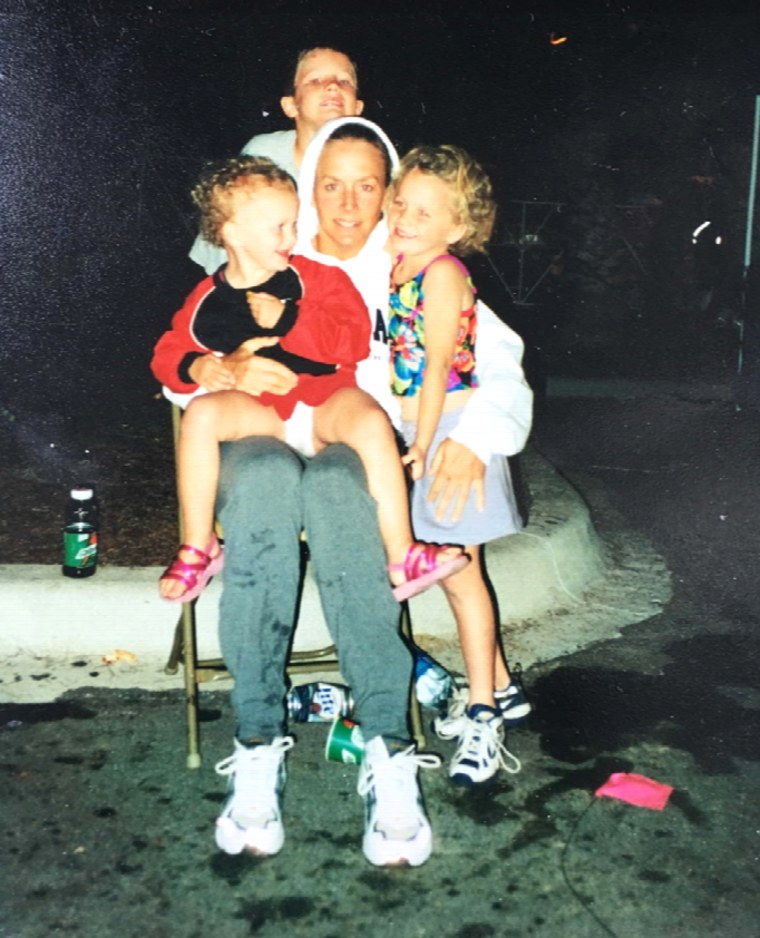 James met her husband, David, after the car accident, and says he has been a constant source of support for herself and Liza as they travel the country competing. The trio travels by van from event to event, so that they can carry Liza's specialized running chair and raft with them.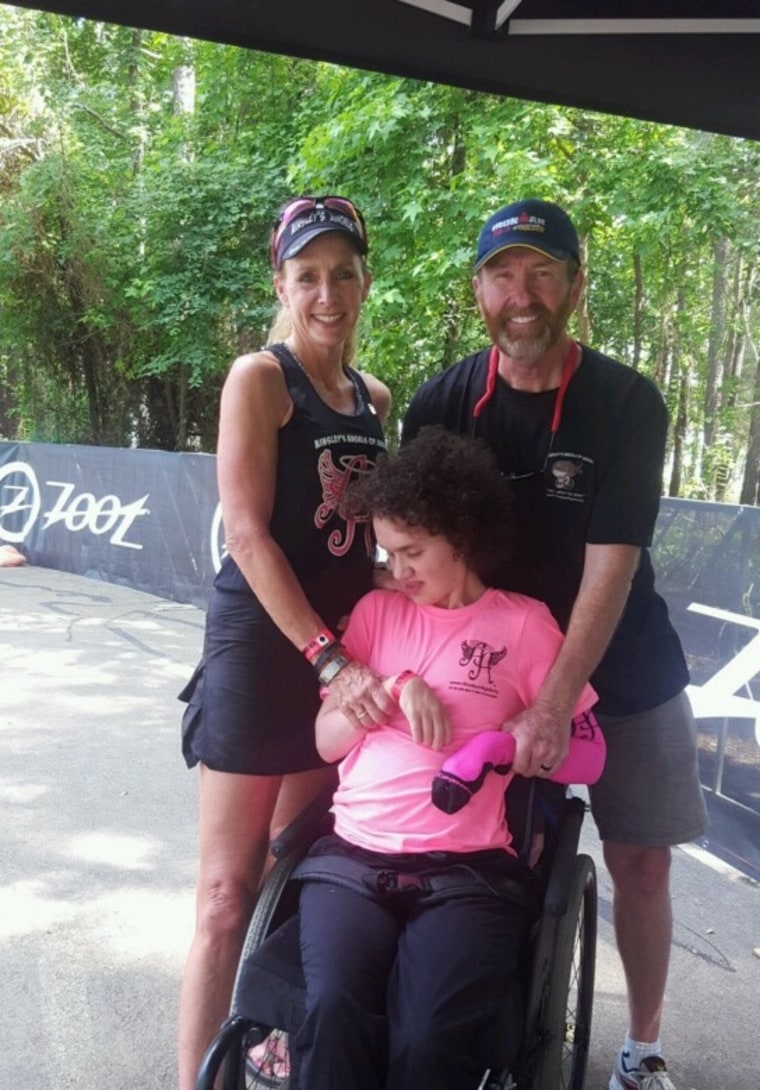 With the Raleigh Half Ironman complete, James says her focus has turned to a full Ironman, which she and Liza will compete in next year. The 52-year-old Colorado woman says she has already begun training for the event — weight lifting, cross training and competing in additional races on her own to prepare for the task of pulling another the weight human — and the necessary equipment — along the course.
Never miss a parenting story on TODAY.com! Sign up for our newsletter here.
"I'm determined to gain as much strength as possible," said James. "I just work to gear my body from top to bottom to prepare it to endure, because Liza's happiness is the bottom line."
"The most beautiful thing to my heart and my soul is when I see and experience her happy expressions and she grabs my neck with her one arm that's strong and about pops it off with a hug," James continued. "That's the bottom line, and as long as I can continue to give life to that beautiful, happy girl, I will."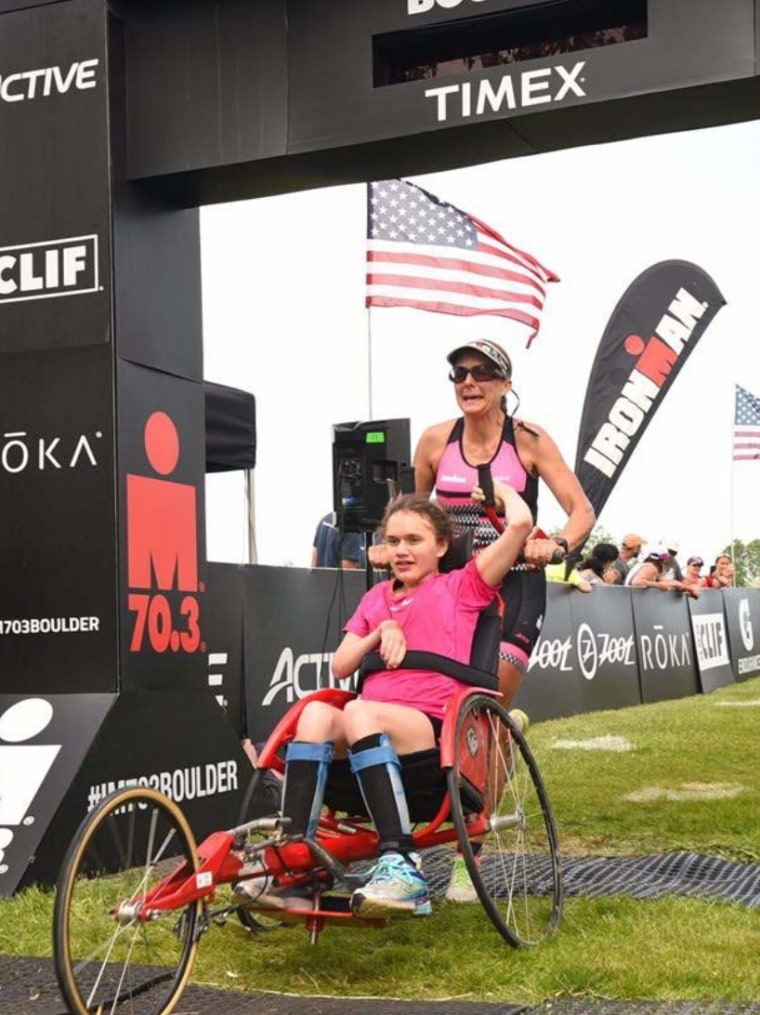 James says, when not competing in endurance events, she and her husband keep Liza active in outdoor activities in their community. Later this year, they plan to push their daughter to the top of Pike's Peak for the second time, as a part of the Brain Injury Alliance of Colorado's "Pike's Peak Challenge," an annual fundraising event held by the organization.
Tina Ziwak is the special events coordinator for the organization, and says she and her coworkers follow Liza's journey and continue to be in awe of the message her family is sending about brain injuries and the need for inclusion.
"Seeing the joy and excitement on Liza's face as she reached the summit of Pike's Peak was amazing," Ziwak said in an email. "Her parents pushed her up the Pike's Peak Highway — 13 miles with 10,000 feet in elevation gain. If that doesn't show their dedication to...their amazing daughter, I don't know what does."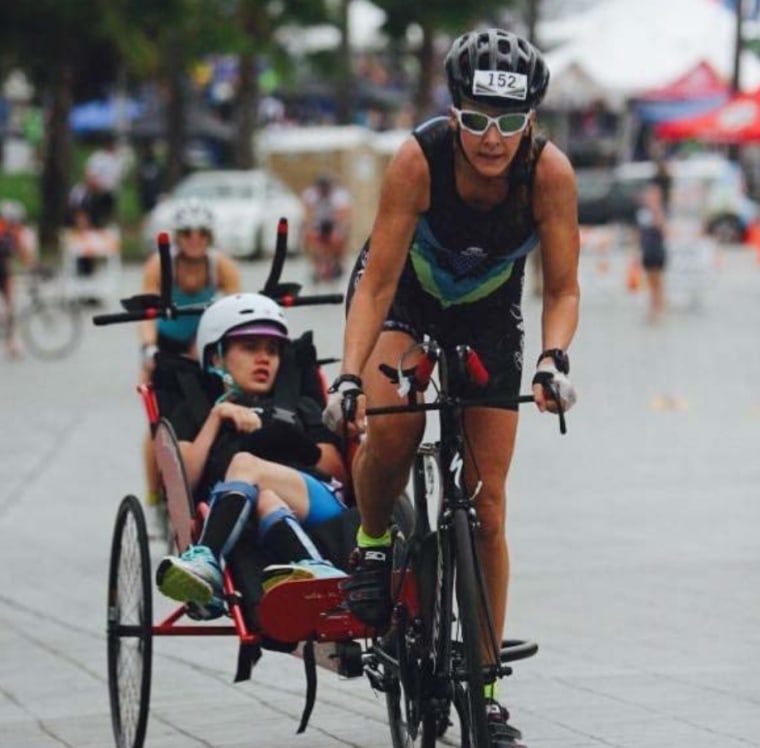 James says she and her husband, with the help of their other two children, Alexandra, 22, and J.C., 25, will continue to compete in endurance events with Liza for as long as they are able.
"We're really a large team," said James. "And Liza — she cannot speak — but her smile and her reactions make all of our efforts worth it."