Katie Bower, a blogger and mom of five, went viral this week after sharing her thoughts about her 6-year-old son on Instagram. Now, after being widely slammed for her post, Bower says her intentions were misunderstood.
"Guys I am gonna be perfectly honest," Bower wrote in her original post, which has since been deleted from her Instagram account. "Instagram never liked my Munchkin and it killed me inside. His photos never got as many likes. Never got comments. From a statistical point of view, he wasn't as popular with everyone out there...I say all that because I want to believe that it wasn't him — that it was on me...because I truly KNOW that my Munch deserves alllllll the likes...whether or not a stranger gives it to them."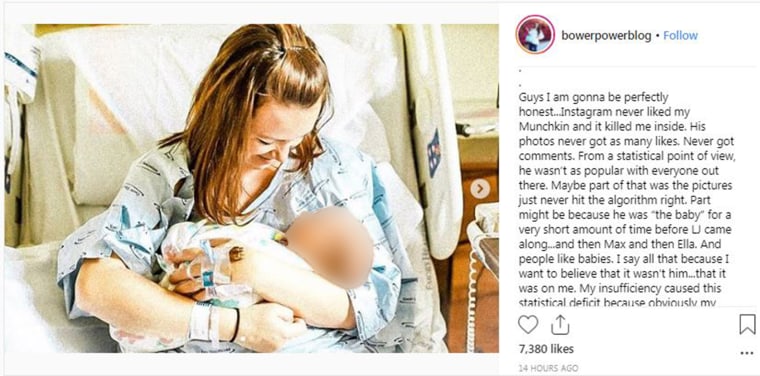 Followers of Bower's blog, Bower Power, were quick to comment on the post, heavily criticizing the Atlanta, Georgia mom for caring about her child's popularity on social media enough to create a post asking for likes on his photo. The reaction soon spread across the internet.
"Here we have the #1 reason why your kids should never be your personal brand," entertainment reporter Keri Lumm wrote on Twitter, summing up many of the responses.
Bower tells TODAY Parents she was shocked by how her words and intentions were "so easily twisted."
Never miss a parenting story — sign up for the TODAY Parents newsletter today!
"I adore all my children and do not see them in terms of 'likes,'" Bower said in an email. "I decided to talk about it because I learned a valuable lesson — that our value doesn't depend on someone else seeing our worth. Numbers are public already. Everyone can see the likes and comments. And as a parent, those numbers mean absolutely nothing. Nothing can change the fact that ALL children are special and unique and deserve love. The numbers have zero meaning."
"But unfortunately from a business side," Bower continued, "we hear 'keep posting the content that brings in the most engagement.' I personally hope my actions show that I am going to keep posting what I love no matter the numbers and that, as parents, we have to teach our kids their value isn't in online approval. Our real lives are 100 percent better than a tiny photo can portray."
Laura Tierney is president and founder of the Social Institute — an organization that helps parents, teachers and kids navigate social media safely. Tierney says often, social media "likes" are a form of addiction for both kids and parents.
"Likes are the equivalent of social media currency. When someone likes, shares or comments on your post, you get a hit of dopamine — a chemical that's associated with pleasure," explained Tierney. "The more times you experience a rush of dopamine, the more you crave and seek it out.
Tierney says in order to combat this addictive tendency, social media users may want to turn off or mute their phone notifications. And, Tierney cautions bloggers and other social media users that often "likes" aren't as indicative of success as people assume.
"Keep in mind that likes don't always mean as much as we might think. Research shows that adolescents are more likely to 'like' photos with a lot of likes, showing the power of peer endorsement," said Tierney. "So, sometimes people like something just because everyone else is doing it."
Tierney shares a visual she gives when speaking about social media to students.
"When I was growing up, I played field hockey for Duke and Team USA. When I scored a goal, I wouldn't immediately count the number of high fives I received — what mattered was that moment. What mattered was that you got a high five — not how many you got. That same principle applies to likes and social media. Let the moments you experience define you — not a simple number."