Mothers and daughters build a strong bond through a lifetime of shared experiences. For Riki Graves and her infant daughter Juliana, it has only taken a few months, thanks to dual medical battles that each have fought…and won.   

When she was two months pregnant, Riki Graves, 38, was diagnosed with breast cancer.
"I don't have time for breast cancer," thought Graves. But the working mom of a 3-year-old boy immediately dove into cancer treatment. She had a lumpectomy, then a second surgery to remove the lymph nodes in her right breast.

At her 20-week ultrasound, Graves was thrilled to learn that she was having a girl, then devastated when doctors diagnosed her daughter with a congenital heart defect. The baby had a hole in her heart and wasn't pumping blood properly. Graves was told that the baby may not survive the pregnancy.

"I went from being excited about the pregnancy to freaking out," Graves says. "I said, 'This can't be happening. You know I have breast cancer, right?'"
Oncologists at MD Anderson Cancer Center in Houston recommended that Graves have chemotherapy. Doctors assured her that it was safe while pregnant and wouldn't harm the baby. Indeed, the medical community has made great strides in recent years in learning how to treat pregnant women for cancer without sacrificing the baby.
Related link: Pregnant with cancer, and healing for two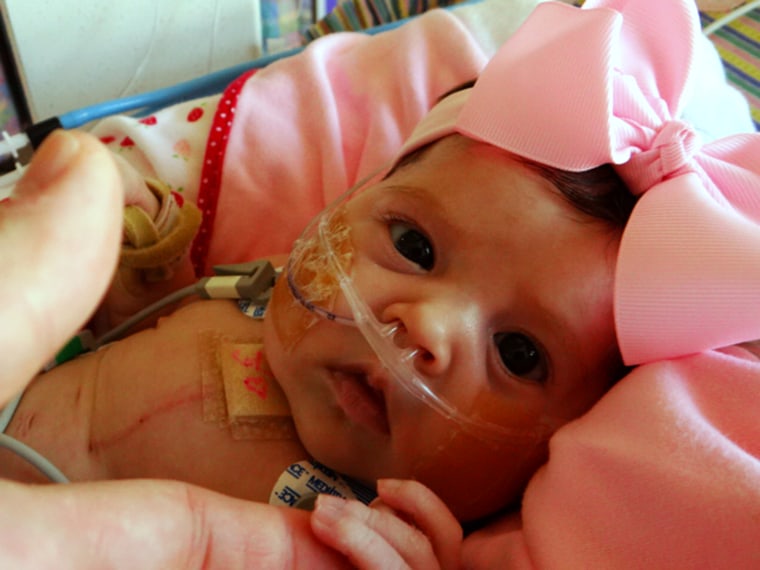 Still, Graves worried that chemo would stress her already sick baby too much. 

Doctors said there was a 17 percent chance of the cancer coming back if Graves didn't have chemo, and a 14 percent chance of recurrence if she did have chemo.
Graves decided to pause her cancer treatment, skip chemo, and wait to have radiation until after her daughter was born. "To me, at that time, it was not worth it," she says.
Graves quit her job as a health care administrator, and her husband, Chris Graves, a major in the Texas Army National Guard, took leave. The family moved from Corpus Christi to Houston to be closer to Texas Children's Hospital.
Meanwhile, their baby's heart condition worsened.
When Juliana was born April 9, surgeons said her heart wasn't strong enough for the surgeries she needed to survive. Doctors gave the couple two options: They could take the baby home and say goodbye. Or, they could put her on a heart transplant list. But, doctors cautioned, it's almost impossible to get a newborn heart.
Inconsolable, the couple had another difficult decision to make. Graves's maternal fetal medicine doctor told Graves that if she wanted to try to get pregnant again, she would help. Graves said no. "I told everybody, 'I don't want another baby. I want THIS little girl,'" she says.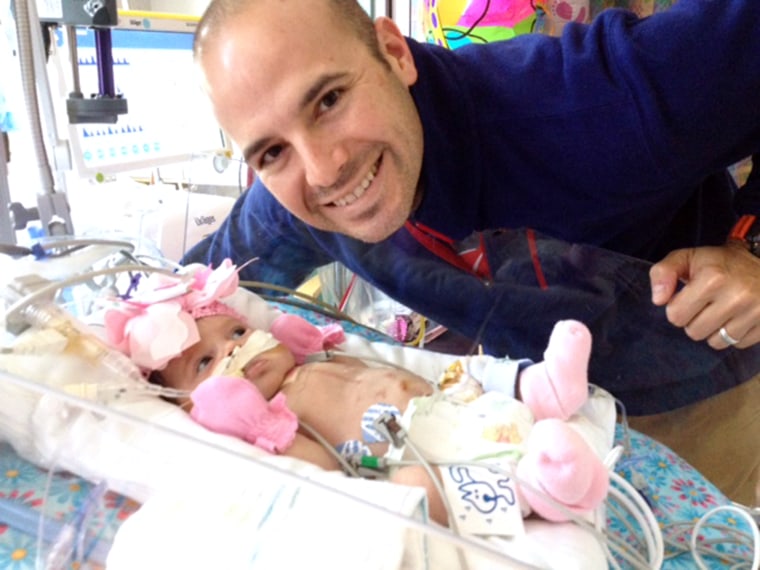 She put her daughter on the transplant list. "I wasn't ready to give up hope yet," Graves says.

Five days later — when Juliana was 17 days old — she got a new heart.
"It was a perfect match," Graves says. "It was the perfect size. And it was really strong."
Immediately, Juliana started improving. Her skin turned from gray to pink. "We call her our miracle baby," Graves says.
Juliana went home from the hospital on June 16. The family now lives about 20 minutes from Houston's Medical Center — where mother and baby both still have regular appointments. Graves, who resumed cancer treatment after Juliana's birth, has completed her final radiation therapy. 
"Juliana and I fought our battle," Graves says, adding that both she and her daughter are feeling stronger and healthier. 
"She's a feisty little girl," Graves says of Juliana. "If she wasn't such a little fighter — she wouldn't be here."