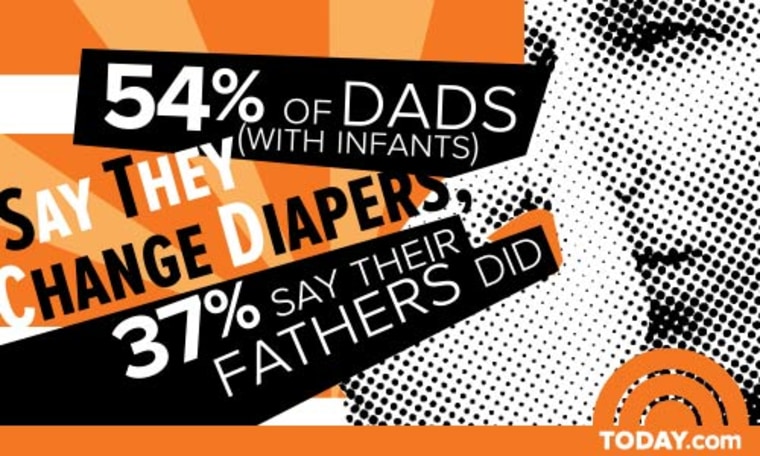 Dads today are less concerned with bringing home the bacon and more involved with frying it up in a pan.
TODAY surveyed 2,000 moms and dads for an exclusive look at what modern dads are really about. It's a picture of fatherhood in flux, with old conventions falling away like cheerios dropping off the toddler table as dads and moms alike attempt to balance the demands of work and family.
One sign of how times are changing? More than half (54 percent) of dads today say they change diapers; just 37 percent say their own fathers did.
"Dads are more engaged with their kids than ever before," says Dana Glazer, a New Jersey father of three and filmmaker who created the documentary "The Evolution of Dad." While dads' roles have expanded and evolved, society's perception lags behind, he says: "You still have fathers that are told their value is their paycheck."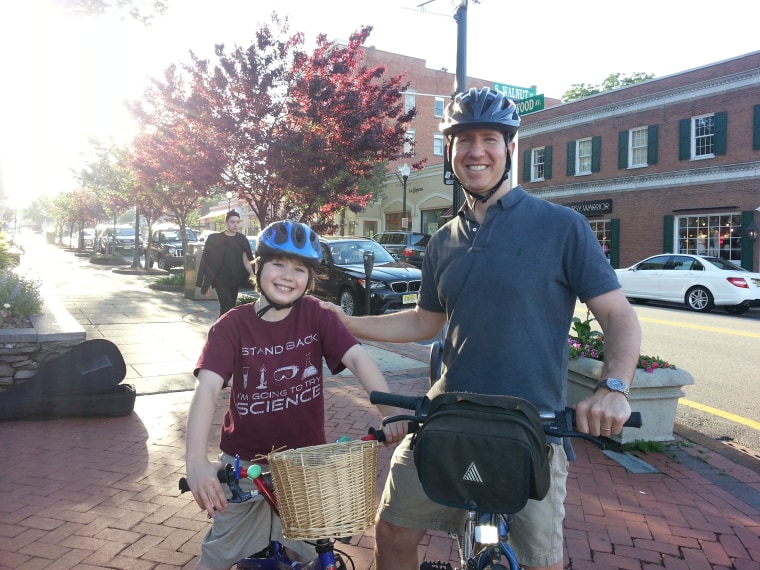 Paying the bills is no longer the man's sole responsibility. Less than half (48 percent) of men surveyed by NBC said providing income was mainly their role. Moms and dads today are far more likely to say they share responsibility for making money.
Meanwhile, dads are stepping up in other areas — especially when it comes to putting food on the table, literally. Thirty percent of dads say they do most of the grocery shopping for the family, and 26 percent say preparing meals is their job. When it comes to the big stuff — instilling moral values — and fun stuff like playing with kids and making them laugh, moms and dads agreed in our survey that they share the parenting workload.
"Love is the building block here, not gender," said Kyle Pruett, a parenting expert at the Yale School of Medicine and author of "Fatherneed: Why Father Care Is as Essential as Mother Care for Your Child." The shift in fatherhood reached a tipping point in the 1980s, Pruett said. As more women entered the workforce, dads' role at home expanded. "They are taking more responsibility for the well-being of their children," Pruett said. "And the children are the ones who are telling us this. Children expect their dads to be in their lives. That's an interesting change."
(Pruett notes that the old stereotype of the hands-off 1950s dad is itself a modern creation: Before the Industrial Revolution began in the late 18th century, fathers were very involved in their children's lives, from helping to deliver them at home to working side-by-side with them in the fields. Everything old is new again....)
Society's perceptions, however, may be stuck in the "Mad Men" era. "Families have changed more than society has," Pruett says.
Three-quarters of fathers told the TODAY survey that being a dad is their most important job. In fact, 51 percent of our survey respondents said they would quit their jobs and stay home with the kids, if they could afford it. (But being a stay-at-home dad is no rose garden: 32 percent say they feel disapproval from others for being home with their kids.)
Many dads today are reacting to how they were raised; and in some cases, deciding to do things differently, whether that's coming home earlier from work or hugging their kids and saying "I love you."
"A lot of dads did not have relationships with their own fathers and don't want that to happen with their own kids," said Glazer. "Fatherhood is really important, and people want to spend time with their kids."
TODAY will be exploring the role of the modern father all this week. Follow us on Facebook for all of the latest updates. Check out some more highlights from our exclusive Modern Dads Survey:
73 percent of dads say "a real man knows how to express emotional support to his children."

33 percent of dads struggle to balance work and family life, compared to 26 percent of moms
51 percent of dads say it's possible to "have it all," compared with 54 percent of moms.
21 percent of dads say they often feel criticized for not doing childcare tasks the way their wife does
31 percent of stay at home Dads say "my children would respect me more if I worked outside the home"; 19 percent of stay at home Moms say the same
45 percent of dads say they share child care tasks equally with their wives; but only 27 percent of moms say the same!