Regardless of whether you're religious, "Miracles from Heaven" — the fact-inspired movie about a little girl with a terrible disease who gets saved in more ways than one — is emotionally affecting.
On Monday, the family who inspired the film, now in theaters, visited TODAY to tell Hoda Kotb and Kathie Lee Gifford their dramatic real-life story.
"The desperation parents know when their child is chronically ill is devastating," said Kevin Beam, referring to the pain endured by his now 13-year-old middle daughter Annabel, who sat next to sisters Abigail and Adelynn.
MORE: 'I crossed over': Survivors of near-death experiences share 'afterlife' stories
Annabel suffered a long time before being diagnosed with pseudo-obstruction motility disorder, a rare and incurable syndrome that makes it impossible for the body to process food efficiently.
"She was on 10 medications a day ... she just lived on the sofa in the fetal position with a heating pad on her stomach," recalled her mom, Christy Beam, who wrote the book the movie was based on and is played in it by Jennifer Garner. "That was her life."
But in 2011, something remarkable happened. After she fell headfirst into the hollow of a tree in her family's front yard, Annabel's pain vanished. Today, doctors can't find any trace of the illness.
Clearly, the answers are beyond science. And the family, which relied on its faith to see them through Annabel's struggle, believe the solution came from above.
MORE: Jennifer Garner opens up about faith: 'The world is a complicated place'
Annabel related that when she was stuck in the tree for five hours before firefighters could extract her, she visited heaven, where she asked Jesus if she could stay. "And he said, 'No, Annabel, I have plans for you on Earth you cannot complete in heaven.'"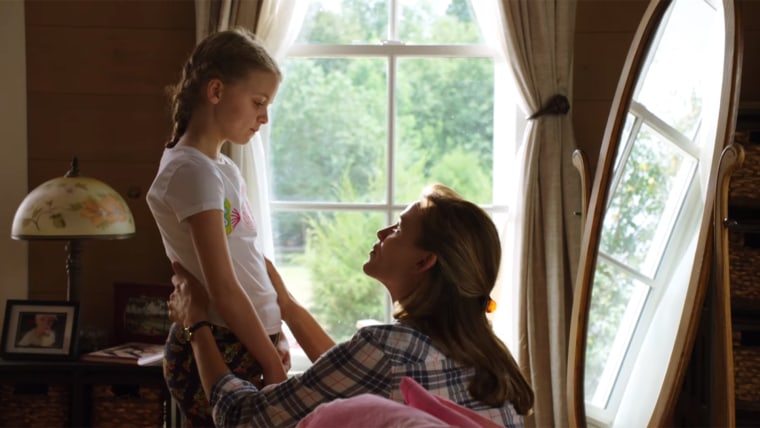 According to the Beams, Jesus sent Annabel back with a guardian angel who looks over her. And, says Christy, they couldn't be happier about the way things turned out.
"So grateful," she said. "So grateful."
Follow Randee Dawn on Twitter.