Traveling through hyperspace can sure wear you out, but life is good when you're on a soft, warm planet with friends and a lightsaber by your side.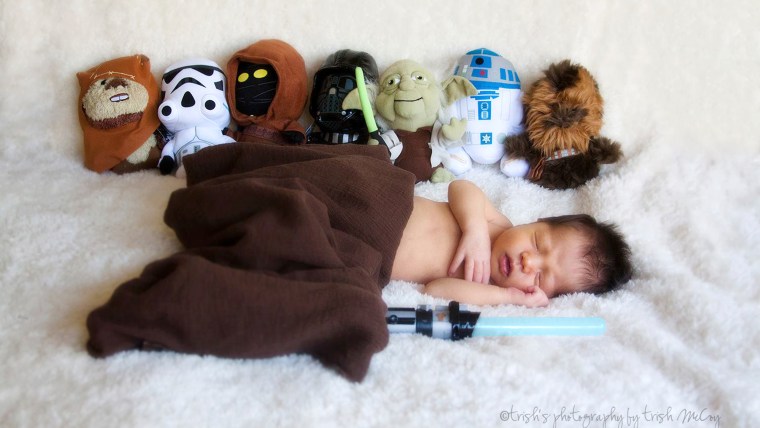 These cute, peaceful "Star Wars"-themed photos of a snoozing baby boy mark the beginning of light after years of darkness in his mom's life.
"We call him our little Jedi because he was able to beat the dark side," Amber Bartlett, 32, told TODAY Parents.
"He was strong and was able to overcome all the battles that were thrown at him."
"(It's) her miracle baby," said Trish McCoy, Bartlett's sister and the photographer who took the pictures. "I'm so glad she decided to go through with the pregnancy because she gave us this little Jedi guy that we love so much."
McCoy first posted the images of her nephew Ezra online in a post she titled, "A Long, Long Time Ago, My Sister Was Told She Couldn't Have Any More Children."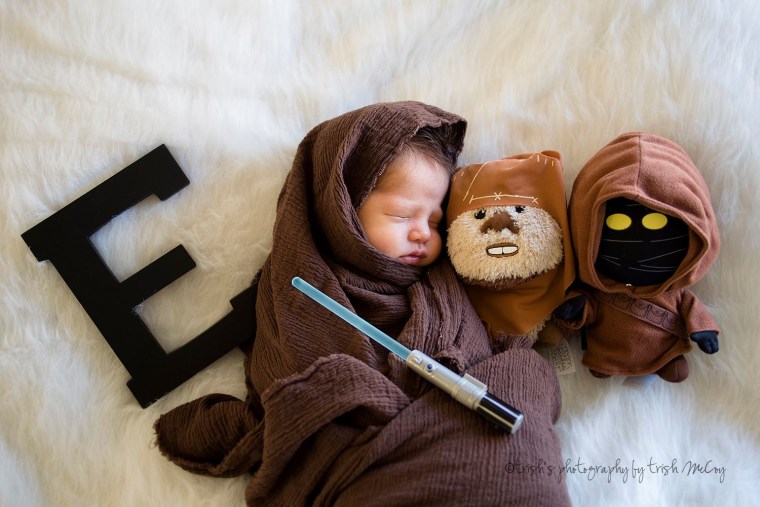 The saga began with somber news.
Bartlett, who lives in Redlands, California, was diagnosed with ovarian cancer at 23. Doctors urged her to undergo a hysterectomy, but the mom of two refused.
"They were so adamant (the cancer) can come back, but I was just so young and scared and I said let's not do that. Let's just keep doing the chemotherapy and see how it goes," she recalled.
"I thought, I want one more (child)… everyone thought I was crazy — it's not going to happen."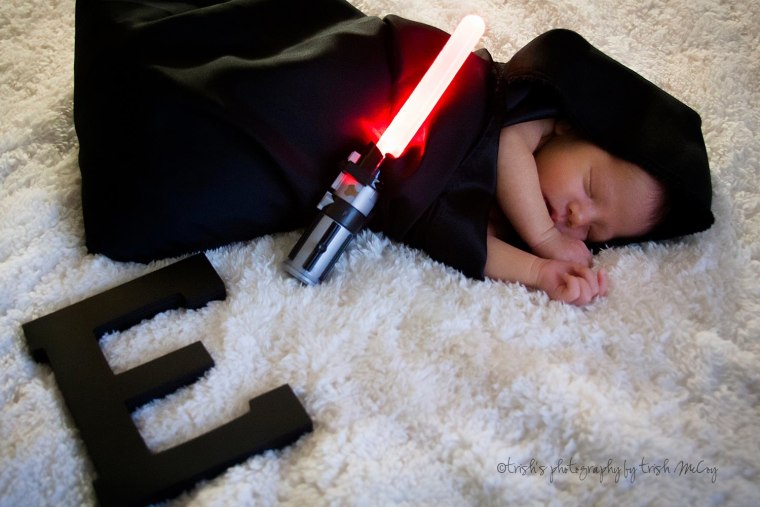 The cancer went into remission, but as the years went by, there were new concerns. After more mysterious health problems, like having trouble moving her legs, a doctor finally diagnosed Bartlett with copper deficiency myeloneuropathy. Her body does not retain copper, an essential trace element required for many of our basic functions, so Bartlett must receive copper infusions every other week to be able to survive.
With her medical history, doctors told Bartlett her chances of conceiving a child were slim to none, and even if she were to get pregnant, she'd be too sick to carry a baby.
"We had already accepted the idea that we were never going to have any more children," Bartlett said. "I was saddened by it."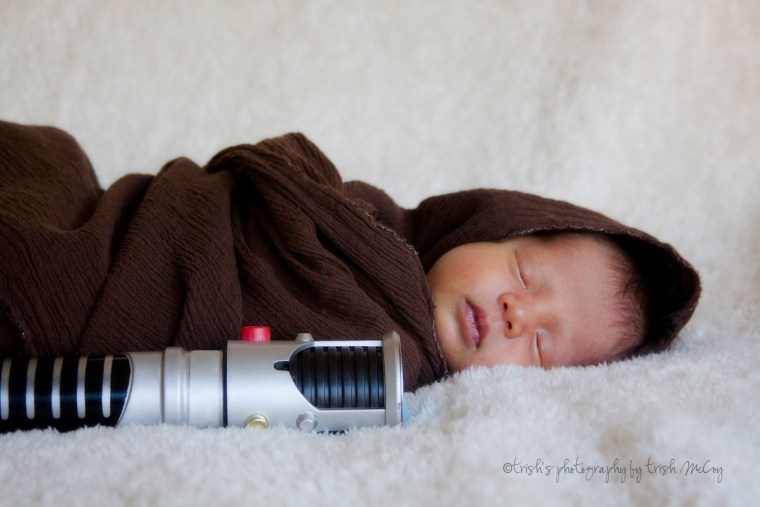 Then, out of the blue, she was pregnant. The happy news was soon tempered by many complications. Doctors weren't sure how to regulate her life-saving copper infusions without harming the baby. Bartlett's bones were weak so the extra weight caused her pain. She spent much of the pregnancy on bed rest. There was the threat of premature labor and the possibility of the baby developing many problems.
At one point, doctors suggested terminating the pregnancy. Bartlett refused.
"They told me to prepare for the worst and I did. I was always nervous and scared," she recalled.
"She wanted her baby so badly," Bartlett's sister said. "A lot of loved ones didn't want to lose Amber and I think that is what a lot of people were afraid of."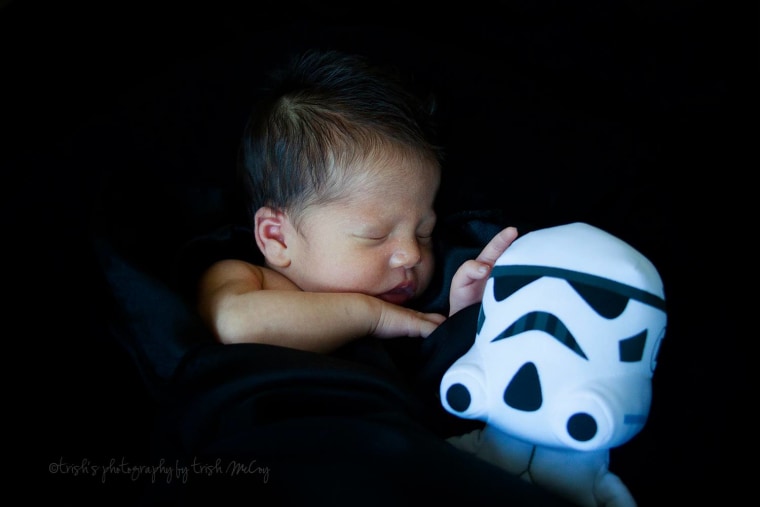 Bartlett ended up carrying the baby for 39 weeks and gave birth on Aug. 31. She named the 7-pound, 4-ounce boy Ezra, after a character in the animated TV series "Star Wars Rebels."
Most members of her family are "huge 'Star Wars' fanatics," she explained, and her baby shower had a "Star Wars" theme, so it seemed fitting the name would come from that universe as well. The "Star Wars"-themed baby photo shoot soon followed.
Ezra has had some health problems, including jaundice and a lung that's not expanding to full capacity, but his prognosis is "great," Bartlett noted.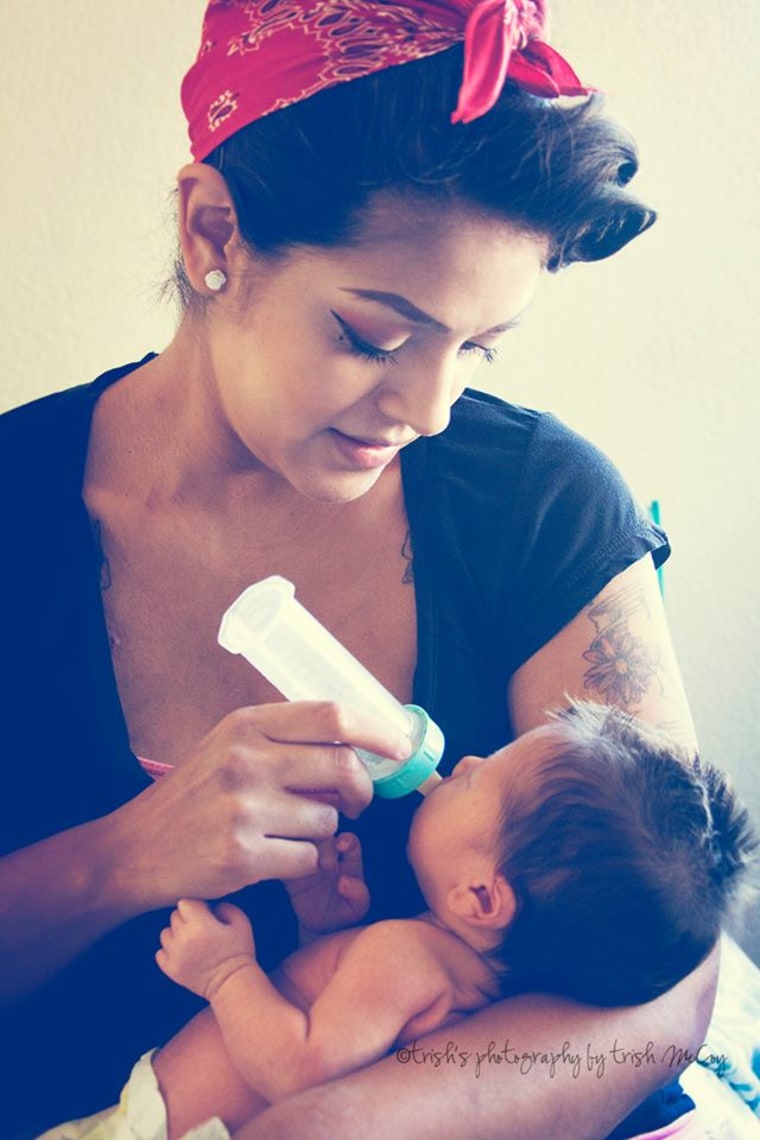 She's glad the baby album is getting worldwide attention.
"I feel like not only does it show his story but it gives other women who are sick and who think they have no choice, no options, no hope — it shows you can overcome things. You've got to be strong," Bartlett said.