Milo Ventimiglia has never been a dad … but he does a pretty convincing job of playing a new parent on TV, in NBC's new show "This Is Us."
So how does he think one of his most famous characters, bad boy Jess on "The Gilmore Girls," would fare as a father?
"Jess would be a kick-ass dad," Ventimiglia said at a breakfast screening of "This Is Us" hosted by the TODAY Parenting Team, an online community for moms and dads.
(Disclosure: NBC Universal is the parent company of TODAY.)
"He's someone who's passionate," Ventimiglia said of Jess, a role he will reprise on the "Gilmore Girls" reboot this fall. "He has a sense of humor about the world, and he doesn't take himself so seriously. He would probably raise a pretty fun little kid. I think he'd be a good dad."
Learn more: Join the conversation on the TODAY Parenting Team
"This Is Us" introduces Ventimiglia's character as the expectant father of triplets, and follows his family's story through some unexpected twists (the premiere episode was closely guarded against spoilers).
The preview was viewed more than 100 million times before the show aired, getting notice both for its heartfelt subject matter as well as a cheeky shot of Ventimiglia — whose bare bottom shows up in the first few seconds of the trailer (and the show itself).
"It's the first time in my career, 21 years, that my ass has preceded my face," Ventimiglia quipped. "It's a hardworking ass, I guess."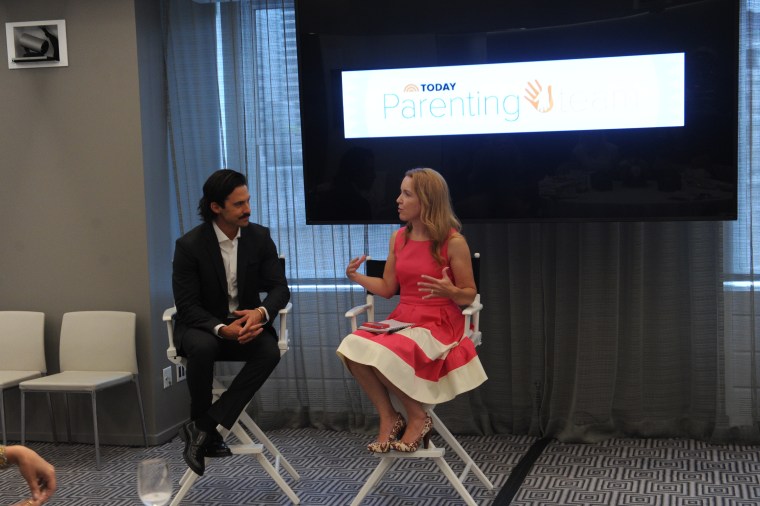 Ventimiglia said he'd personally love to be a father one day — but he's waiting for the right woman with whom to settle down and start a family. He's gotten some practice on set: Changing an actual dirty diaper alongside co-star Mandy Moore, and helping an 8-year-old actor with his homework. "I guess (fatherhood) will happen when it happens," he said.
For his role as the family patriarch on "This is Us," Ventimiglia said he looked to his own dad for inspiration to play a character he described as "a good guy. Like, a REALLY good guy… a man who loves his wife, a man who was excited about his family… just inherently good. And hopeful."
Choking up a bit, Ventimiglia told the Parenting Team audience, "in a small way I'm kind of playing a version of my own father, which makes me emotional."
Join the TODAY Parenting Team for conversation, support and special events!
More from the TODAY Parenting Team: