With four young children and a husband deployed overseas, Ashley Sistrunk almost didn't get around to making a holiday card this season.
But after she kept seeing her friends post beautiful family photos on Facebook, she became determined to make time to create one herself.
"At first it bummed me out. I was so sorry for myself, thinking, 'I just want a picture with my husband in a Christmas photo,' and that's when I thought, I can put him in a photo," she said.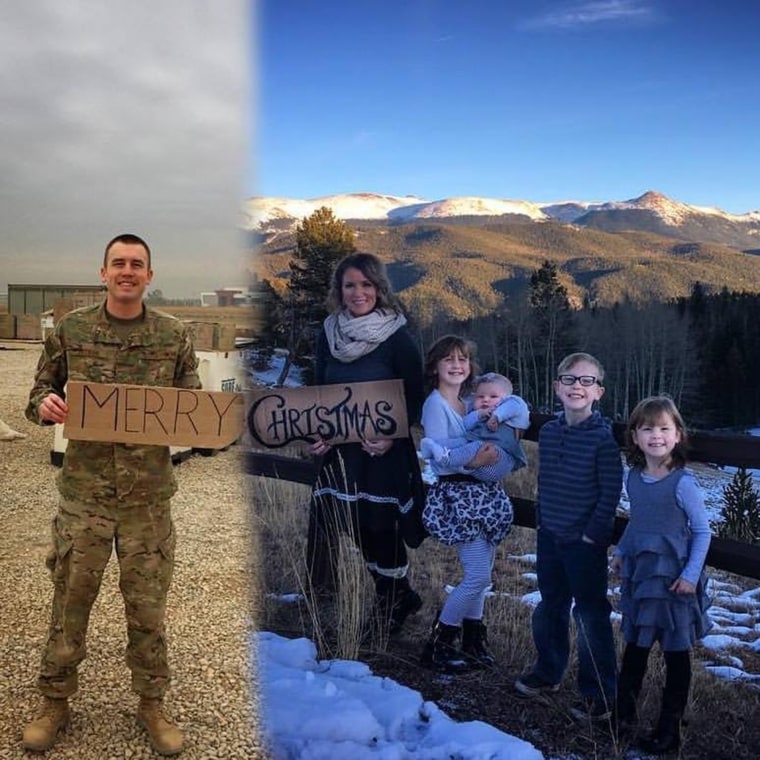 Sistrunk gathered her four children one day earlier this month after a snowfall near their Colorado home and took a picture that included her holding part of a sign. Meanwhile, she reached out to her husband, Brandon, and asked him to create the other part of the sign and hold it in a photo from where he is stationed in Iraq.
With the help of Photoshop, she put the pictures together and voila: family photo.
Ashley, 29, told TODAY she got the idea off Pinterest after typing in "military Christmas ideas." Getting her children on board was probably the hardest part of the project.
"They thought it was nuts. At first they thought it was silly and didn't want to take the picture," she said of her children, Riley, 9; Landon, 7; Macie, 5; and Nora, 7 months. "They kind of fought me on it."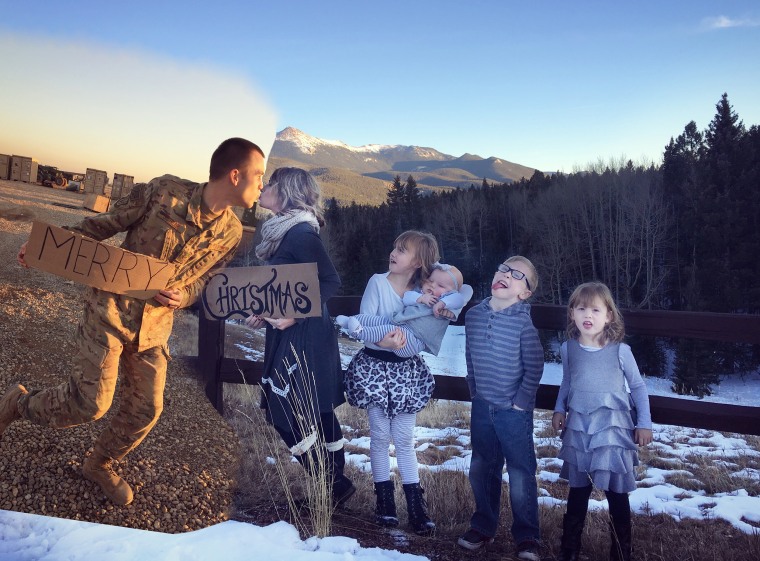 She got more cooperation from her husband, although she said he still complained when she made him retake some shots.
"I know Ashley, and I had to make sure to take at least 20 pictures of each shot to make sure (I) got the right one," Brandon told TODAY via email. "She is very particular about details."
But the Air Force staff sergeant serving in Iraq as a meteorologist loved the concept overall.
"I was very happy with the idea of still being able to display our family greetings to our friends," he said. "Ashley has always been very creative and good about things for us to do as a family. (It) helps me because I am not creative!"
Ashley said she didn't expect the photos to draw a reaction beyond her group of Facebook friends but is glad so many people around the world are getting a small glimpse into the lives of many military families.
Previous deployments meant that Brandon missed the births of his first three children. He also was away for two previous Christmases. Knowing he would also be away for this one, the family held an early celebration in June, although that hasn't stopped his children from praying that their dad will come home earlier than expected at the end of the month, Ashley said.
"It's definitely harder during the holidays. This is actually the first deployment where the older children are old enough to be angry about their father being away," she said.
Brandon, 29, said the response to their family holiday photos has been overwhelming but he and his wife consider it a blessing.
"We have always talked about what it would be like for our story to be told for other military families out there. That way they could see they are not alone," he said.
Ashley said so many friends and loved ones have provided support for them over the years. She hopes their holiday card will help provide some cheer to others in similar positions.
"People have been following my military journey for 10 years now. Every time Brandon leaves, their hearts break for our family," she said. "I think this is a great time for people to know what it's like for military families. I especially want the spouses of those deployed to know that they're not alone and that they're not crazy in all those emotions they feel."
Follow Eun Kyung Kim on Twitter or Facebook.