/ Source: TODAY Contributor
Her husband is the one in the U.S. military, but Melissa Gillespie gives new meaning to the phrase "warrior mom." The mom of three earned her bachelor's degree in nursing from Southern New Hampshire University on Mother's Day this year... 17 years after she started working on it.
Gillespie, 37, began her quest to be the first in her family to earn a bachelor's degree when she was a new mother and her husband, Quinton — an auxiliary mechanic in the Navy — was stationed in Silverdale, Washington. She enrolled in Olympic College and started classes toward an associate degree in nursing.
Three moves, two more children, one long separation and many deployments later, she never lost sight of her goal.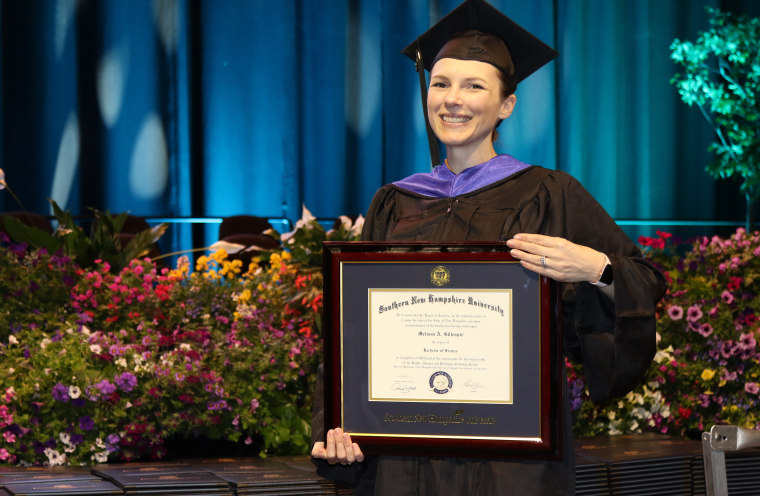 Taking classes part-time while mothering a toddler and later an infant was "difficult," Gillespie told TODAY Parents, but she was committed to the effort. Then her husband was moved to Saratoga Springs, New York, and Gillespie and their two small children went with him. In New York, Gillespie had her third baby, and for four years, she wasn't able to work on her degree at all. She focused on parenting her three children, two of whom were diagnosed with high-functioning autism.
"You just have to do what you have to do," she said. "Taking that hiatus from school allowed me to get involved and give my kids the attention they needed at the time."
Never miss a parenting story from TODAY.com! Sign up for our newsletters here.
Then the family moved back to Washington, where Gillespie started over. She had to re-take every prerequisite class because the credits from the classes she had already completed had expired, but she stuck with it. Because she kept having to start and stop her program, "I ended up completing 218 credits for a 120-credit degree," she said.
When her husband received orders to move to Virginia, the couple had to make a hard decision. If she left again, Gillespie would not be able to complete her associate degree in nursing that she had worked so hard for already.
"My husband said, 'The Navy is not taking this away from you,'" she said. "My hero lived on a ship for 19 months across the country from his family so that I could go to school."
For those 19 months, Gillespie studied nursing and raised their three children. "He was home 12 days each of those two years," she said. "That was the hardest point." But friends "went above and beyond" to help her, Gillespie said.
When Gillespie completed her associate degree and passed the licensing exam to become a registered nurse, her mom and children were able to attend the pinning ceremony, but not Quinton.
"It was so hard, and so hard on the kids. But I think that period of time showed them that it's not easy to reach your goals, but if you push forward to do what you have to do, you can," said Gillespie.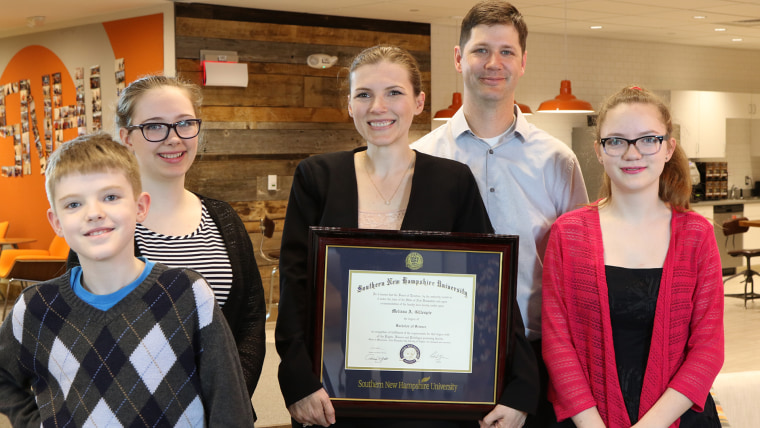 The family reunited in Chesapeake, Virginia, where they now live, and Gillespie continued to work toward her bachelor's degree through the College of Online and Continuing Education at Southern New Hampshire University while also working as an operating room nurse in Virginia. She's been commuting two hours a day to work at a urban trauma center, where she routinely helps victims of gang-related violence.
"It's really rewarding, but at the end of the day, I have to sit in the garage for a few minutes because I'm coming home to see my babies," she said. "My work doesn't always translate well to my home life."
A few weeks ago, the degree 17 years in the making finally happened: Gillespie graduated from Southern New Hampshire University with a 3.97 GPA in nursing. With the permission of his commanding officers, Quinton was able to attend this graduation ceremony with their children, who are now ages 17, 14 and 11.
"I wasn't going to go without my husband," she said. "he's missed too much over the past 18 years."
Gillespie said that this degree holds powerful meaning for her family because it "normalizes higher education" for her children after she and Quinton came from less educated families. She's excited to see them fulfill their own academic and career dreams now.
"My oldest child wants to be a plastic surgeon to help people coming back from combat, my middle child wants to major in mechanical engineering and minor in biology so she can build submarines to do research. My son wants to be an astrophysicist," she said. "What we are trying to instill in them is working."
Editor's note: This story originally misstated the number of years that Gillespie worked on her degree, and has been update with the most accurate information.
Related:
• Military mom gets surprise visit from Navy husband, and more