The newborn phase didn't last long for new parents Mila Kunis and Ashton Kutcher. In fact, it never even happened. While appearing on Tuesday's "The Ellen DeGeneres Show," Kunis revealed that baby Wyatt Isabelle, who was born 9 1/2 pounds "skipped the newborn stage."
"She's 4-months-old and she's wearing 6-months clothing." Kunis said. "She's a big girl, y'all."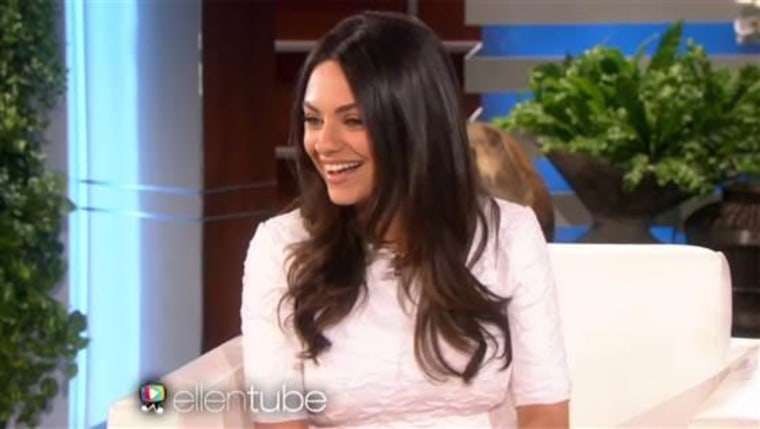 And Kunis has been loving every minute with her baby girl. She and Ashton decided to not hire help or nannies.
"I took advantage of it [not having to go back to work]," Kunis said. "I love the fact that for the first three months, I figured her out and she figured me out. Now, she sleeps in her own crib in her own room and I'll never have that time again. It was a really nice three months."
Kunis added that Kutcher — who has shared how his life has changed since becoming a dad — is already a great father.
"He's an amazing dad," she said. "I couldn't have done this all by myself. He is 100-percent present."
Thankfully, they had no problem assigning diaper duty — it's all Kutcher.
"His whole thing is changing diapers. The second she was born he changed the first diaper, " Kunis admitted. And his dad skills don't stop there. He's also become a master swaddler.
"He can swaddle anyone's baby," Kunis said. "He's a pro."
DeGeneres couldn't let Kunis leave without asking if she and Ashton were married after he posted this photo on his Facebook page.
With a big grin on her face, she said, "I don't know."
Follow Danielle Brennan on Twitter.
This article was originally published Feb. 3, 2015 at 4:09 p.m.