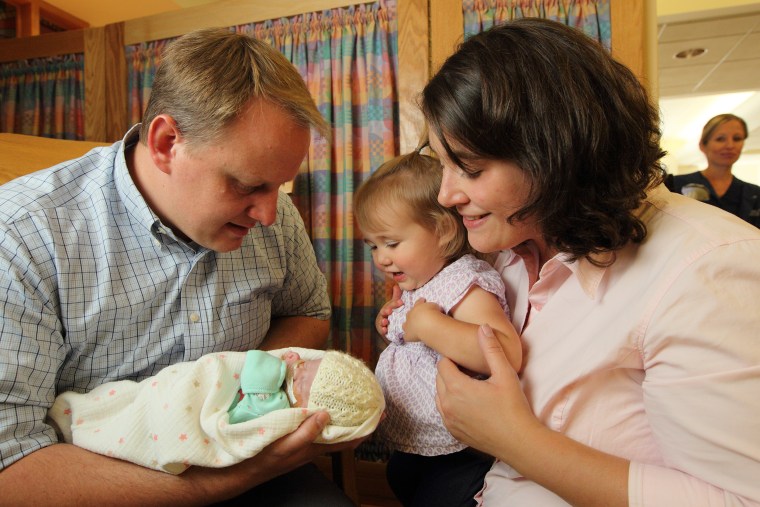 Since before Sasha Van Kirk was born, her parents called her "Mighty Girl" for the strength of her kicks in the womb. Even so, she was not growing as she should and arrived about eight weeks early in July, weighing just over 2 pounds.
Then, when she was two weeks old, Sasha became one of the tiniest babies in the world believed to have successfully undergone a procedure to open a severely narrowed heart valve.  
"She's a mighty little girl," mom Heidi Van Kirk, 36, said in an interview Friday. "Ever since I could feel her, she's been moving and kicking and kicking to the point it hurt me. Since she's been out, she's just been moving and kicking and fighting for everything."
Sasha, a nickname for Alexandra, underwent the heart procedure July 23 at Helen DeVos Children's Hospital in Grand Rapids, Michigan, where she remains in the neonatal intensive care unit. She is gaining weight and breathing on her own, though she is receiving oxygen, and expected to have a normal life, her mother said.
Read more: Support system for premature babies
"She's going to be great," Van Kirk said. "It's just a matter of eating and growing at this point."  
She's come a long way. During Van Kirk's pregnancy, doctors gave her and her husband, Matthew, a 35 percent chance of their baby being born alive, as fetal growth was declining. Termination was mentioned as an option but quickly dismissed by the Grand Rapids couple, who also have an 18-month-old daughter, Josephine.
As growth slowed further, doctors told the couple on July 7 that it was time for delivery. After a cesarean birth, there were a few seconds of silence before the Van Kirks finally heard what they had been hoping for.
"She sounded like a little bird screaming," Van Kirk said. "It was an unexplainable relief to hear the sound of her voice."
Read more: Chris Pratt and Anna Faris: Son "totally healthy" after premature birth
Doctors had hoped to wait for Sasha to grow before fixing her heart but first treated another complication that can hinder growth. Sasha, who was also born with Hirschsprung's disease, had ostomy surgery on July 18.
Afterward, her blood oxygen levels were low, so doctors decided Sasha's critical heart problem could not wait. She suffered from pulmonary valve stenosis, a narrowing of the pulmonary valve that restricts the flow of blood to the lungs. In Sasha's case, an opening that should have been 4 millimeters was just the size of a pinhead, said Dr. Michael Johansen, her cardiologist.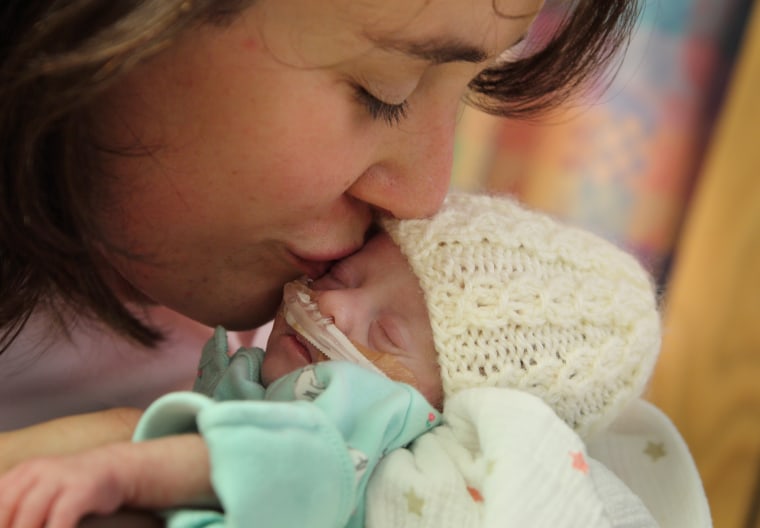 To widen the valve, the hospital's division chief of cardiology, Dr. Joseph Vettukattil, performed a pulmonary balloon valvuloplasty on his 2 pound, 6-ounce patient.
A risky procedure made more difficult because of her tiny size, a catheter with an attached balloon was inserted through her leg and up to her heart, where the balloon was inflated to widen the opening, Johansen said.
The procedure was a success, and Sasha now has only a mild narrowing of the valve.
"If she stays just like this, this is a very livable condition that should not restrict her in any way from doing anything that she wants to do," Johansen said.
Vettukattil, who was unavailable for an interview, had performed the valve procedure hundreds of times, but before Sasha, his smallest patient was about 4 pounds, the hospital said.
"She is one of only a handful of patients this small in the world, that I found in the medical literature, to have successfully undergone this procedure," Johansen said.
"She's adorable and seems very innocent," he said, "but she's mighty for sure."
This week, Sasha reached 2 pounds, 15 ounces, and the family will cheer when she hits the 3-pound mark. They can't wait for her to join the family at home, possibly next month.
Sasha's fighting spirit, Van Kirk said, shows she "is stronger than I am, and stronger than I'll ever understand."
Lisa A. Flam is a news and lifestyles reporter in New York. Follow her on Twitter.