Jay and Kateri Schwandt's home in Rockford, Michigan, has welcomed something it never has before: a baby girl.
The Schwandts had their fourteenth baby boy, Finley, just nine weeks ago on April 18. Finley joined 13 older brothers, ranging in age from 25 to 2. Now, things are "back to as normal as they ever can be," Jay told TODAY Parents. "Thirteen of the 14 are living under our roof this summer. It's back to how we know it," he said.
But not for long. Jay and Kateri are starting their next adventure: grandparenthood! Their third son, Drew, 21, and his high school sweetheart, Anelene Mellin, became parents to their first child on June 14 — and it's a girl, Luciana Joan!
Jay reports that both mom and baby are "doing great."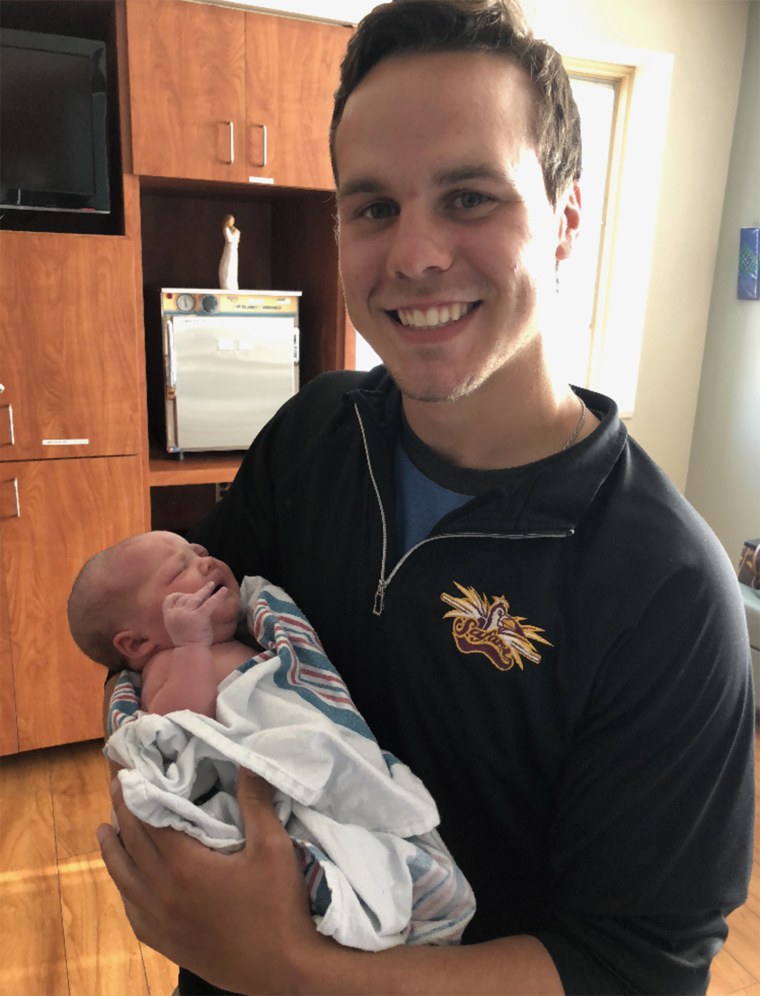 "We're excited for Drew and Anelene," said Jay. "They're awesome. They're super smart, super grounded spiritually. They're going to be awesome parents for sure."
The timing of Kateri's latest pregnancy coincided with Anelene's, so they went through the experience together. "It's just been kind of neat for Anelene to lean on Kateri for some of the mom-to-be type stuff," said Jay. "It's been fun."
Never miss a parenting story with the TODAY Parents newsletter! Sign up here.
The baby girl has 13 uncles eagerly waiting to meet her — one of whom will only be about nine weeks older than her, so they will grow up together.
For Luciana's grandmother, preparing for a girl for the first time has been a treat. "We had a shower for Anelene at our house a few weekends ago, and it was just so fun to get the girly decorations and plan a girly party," said Kateri. "It's stuff that I don't do, and it was fun to have that new experience and to do it for someone else and yet be so much a part of it."
Kateri said that with this baby coming, she is getting the best of both worlds. "I get a girl finally in the family, but it is a granddaughter, so I get to spoil her at a different level without the boys feeling it," she laughed.
But Kateri is not the only one excited. "This granddaughter of ours came into this world with more clothes and stuff than you could ever imagine," he said. "It seems like every time one of the older brothers comes over, they're bearing a gift for the baby."
Jay can't wait to see how his sons interact with a girl in the family. "To the younger boys, every time a new baby comes home, it's just another brother," he said. "Now, with a girl, it will be neat to see how they handle her.
"I always wondered what it would be like to have a girl in our house. We're about to find out."