When Michael Phelps found out he was going to be a father, he called a friend.
"Dude, what do I do?" he asked.
The ensuing conversation probably barely scratched the surface of everything a first-time dad needs to know. But Phelps has clearly dived into fatherhood with the same enthusiasm he used to show when diving into the pool for his record-breaking swims. Retired from competitive swimming after a record-setting 23 gold medals in five Olympic games, Phelps spoke to TODAY Parents about the challenges and joys of parenthood.
"My sisters gave me a photo of the day he was born, and it seems like it was yesterday," Phelps said, reflecting on his first year of fatherhood and Boomer's upcoming May 5 birthday. He'll readily acknowledge that he started off not knowing much about babies, but said that he and wife Nicole Johnson have grown even closer as they've learned to be parents together.
"Nobody can really prepare you for it, you're going through it and you're learning as you go," he said. "Watching her as a parent, watching her as a mom, she's the best. She's always reading things and just trying to make sure that his life is the best that we can make it."
RELATED: Michael Phelps, Nicole Johnson reveal wedding details
Phelps spoke to TODAY Parents while in New York City to promote Colgate's "Save Water" program; he's a paid spokesperson with the #EveryDropCounts conservation campaign, which aims to raise awareness about the need to save water with simple actions (for instance, turning off the water while you brush your teeth).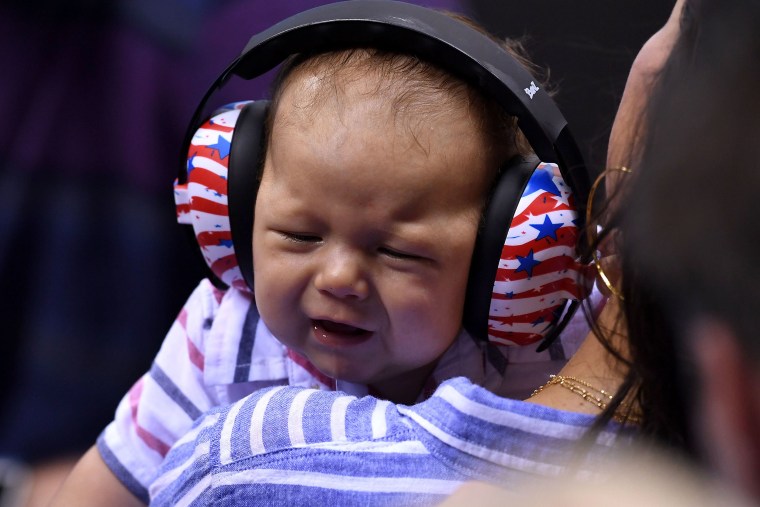 Phelps said they're planning a round-the-world themed party for Boomer's first birthday, since he's a rather well-traveled baby — he famously cheered on his daddy while in mom Nicole's arms at the Rio Olympics.
"It's wild to think that a year has passed," Phelps said. "Nicole and I will still look at each other like, 'We have a child! This is our child.' It's probably the best thing I've ever, ever been able to be a part of."
RELATED: Michael Phelps shares adorable photo of son Boomer's swim lesson
As far as the future goes, Phelps clarified to Kathie Lee and Hoda of TODAY that his April Fools' Day tweet about coming out of retirement was definitely a joke. As for Boomer pursuing competitive swimming like his dad? Phelps says that's all up to his son.
"If he wants to! I will not push it," Phelps said. "My mom never really pushed me to do anything. It was kind of, we learned on our own, and I fell in love with a sport."
Never miss a TODAY Parenting story with our newsletters! Sign up here