A Tennessee judge ruled Sept. 29 that she will end former NFL player Michael Oher's conservatorship agreement with Sean and Leigh Anne Touhy, a court order obtained by NBC News confirmed, after he had filed a lawsuit claiming they had duped him into thinking they adopted him in 2004 when he was a senior in high school.
The remaining issues outlined in Oher's original petition, however, are not dismissed, the order stated.
Shelby County Probate Court Judge Kathleen Gomes said she is ending the 2004 agreement reached that gave the Tuohys authority over Oher's money. After living with the Tuohys, Oher, now 37, would go on to play college football at Ole Miss before he enjoyed an eight-year NFL career in which he played for the Baltimore Ravens, Tennessee Titans and Carolina Panthers.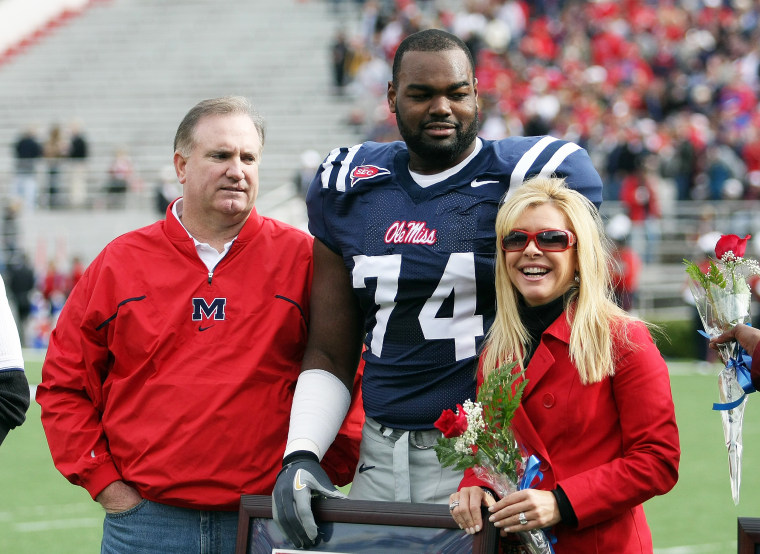 Gomes said she was disturbed the conservatorship was ever put into effect, the Associated Press reported. She noted that she had never seen something like it involving a person who was not disabled.
"I cannot believe it got done," she said.
Oher's relationship with the Tuohys was the basis for the Oscar-winning movie "The Blind Side," starring Sandra Bullock. Oher claimed in his petition that because of the conservatorship, the Tuohys benefited financially off of him.
In August, Oher filed paperwork requesting the conservatorship be terminated. A September court filing, meanwhile, claimed the Tuohys never adopted Oher and they never had plans to do so.
The Tuohys lawyer, Marty Singer, also denied Oher's claims that his clients tried to make money off of him.
"The idea that the Tuohys have ever sought to profit off Mr. Oher is not only offensive, it is transparently ridiculous," Singer said in a statement to TODAY.com, while also noting the Tuohys welcomed Oher into their home and "treated him like a son and one of their three children."
The Tuohys, who claim Oher knew he was in a conservatorship, said they were crushed when they learned Oher's allegations that they did so to make money off of him.
"We're devastated," Sean Tuohy told The Daily Memphian in August. "It's upsetting to think we would make money off any of our children. But we're going to love Michael at 37 just like we loved him at 16."