Michael Bublé's family just got bigger!
The crooner took to Instagram Friday night to announce the birth of his second son, Elias Bublé.
"And then there were 4," Bublé wrote alongside a picture of he and Luisana Lopilato, his wife of nearly five years, holding the newborn while beaming. "Introducing Noah's little brother Elias Bublé
 #family #blessed #brothers."
Noah, 2, announced the pregnancy on the couple's behalf back in July 2015.
In the short Instagram video, little Noah touches his mother's stomach and exclaims "Baby!" while Britney Spears' "Oops … I Did It Again" plays in the background — one of the more memorable (and tongue-in-cheek) celebrity baby announcements.
MORE: Michael Bublé says 'there's family ... then there's everything else'
After Noah was born in August, the singer said that fatherly instincts weren't instantaneous, but that one day made all the difference.
"I didn't have that overwhelming feeling of love. I'm being honest with you," the singer said on The Social, a Canadian talk show, in September according to People.
RELATED: Michael Bublé admits son loves Psy, would 'rather listen to this than his daddy'
"That next night (after the baby was born), it really clicked," he told The Social. "I was looking at him and all of a sudden, I got it… I sing to him all day and all night. When he's crying with somebody else and I hold him and I sing to him, he just stops. It's really cool."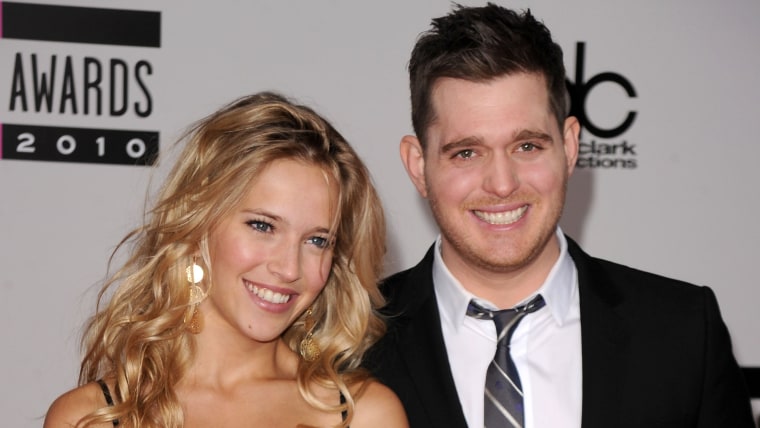 As for baby Elias, the family seems thrilled to welcome its newest addition, and we're thrilled for them.
Welcome to the world, Elias!
MORE: Michael Bublé says seeing newborn son 'was like meeting a stranger'