Daniel Murphy responded graciously on Thursday to critics who blasted the Mets second baseman for taking time off for the birth of his son, saying his paternity leave was the right decision for his family.
"I can only speak from my experience — a father seeing his wife — she was completely finished. I mean, she was done. She had surgery and she was wiped. Having me there I think helped a lot, to take some of the load off," Murphy told reporters before playing against the Nationals on Thursday. "You discuss it with your spouse and you find out what works best for your family." 
Several sports radio jocks criticized Murphy for taking the three-day paternity leave allowed by Major League Baseball, and missing the first two games of the season. 
"Go see the baby be born and come back. You're a Major League Baseball player. You can hire a nurse to take care of the baby if your wife needs help," said radio host Mike Francesca, who called paternity leave a "scam," and a "gimmick."
Former NFL quarterback Boomer Eliason said on his radio show that he would have insisted his wife schedule a medically unnecessary C-section before the season began.
"Quite frankly I would've said 'C-section before the season starts. I need to be at opening day. I'm sorry, this is what makes our money, this is how we're going to live our life, this is going to give our child every opportunity to be a success in life. I'll be able to afford any college I want to send my kid to because I'm a baseball player,'" Esiason said Wednesday.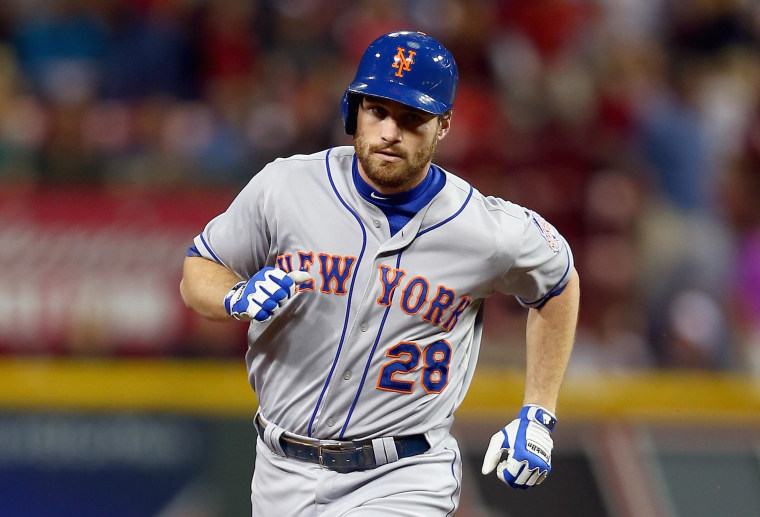 Murphy said he was aware of the controversy.
"I got a couple of text messages about it, so I'm not going to sit here and lie and say I didn't hear about it," Murphy said. "But that's the awesome part about being blessed, about being a parent, is you get that choice. My wife and I discussed it, and we felt the best thing for our family was for me to try to stay."
Murphy's son, Noah, was born via C-section on Monday. He was breech so they knew he'd be a C-section, Murphy said; when his wife went into labor, she held out for 12 hours so that he could make it back to Florida for the birth.
"She is too good of a woman for me," Murphy said. "It was a humbling process to see how well she handled it."
Mets manager Terry Collins said he supported Murphy, who incidentally missed just one game last season, fewer than anyone else on the team.
"First of all, if you're accusing Dan Murphy of not wanting to play — this guy played 161 games last year. Wore himself out. Played with all sorts of discomfort. The man had his first child. He is allowed to be there. The rules state that he can be there, so he went. There is nothing against it. There's nothing wrong with it," Collins told the New York Daily News.
The public seems to be siding with Team Murphy. More than 34,000 people weighed in on a TODAY.com survey, and 96 percent said the baseball player did the right thing by taking paternity leave. On the New York Daily News website, 87 percent said Francesca was "over the line" for questioning Murphy's paternity leave.

The support for Murphy shows attitudes toward family leave have shifted dramatically in recent years, says Ellen Galinsky, president of the Families and Work Institute in New York.
"Men want to be more involved with their children—young men particularly," she says. (Murphy just turned 29 on April 1.) "There is a sea change in men not wanting to be stick figures in their child's lives — wanting to be in their lives, and doing it."
Women still spend more time with children than men do, but studies show the gap is shrinking, Galinksy says.
Murphy's decision to take his full three-day paternity leave reflects "a change that's here to stay," Galinsky says. The U.S. government has not been entirely friendly to family leave, however. Under federal law, men are now entitled to the same 12 weeks of unpaid leave as women. But the U.S. remains one of only four countries in the world that do not mandate paid family leave. (The others are Liberia, Papua New Guinea, and Swaziland.)
Individual states are allowed to establish more generous terms if they choose to, but only three states—California, New Jersey, and Rhode Island—offer paid family and medical leave.
And paternity leave is still a troubling issue for many men, who often worry about what effect it might have on their careers. While the Mets were supportive of Murphy's decision, the outside criticism may end up hurting his career. 
Outside the elite world of professional sports, many men say they feel they're being pushed harder at work, while their wages stagnate and the boundaries between work and family life are blurring. Men who take family leave often fear being stigmatized at work. Studies show that fathers actually work significantly more hours per week than men without children. Fathers say they work longer because the extra money is important for their families.
The problem of work-family conflict is worst for men who believe flexibility will hurt their chances of advancement, and whose superiors make it difficult for them to respond to family emergencies and change their schedules on short notice, researchers say.
Men face an impossible ideal, a "male mystique" that puts demands on fathers that they can't possibly meet, Galinsky says. Men, in other words, like women, are now experiencing the pressure to have it all.
For his part, Murphy seemed thrilled, if exhausted, by his new role as father: "It is exhilarating. It was an awesome occasion to see the birth of your son."