New York Mets second baseman Daniel Murphy caught a lot of flak and sparked a national debate when he missed the first two games of the season to be present for the birth of his son Noah in April.
He and his wife Tori, he said on TODAY Monday, have no regrets about the decision.
"She went into labor, Tori, on Sunday," Murphy told Willie Geist. "She held off till about, you know, 11 in the morning when I actually got there."
Murphy, 29, said that missing Noah's birth to play ball was never a consideration.
"That never crossed, I don't think, my mind or her mind," Murphy said. 
Though Major League Baseball allows players one to three days of paternity leave, Murphy's choice garnered some harsh criticism from a few New York sports radio personalities.

Host Boomer Esiason proposed on his show, Boomer and Carton, that Murphy's wife should have endured a C-section to accommodate her husband's game schedule.
Watch Orange Room video: Shock over radio jocks' C-section statements
"I would have said, 'C-section before the season starts,'" Esiason said. "'I need to be at opening day. I'm sorry, this is what makes our money. this is how we're going to live our life. This is going to give our child every opportunity to be a success in life. I'll be able to afford any college I want to send my kid to because I'm a baseball player.'"
Co-host Craig Carton chimed in too, with, "Get your a— back in the game and you play baseball."
Mike Francesa, another popular radio host said, "I don't know why you need three days off. You're a Major League Baseball player. You can hire a nurse to take care of the baby if your wife needs help."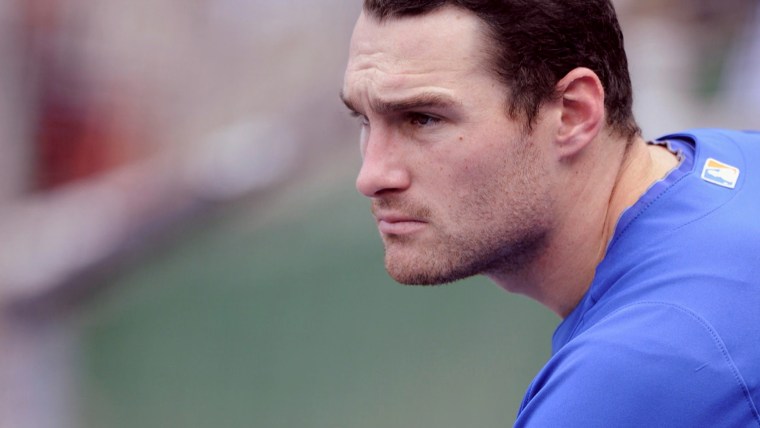 Murphy, who missed just one game last season — fewer than any other Mets player — says the team's on his side.
"Absolutely total support, from the top, down," Murphy said.
"He had our blessing to be with his wife," said Mets spokesman Jay Horwitz.
Esiason later apologized for his remarks, but Murphy's brief leave sparked a debate over the modern father's changing role in parenthood.
Working and stay-at-home fathers are meeting at the White House to talk about the challenges of juggling dual roles of breadwinner and nurturer.
"Fathers are increasingly playing a role raising children, caring for children, doing work around the house and increasingly have challenges balancing work and family, " said Jason Furman, dad and chairman of the White House's Council on Economic Affairs.
Watch: Daniel Murphy talks about his choice to take paternity leave
"Figuring out how to make that balance work economically, how to make it work for families is very important."

A TODAY survey that included about 900 dads found that 70 percent of dads thought men should be respected for taking a paternity leave, but 37 percent of the same dads surveyed also said a man should be respected for going right back to work.
The survey also found that 68 percent of dads who took paternity leave took two weeks or less, and most dads surveyed thought that amount of time was appropriate.
A survey by the Boston College Center for Work and Family reveals that most professional men highly value paternity leave but feel conflicted about taking it.
Fully 99 percent of about 1,000 well-educated, white-collar men surveyed said companies should provide paternity leave for them. Additionally, 60 percent of the men, who all had children under age 18, said paternity leave was an extremely or very important consideration for them when deciding on a new employer.
And yet, many of these men stated they were reluctant to take any leave. About half said they would have to be paid during any leave they took. 
TODAY will be exploring the role of the modern father all this week. Follow us on Facebook for all of the latest updates.