Prince Harry and Meghan, Duchess of Sussex, have officially welcomed their first child, a baby boy! While faithful fans are no longer waiting with bated breath for the child's arrival, some mysteries surrounding the newborn still remain.
Is the baby a prince? Will he have a christening? Where, with his parents, will he live?
We got to the bottom of these burning questions and more. Here's everything we know about the royal baby:
When was the royal baby born?
The Duke and Duchess of Sussex welcomed their first child, a son named Archie Harrison Mountbatten-Windsor, at 5:26 a.m. on May 6. The couple revealed the baby's arrival in an Instagram post shared hours later.
Prince Harry surprised reporters outside his home in Windsor to say he's in awe of his newborn and his wife.
"As every father and parent would ever say, your baby is absolutely amazing," the prince said. "This little thing is absolutely to die for so I'm just over the moon."
Meghan's mother, Doria Ragland, was with the couple when the baby arrived. Three siblings of Harry's mother, the late Princess Diana, were among those to first hear the happy news.
When did Meghan announce her pregnancy?
Many eyes were already on the Duke and Duchess of Sussex on Oct. 15, the day they set out on their first royal trip together — a two-week tour of Australia, New Zealand, Fiji and Tonga — but before they even stepped off their plane, they gave royal watchers another reason to look their way.
Their royal highnesses announced they were expecting a baby "in the spring of 2019."
Download the TODAY app for all the latest royal baby news.
Where was the royal baby born?
The duchess gave birth to Archie at Portland Hospital in central London and not at hers and Harry's home on the Windsor Estate, as previously speculated. The royals kept this detail under wraps until May 17, nearly two weeks after Archie was born, when the child's birth certificate was obtained by the press. Buckingham Palace confirmed the birth site.
A home birth had been rumored long before Meghan delivered the baby, as she and Harry released a statement saying they were going to keep the baby's birth private. It would have marked a return to an earlier royal tradition; Queen Elizabeth II, the monarch and Harry's grandmother, gave birth to all four of her children at home.
However, hospital births are the contemporary tradition. Catherine, Duchess of Cambridge, delivered all three of her children the Lindo Wing of St. Mary's Hospital in London — the same place Princess Diana gave birth to her sons.
Have photos of the royal baby been released?
Yes! On May 8, two days after baby Archie was born, the new family of three greeted press in St. George's Hall at Windsor Castle for the newborn's first photo-op.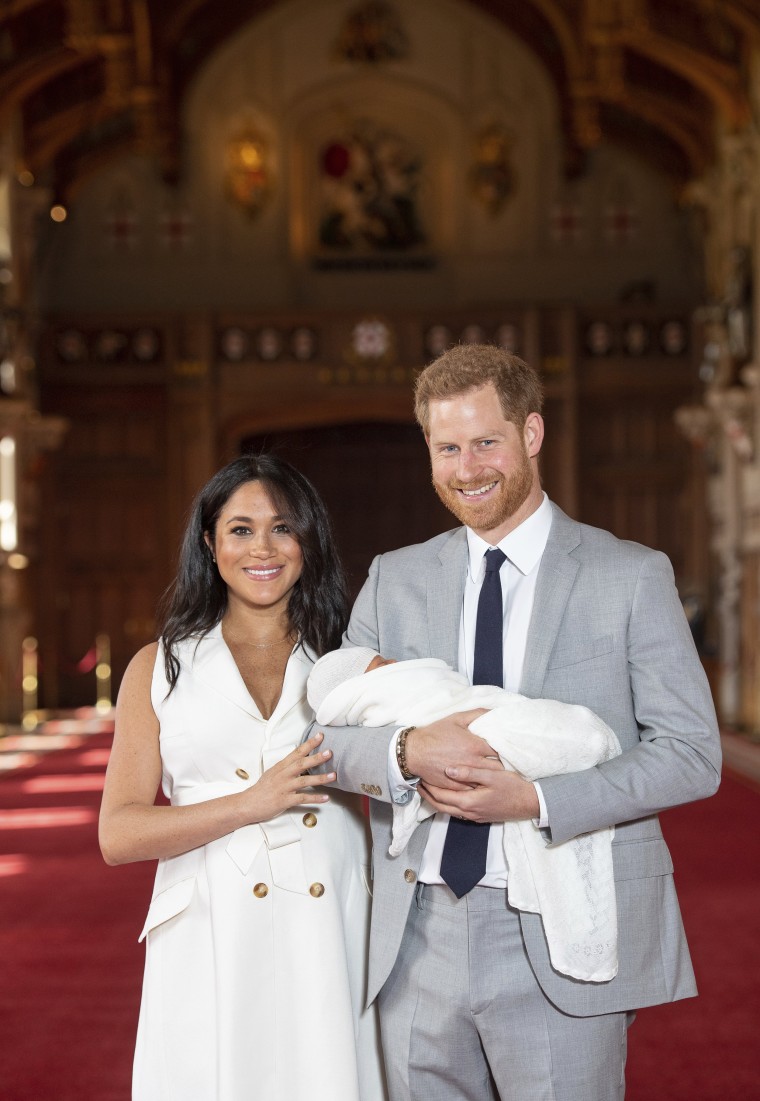 "It's magic. It's pretty amazing," the Duchess of Sussex told reporters as Harry cradled their son. "I have the two best guys in the world so I'm really happy."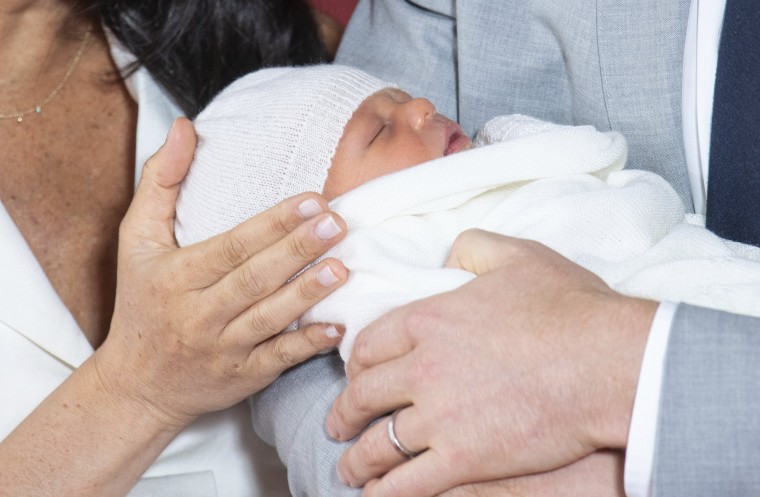 What is the royal baby's gender?
A boy! And it appears Meghan and Harry kept Archie's gender a surprise.
During a night out at the Endeavour Fund Awards in London on Feb. 7, the mom-to-be said as such.
"We decided to keep it a secret," she told one attendee. This is tradition for most births in the British royal family.
So the duchess didn't have twins?
Though this rumor circled throughout the duchess's pregnancy, Meghan did not have twins.
Some wondered this based on the size and shape of the duchess's baby bump, but serious talk about the possibility of twins kicked off in late November when an Irish betting company called Paddy Power announced that all bets were off — officially — after a sudden surge in people putting their money on multiples.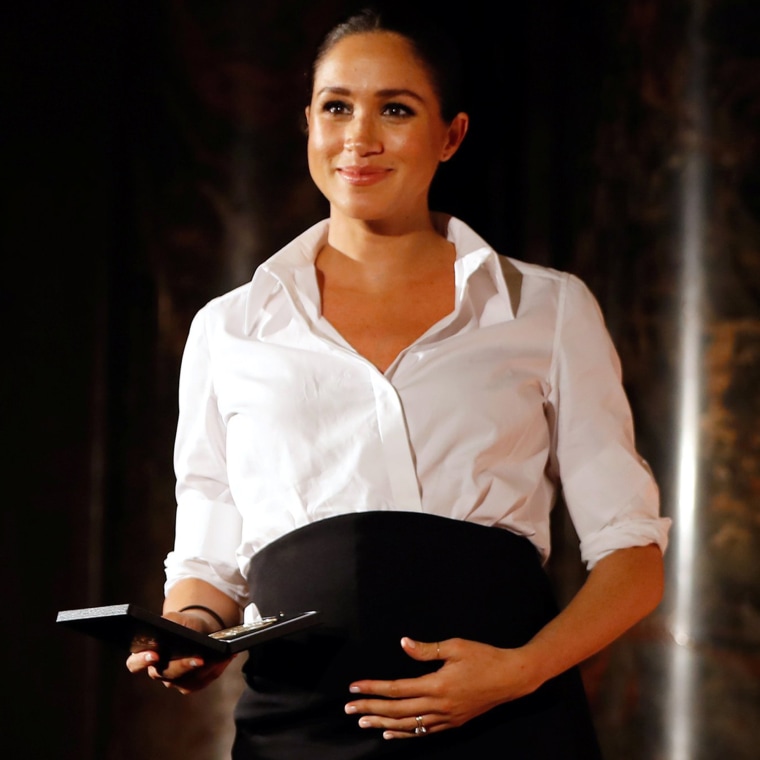 What is the royal baby's name?
Meet Archie Harrison Mountbatten-Windsor. (No, he's not a prince! More on the royal baby's title below.) The Duke and Duchess of Sussex revealed the boy's name on May 8, two days after his birth.
The name announcement came on Instagram just after Archie met great-grandparents Queen Elizabeth and Prince Philip, and hours after his first public photo-op.
What's the royal baby's last name?
Mountbatten-Windsor is the royal baby's last name. Why? The royal family's website has the scoop.
It all starts with a 1917 declaration from King George V that said all male descendants of Queen Victoria would have the last name Windsor.
But in 1960, Queen Elizabeth and Prince Philip wanted their own descendants to be distinguished from the rest, so the queen declared that those who do not carry the title of His or Her Royal Highness (HRH), aka Prince/Princess, or are female descendants who marry, would have the name of Mountbatten-Windsor.
What's the royal baby's title?
Harry and Meghan have chosen not use a royal title for their newborn. Allow us to break this one down.
In order to streamline the monarchy, King George V ruled in one of his 1917 decrees that, of the monarch's great-grandchildren, only the eldest son (in this case Prince George) of the eldest son (Prince William) of the eldest son (Prince Charles) of a king or queen (Queen Elizabeth) would automatically be given His or Her Royal Highness (HRH) status.
In recent years, Queen Elizabeth amended the decree to bestow the HRH to all of Prince William's children, which is why all three have their particular titles.
Now, let's turn to the Sussexes. Prince Harry is officially His Royal Highness the Duke of Sussex, Earl of Dumbarton and Baron Kilkeel, while the former Meghan Markle is Her Royal Highness the Duchess of Sussex, Countess of Dumbarton and Baroness Kilkeel.
The royal rules dictate that Harry, as a duke, can only hand down his dukedom to a son, who would have the title of an earl until then. In the new baby's case, it would have been Archie, Earl of Dumbarton, one of Harry's subsidiary titles. Another option could have been Lord Archie Mountbatten-Windsor.
But the Duke and Duchess of Sussex went with neither, likely because Archie is so far down in the hierarchy.
Where and when was Archie christened?
On July 6, 2019, a small group of friends and family attended baby Archie's christening in the queen's private chapel inside Windsor Castle. (The Sussexes live in a cottage on the Windsor estate, where Harry and Meghan were also married.)
The sisters of Princess Diana, Prince Harry's mother, were attendance, as were Archie's godparents, who wished to remain private.
Who are Archie's godparents?
While we don't know the names of the godparents for certain — they wished to keep their names private, according to a royal statement — we did a little guesswork.
For instance, it would be no surprise if the Duchess of Sussex picked her BFF and stylist Jessica Mulroney as godmother. The two have been close for years, and Mulroney's children even had a role in the royal wedding.
As for Prince Harry, his own longtime pal, Charlie van Straubenzee, wouldn't be an unexpected pick for godfather. They've known each other since their prep school days and have remained close family friends since.
Of course, there could be others, too. As the Duke and Duchess of Cambridge have well established, there's no need to limit godparents to just two — Prince George has seven, Princess Charlotte has five and little Prince Louis has six of his own.
Where does the royal baby fall in the line of succession?
While it's highly unlikely that baby Archie will ever be a king, the child will have a spot in the line of succession to the thrown — right after dad.
Prince Harry is currently sixth in line, behind father Prince Charles, brother Prince William, nephew Prince George, niece Princess Charlotte and nephew Prince Louis. Archie is seventh.
When was Meghan and Harry's wedding?
On May 19, 2018, Meghan Markle became Prince Harry's wife — and thereby Meghan, Duchess of Sussex — when the two wed at St. George's Chapel at Windsor Castle.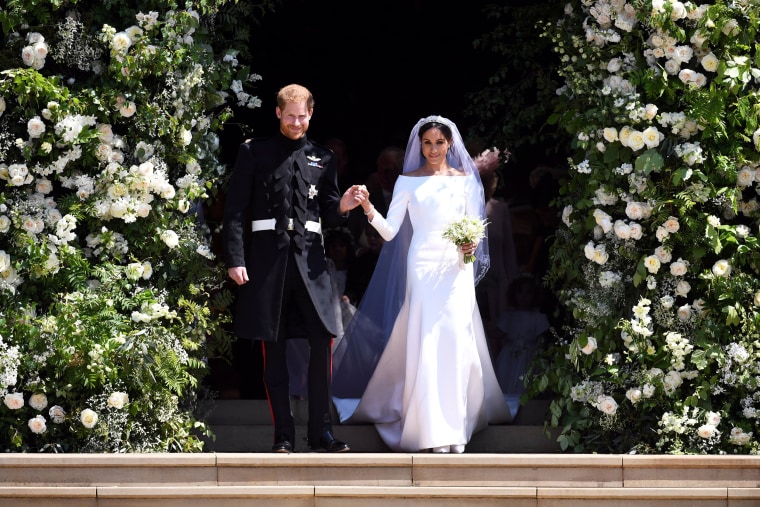 Did Meghan have a baby shower?
While Brits don't traditionally have baby showers, the American duchess did indeed have one.
In February, Meghan traveled across the pond to New York City for a weekend of celebrations with some of her closest celebrity friends. Amal Clooney and Gayle King were among those who attended the mom-to-be's shower at The Mark Hotel.
If you also saw the #GlobalSussexBabyShower hashtag floating around online, that was a separate undertaking by fans. People around the world celebrated the child's forthcoming arrival by making donations to charities. The duke and duchess were so moved by the campaign that they posted a note of gratitude to their Instagram.
Is the royal baby the duchess's first child?
Yes. Archie is the first child for both Harry and his bride, however their union isn't the first marriage for Meghan.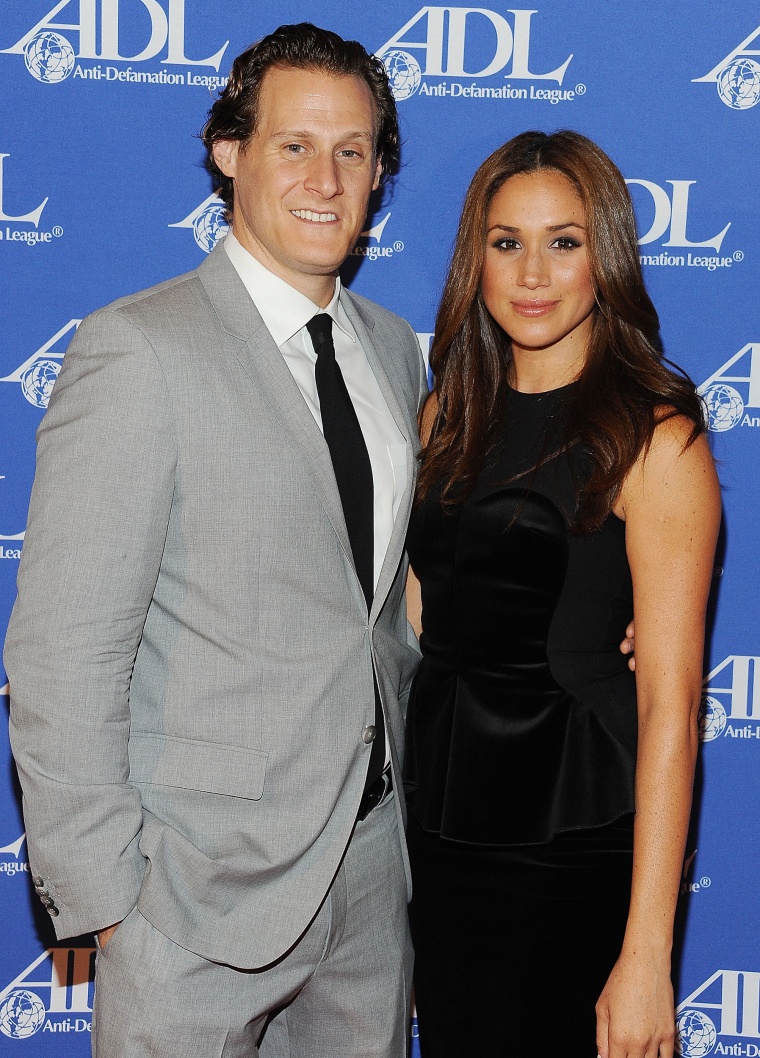 Back in 2011, when she was still an actress on the American TV show "Suits," she wed producer Trevor Engelson. The former couple divorced two years later.
Is this the earliest a baby has been born after a royal wedding?
No. That distinction is held by Queen Victoria, who married Prince Albert on Feb. 10, 1840, and then gave birth to the first of their nine offspring 40 weeks and 5 days later, on Nov. 21, 1840.
But the Duke and Duchess of Sussex almost had a shot at second place.
Princess Diana gave birth to Prince William 46 weeks and 5 days after she married Prince Charles on July 29, 1981.
If Diana's daughter-in-law had given birth on or before April 10, she would have taken that second-place spot. Baby Archie arrived May 6, so as it stands, the Sussexes locked in third place.
How old were Meghan and Harry when the baby was born?
The former Meghan Markle was born on Aug. 4, 1981 (about five months before her sister-in-law, Catherine, Duchess of Cambridge), putting her at 37 years old when the new addition arrived.
Prince Harry, born Sept. 15, 1984, was age 34.
Is the Duchess of Sussex the oldest first-time royal mom?
No. The late Princess Alice, Duchess of Gloucester, who was married to the queen's uncle, Prince Henry, gave birth to her first child the week before her 40th birthday. And Sophie, Countess of Wessex, the wife of the queen's son Prince Edward, was 38 when she first became a mother.
Will the royal baby have dual citizenship?
Not automatically.
While baby Archie will meet the appropriate requisites to become an American citizen — being born abroad in wedlock to a citizen who's resided in the U.S. for more than five years, two of which after age 14 — his parents would have to report the birth to the American consulate and submit documents to make it all official.
However, it's unclear if they'll do that. Dual nationality would come with a requirement of allegiance to both nations, something that could be awkward for a baby born to Britain's own royal family.
Where will Meghan, Harry and the baby live?
The family of three call Frogmore Cottage in Windsor home.
In late 2018, the couple announced plans to relocate to the newly renovated estate, from their current home in Nottingham Cottage on the grounds of Kensington Palace, before the little one's arrival. They made the move in early April.
Will Meghan and Harry have a nanny?
Almost certainly. This is a tradition for most royals as parents juggle public duties, patronages and trips abroad.
Also, reports claim that a nanny's quarters were part of the massive Frogmore Cottage renovation.
Who are the grandparents of the royal baby?
On Harry's side of the family, Prince Charles, as well as his late mother, Princess Diana, are the grandparents. Charles' current wife, Camilla, Duchess of Cornwall, is a step-grandmother to the child.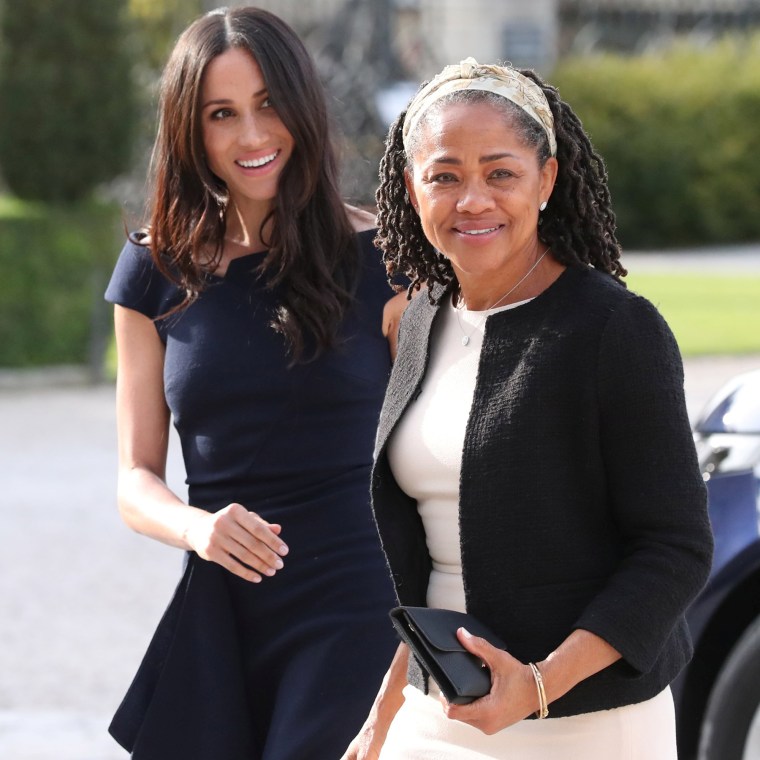 On Meghan's side, Doria Ragland is grandmother and the duchess's father, Thomas Markle, is grandfather — though given his estrangement from his daughter, it's unknown if he'll play any role in the child's life.
Who are the cousins of the royal baby?
Prince George, Princess Charlotte and Prince Louis are all the baby Archie's cousins, as are the duchess's two adult nephews, Tyler and Thomas, the sons of her half-brother, Thomas Markle Jr.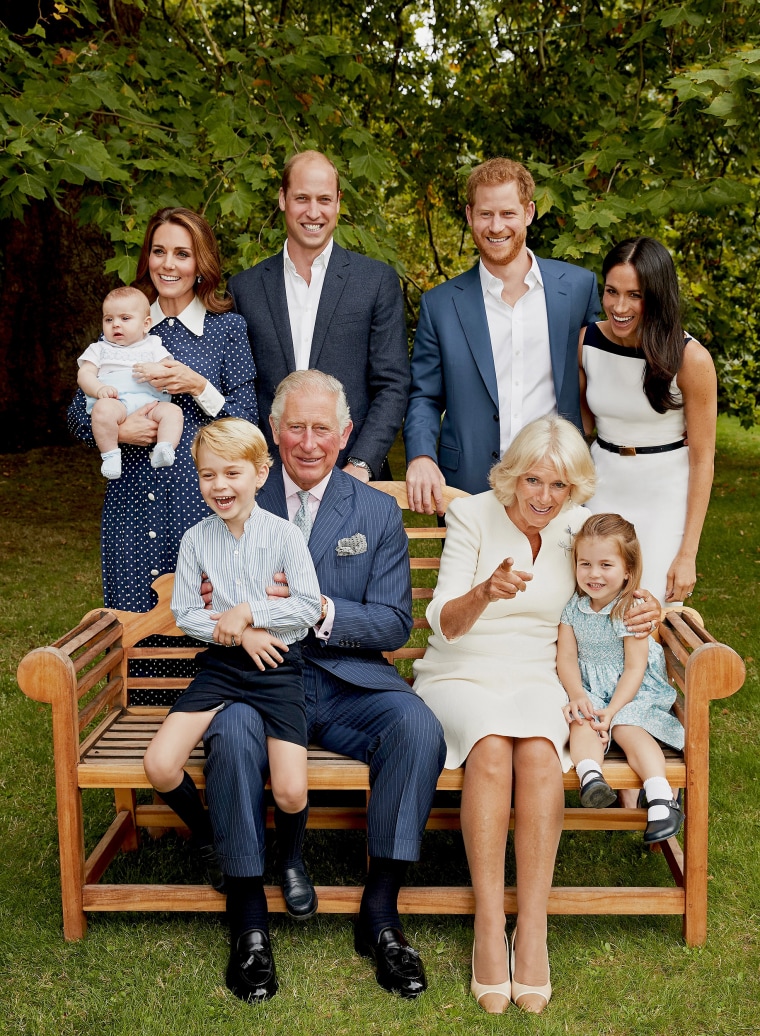 What number great-grandchild is the baby for the queen?
Archie is great-grandchild No. 8 for Queen Elizabeth. In addition to Prince George, Princess Charlotte and Prince Louis, the queen is also great-grandma to Princess Anne's grandchildren, sisters Savannah and Isla Philips and sisters Mia and Lena Tindall.
Does Meghan and Harry's baby have red hair?
The jury is still out on this one, but the answer will come down to genetics. The red-hair gene is recessive, so a child needs two copies of the red-hair gene for those ginger traits to show. While Prince Harry is of course a redhead, we don't know if Meghan carries a recessive red-hair gene. So here's the probability: If Meghan does carry it, the baby has a 50% chance of being a redhead; If Meghan does not carry it, the chances are 0%.
Where can I find the latest updates on the royal baby?
We'll of course continue to update this very post as the latest news rolls in. You can also follow the Duke and Duchess of Sussex's new Instagram, Sussex Royal, that's completely separate from the royal family's page.