Megan Fox knows that people get upset that she lets her son have long hair and wear dresses, and she just doesn't care.
"I let my kids wear what they want!" Fox told TODAY Parents after a recent appearance on TODAY. "They will tell me what they are. It's not my job to teach them that."
She seems shocked that her sons' hair and clothing choices are a topic of conversation for anyone.
"I thought it was illegal, honestly, to shame a child or shame a mom for what a child wears… in 2018," she exclaimed.
Get all the best celebrity parenting stories with the TODAY Parents newsletter: Subscribe here!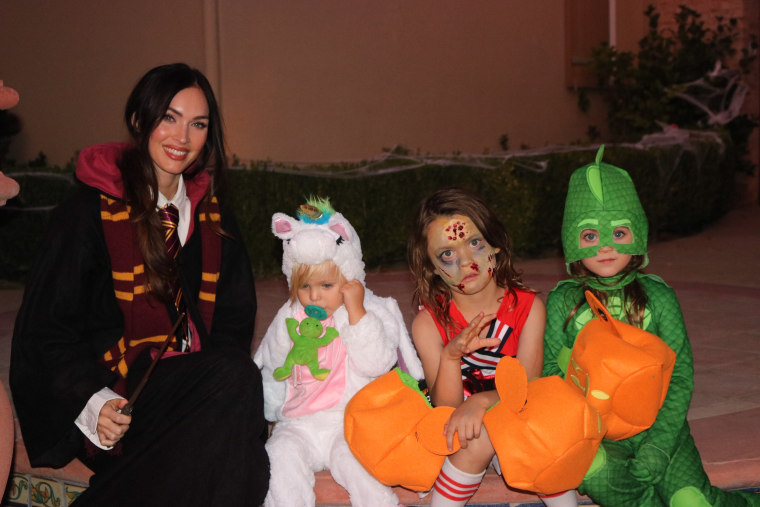 Megan Fox and her kids
Now that her sons with husband Brian Austin Green are 6, 4 and 2, she's starting to see their individual personalities and styles develop. Her oldest, Noah, is an artist who adores his long hair. Her middle child, Bodhi, loves sports and may opt for a shorter 'do, Fox said, but she's letting him make that choice: "He has THE BEST hair, so it would be a crime to cut it… I'm going to let that be something he decides to do on his own."
"And the baby is still a baby," Fox said of Journey. "He has like, four hairs."
Fox is an instantly recognizable actress, having starred in the "Transformers" and "Teenage Mutant Ninja Turtles" movie franchises as well as "Jennifer's Body" and "Jonah Hex."
Her kids don't know any of that, though. They're not quite old enough to grasp what she does for a living, so Fox tells them she's an "explorer" or an "adventurer."
That job description is literally coming true with her new TV series for the Travel Channel, "Legends of the Lost," premiering Dec. 4, in which Fox travels the world to investigate ancient mysteries like who built Stonehenge.
'He could be Pablo Picasso!'
Off-screen, she's most passionate and animated when she's talking about encouraging her three sons to follow their own passions.
Her 6-year-old wants to be a fashion designer. "Everything for him is about beauty, color, texture," she said. He loves to "style" his mom and she encourages his creative spirit. She whips out her phone in the TODAY dressing room to proudly show a photo of one of his dress drawings. (It's actually really good!)
Letting Noah express his own style with dresses and long hair, if he wants, is just part of Fox's parenting philosophy. "He has the potential to be an incredible artist," Fox said. "He could be a Pablo Picasso — I'm not going to squash his vibrant, beautiful mind!"
Her 4-year-old loves more stereotypical "boy" stuff like cars and sports, and Fox said she's equally excited to encourage his interests. "He's also this really evolved and kind, gentle spirit," she said. "They're not mutually exclusive."