Michael Darden works magic. But he doesn't wear a cape or a top hat when performing, just a stethoscope around his neck.
The pediatrician has become a viral sensation after one mom posted a YouTube video of the doctor giving her son a pair of vaccinations — and making the toddler giggle while receiving them.
Darden, 62, insists there's no slight of hand when it comes to his method. Instead, it's all about old-fashioned bedside manner, something he said more doctors in this country need lessons on.
"Most people have more of a relationship with the reception desk or the nurse," says Darden, who doesn't even employ a nurse at his solo practice, located about 15 miles northeast of Washington, D.C. in Lanham, Maryland.
In addition to his rapport with patients, Darden also is known for spending ample time with them.
"The other doctors, within 10 minutes, they just want to leave you there," said Mekedes Mekonnen, the woman who posted the now-viral video of her son. Dr. Darden doesn't do that. He takes his time. He plays with the kids. He's the best."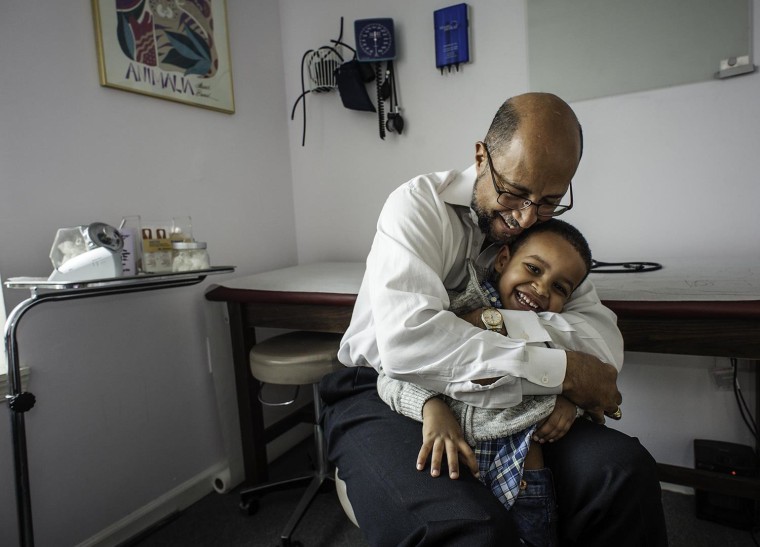 Mekonnen originally took the video of her son, Noah, who was about six months old at the time, to show her relatives back in Ethiopia what kind of kind doctor she had found.
"Our cheeks hurt the first time I came," she recalled of their first visit.
In the video, Noah, now 4, sits on his dad's lap as he gets one shot in each thigh. The toddler is distracted by Darden's goofiness and, at one point, a whole bunch of tissues being tossed at him. The video has been viewed more than 3.1 million times since Mekonnen posted it on YouTube on March 27, 2012.
Darden now prohibits videotaping during visits (although photographs are allowed) after one patient scheduled a visit session under false pretenses and started recording it, the doctor believes, with hopes of creating another viral sensation.
"It just got ridiculous," he said of all the attention his practice has received.
But Darden understands why so many people were drawn to the video. He said it represents a mindset lacking in too many pediatricians.
"I don't think that the whole concept of bedside manner is being taught in medical school. It's not being taught in residency programs, but it is ever so important," he said.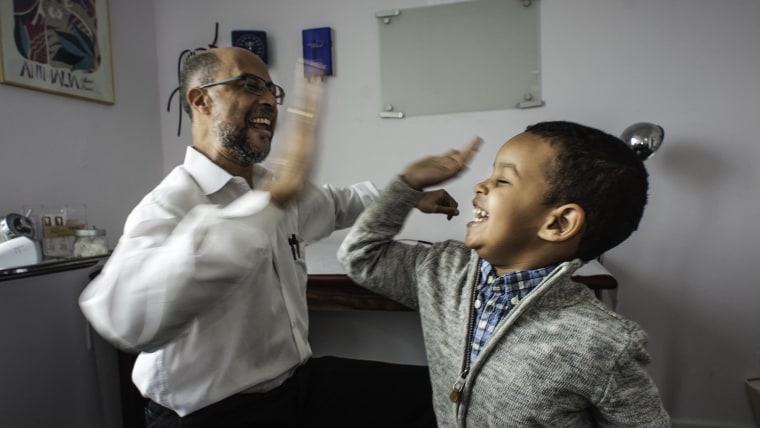 Children have numerous reasons for getting scared at a doctor's office, but too many physicians fail to address those legitimate fears.
"We go right into their personal space, and instantly they're on the defense. We're poking or prodding or listening here and there. Of course, they're frightened," he said. "When you have to give them a shot, they're already on edge. They'll never want to come back. The kid is going to start screaming as soon as you drive up the parking lot."
But Darden knows having a solo practice affords him greater flexibility in today's medical world, where large group practices, often run by medical conglomerates, are the norm.
"I'm in there doing vitals, as well as the doctor stuff, and it allows me to have greater face-to-face contact with patients and their families. After a while, especially with me being a soloist and not in a group, I know patients like family members, and they look at me like I'm an extension of their family," he said.
Darden usually spends about 30-45 minutes with his patients. That much time "would probably get you fired" somewhere else, he pointed out.
"That's unfortunate because it makes a big difference in the comfort level of children," he said
The extra time with patients, along with limited medical staff, result in long work days for Darden. He has two shifts of employees and usually doesn't leave the office until 8 or 9 pm.
"What is really valuable to me is that after 32 years of doing this, I get paid royally from the smiles of the kids laughing or giving me a hug," he said. "That means more to me than anything else. It's like I have an extended family of 3,000 or 4000 kids."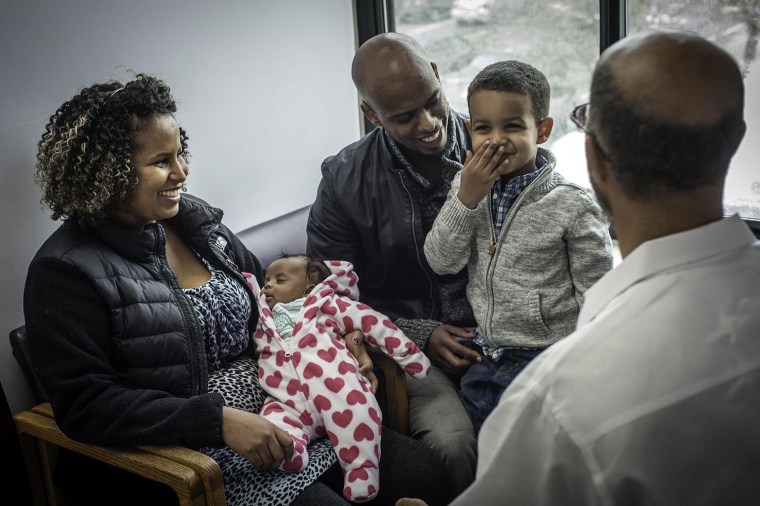 Mekonnen and her husband, Raey Hailegiorgis, recently added another patient to Darden's roster: Six-week-old Gabrielle.
"I actually drive an hour just to see him when there's another doctor two minutes from my house," Mekonnen said. "We're not going anywhere else. He's worth it."
Follow TODAY.com writer Eun Kyung Kim on Twitter.