Landon Cunningham's 9th birthday celebration and first trip to a Major League baseball game changed from near disaster to relief in a split second, all thanks to his hero dad.
Landon was looking at his phone while texting his mom a picture from Saturday's Pirates-Braves spring training game when Pittsburgh outfielder Danny Ortiz lost control of his bat at the plate.
That sent the bat hurtling into the stands behind first base, directly at Landon's face.
At the last instant, his father, Shaun Cunningham, stuck out his arm to block the bat from hitting his son.
"I didn't have a lot of time to think,'' Shaun told TODAY on Tuesday. "Once I realized it was headed for my son, I just did anything I could to block it and deflect it."
RELATED: Dad saves boy from getting smacked in the face with baseball bat: See the moment
A photo of Shaun saving the day captured by Pittsburgh Tribune-Review photographer Christopher Horner went viral.
"I looked up because my dad said something, but I didn't look up in time and he put out his wrist to block it,'' Landon told TODAY.
The family from Ocala, Florida, was able to breathe a sigh of relief thanks to Shaun, who is a firefighter. Shaun's wife, Ashley, got emotional when she first saw Horner's photo of her son nearly getting clobbered.
"She had a hard time with it,'' Shaun said. "She got a little nauseous, but thank God...no one was seriously injured."
And soon, Landon will have something else to commemorate his memorable big league birthday, aside from the photo of the near-miss.
The Braves sent him an autographed jersey from his favorite player, Atlanta All-Star first baseman Freddie Freeman.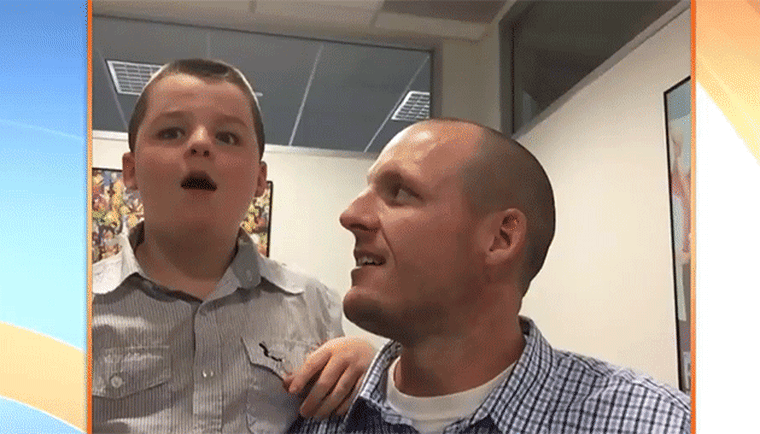 "Oh my goodness,'' an astonished Landon said after Al Roker told him the news on Tuesday's show.
While the bat incident was a little scary for Landon, Shaun made sure it was a day to remember.
"My first baseball game was amazing,'' Landon said.
Follow TODAY.com writer Scott Stump on Twitter.