Gay and Steve Grossman knew something wasn't right with their young daughter, Lilly, when she couldn't sit up by herself by nine months. At one and a half, Lilly still wasn't walking. It wasn't until Lilly was two that they were told she had mitochondrial disease, a genetic disorder resulting in severe muscle weakness.
The prognosis was stark: 80 percent of patients don't live out their teen years. "The day I heard that, I just made a decision to live as if we were in the 20 percent," says Grossman.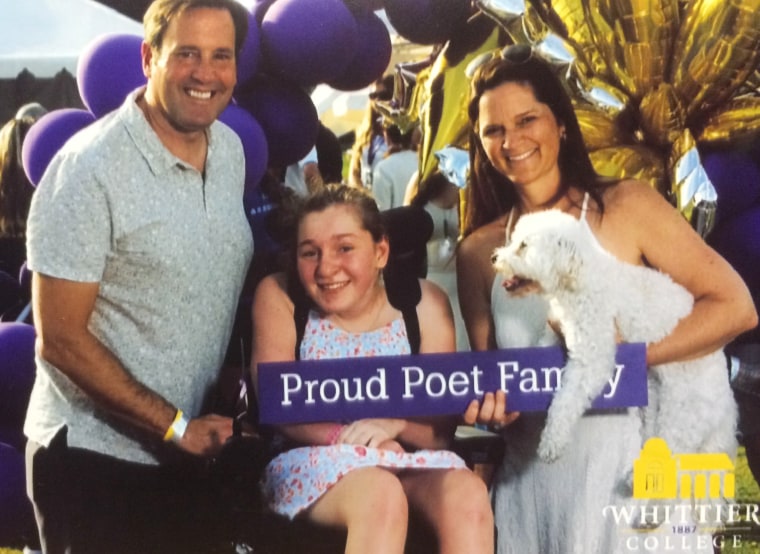 Six years ago, when Lilly was 15, the Grossmans learned about a new genetic sequencing technique that analyzed a patient's DNA and was helping to identify rare diseases. Lilly was accepted into a study at nearby Scripps Translational Science Institute in her hometown of La Jolla, California.
Six months after Lilly and her parents each donated a vial of blood for analysis, they learned that Lilly had mutations affecting ADCY5 and DOCK3, genes that help her control movement.
Never miss a parenting story with the TODAY Parenting newsletter! Sign up here.
Although no cure exists, doctors were able to prescribe drugs that tame the excruciating tremors she had developed in preschool, so now she finally can sleep through the night. Best of all, Lilly could be expected to live a normal lifespan.
"All of a sudden, we learned our daughter had her whole life ahead of her," says Grossman.
For as long as researchers have begun to identify the world's estimated 7,000 rare diseases, the news hasn't been good: Of the estimated 30 million Americans who suffer from them, 50 percent are children. 30 percent of whom will not live past their fifth birthday, according to the patient advocacy organization Global Genes.
Yet advances in science are helping parents of sick children better manage their diseases. (A bill introduced in Congress earlier this year calls on states to cover whole genome sequencing for sick children.)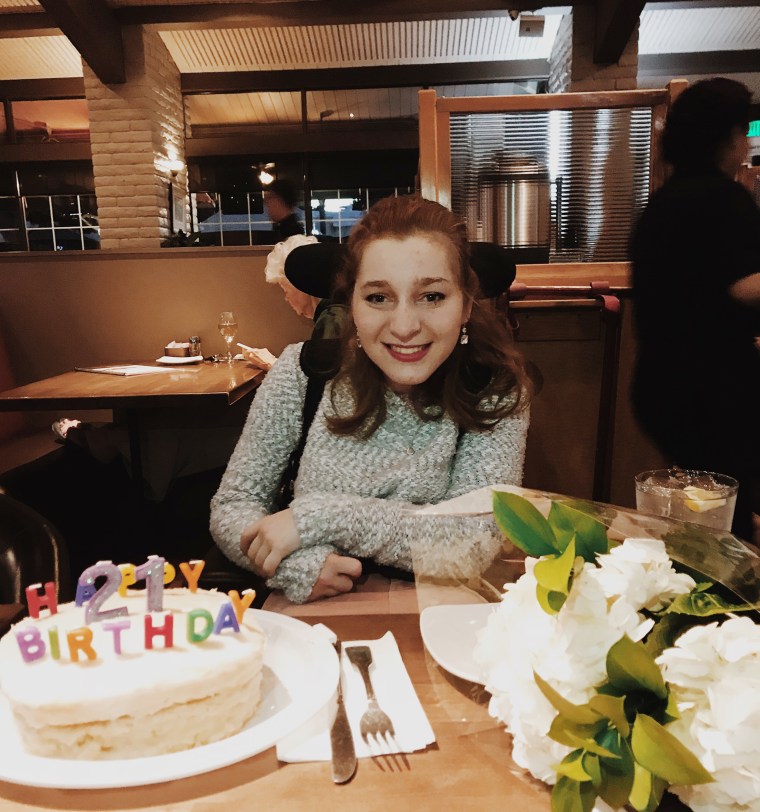 "Before new sequencing technology, you'd have to know what you were looking for. It was time-consuming and expensive," says Nancy Spinner, chief of the division of genomic diagnostics at the Children's Hospital of Philadelphia. "Now you're able to look at all the genes in one fell swoop and see the mutations, and it's led to an explosion of finding new disease-causing genes."
For many parents of children with rare diseases, what once seemed like a fatal diagnosis has become a chronic condition that can be controlled.
"So many families have gotten used to living in uncertainty and vacillating between hope and despair that they focused on living in the now," says Maya Doyle, assistant social work professor at Quinnipiac University. "Now many of their kids are living longer, and the script got flipped."
Doyle, who counsels parents on helping children with rare diseases make the transition to adulthood, says they often have to do an emotional about-face. Suddenly they must think of practical matters, such as college, insurance coverage or assistance with daily living.
"The question now is 'How do we prepare kids to be able to take care of themselves?'" says Doyle. "We work on helping them finish their education or navigate the workplace. Those are hard enough for any young person. Now add the management of a chronic disease."
Young adults might have to find new doctors who aren't familiar with their rare diseases. The transition can also be difficult for parents who've been their lifelong champions. "For parents to let go is frightening. They think, 'What if I'm not there if things fall apart?'" she says.
Four years ago, when doctors told Katie Stevens and her husband that genetic testing revealed that their 13-year-old son Riley suffered from a telomere biology disorder, they were offered this piece of advice: "Don't look it up on Google." That way, they wouldn't learn that their son had a life expectancy of 16.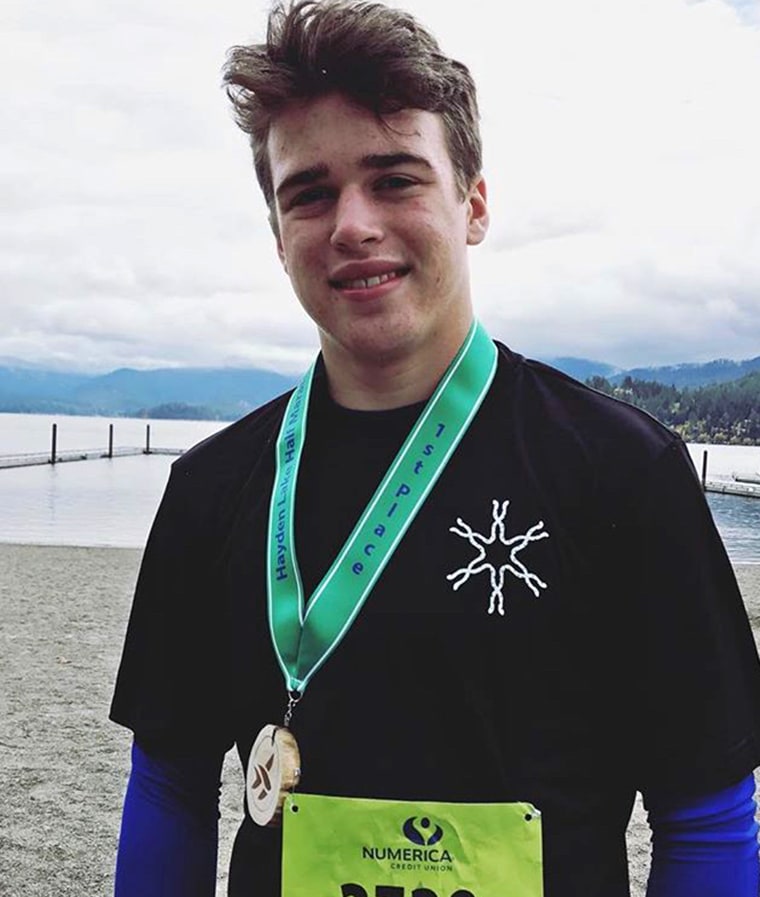 Stevens, of Coeur D'Alene, Idaho, is now the president of the Facebook group for DC Outreach, a community for those affected by Dyskeratosis Congenita (the DC of the title) and telomere biology disorders. There, 820 members trade tips on how to manage their children's conditions, such as trying special diets to stem gastrointestinal bleeding or pursuing bone-marrow transplants like the one Riley underwent a few years ago.
Riley, now 17, is planning to apply to Montana State University next year to study snow science, and has dreams of being a mountaineering guide. "We're excited about college, and that's as far as I want to project since I have no control over any of it," says Katie Stevens. "Still, my mindset is, 'Game on!'"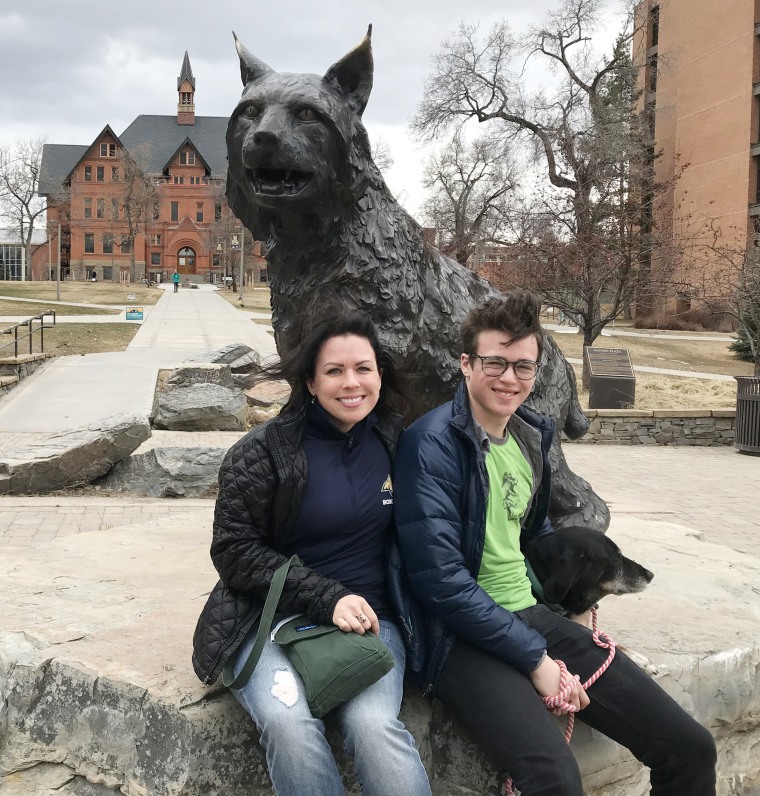 As for Lilly Grossman, she's 21 and a junior at California's Whittier College, where she's studying political science and English.
"Going to college and living in the dorm was such a dream for her, and we were able to coordinate any help she needs," says Grossman, who started a foundation to connect patients that have one of the same mutations as Lilly and support research.
Lilly's diagnosis also enabled her parents to dream about their daughter's future, which they hope will include a cure. Lilly uses a wheelchair, but her mother says, "I have no doubt that she will walk some day. Look how far we've come already."