A Maryland school district has turned into the "Grinch Who Stole Christmas" — or at least the Grinch who removed Christmas from the school calendar.
The Montgomery County Board of Education, whose district borders the nation's capital, voted 7-1 this week to scrub references to Christmas, and all other religious holidays, from its published school calendar.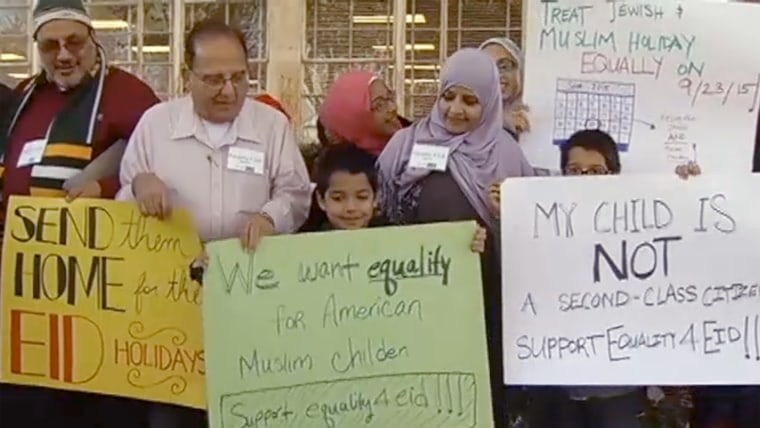 The move was prompted in part by requests from Muslim leaders who requested the schools observe at least one of the Muslim holy days. The district currently closes for several Jewish and Christian holidays, but next year, the Muslim holiday Eid Al Adha coincides with Yom Kippur on Sept. 23, 2015, and Muslim leaders asked it also be recognized on the school calendar.
With Tuesday's school board vote, students still get time off for "winter break" in December, or "spring break" around Easter, as well as Rosh Hashanah and Yom Kippur, which now will be listed as "no school" days.
"This decision was made to emphasize that the decision to close school on a particular day is based on operational matters — such as high staff and student absenteeism — and not for religious or cultural reasons," the district said in a statement after the meeting.
The decision triggered backlash in the Montgomery County school district among people who felt the school board went too far, or simply failed to handle the issue appropriately.
Merry Eisner-Heidorn, who has two children in a district high school, called the situation "the latest absurdity" from the school board. She said while "there is value" in the new calendar, the decision was handled poorly.
"The Muslim community asked for equity," she wrote in a Facebook post. "Now there are people using this decision to defame Islam and Muslims in America that were doing no more or less than any segment of America's population — advocating for recognition."
Kym Porter, whose three children attend Montgomery County district schools, questioned why the board leaned so heavily in one direction. "I get academic calendars from Staples every year and they list Christmas, Hannukah, Eid, Ashura, Kwanzaa, Administrative Professional's Day and assorted Mexican holidays," she told TODAY. "I understand the 'all or nothing' idea, but why not all?" 
Reactions on Twitter were strong, but ranged widely across the political spectrum.
Montgomery County school board members have pointed out that the nearby Fairfax County school system, the largest school district in neighboring Virginia, also does not mention religious holidays by name. 
Follow TODAY.com writer Eun Kyung Kim on Twitter.