It doesn't matter how cool the world thinks your dad is. He could be an A-list movie star with two Oscar nominations and a hit-making music career behind him, and he's still going to embarrass you.
Welcome to the world of Ella Wahlberg, who made the error of asking dad Mark Wahlberg to resurrect his rap career.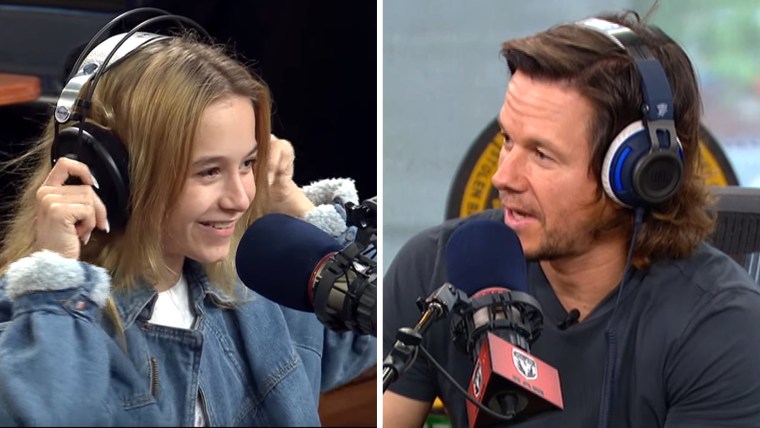 MORE: Mark Wahlberg lashes out at actors who compare their jobs to being a soldier
For those of you who may not remember, Wahlberg came onto the scene originally as the leader of Marky Mark and the Funky Bunch, who had a hit in 1991 with "Good Vibrations."
"Dad, I want to hear you rap right now," the 13-year-old asked her pop during an appearance on "The Dan Patrick Show" Wednesday.
Dad was down, and launched into it: "I'm your 45-year-old father and I got to rap/and if you keep misbehaving I'm-a give your behind a slap."
Ella immediately started giving him the "cut off" sign, waving her hand across her throat.
But Wahlberg rolled on: "It's called a spanking/later on in life you're gonna thank me/'Cause all the advice that I'm giving you is good for you/and if not, your butt and behind is gonna be black and blue."
We're sure he doesn't mean that literally. It turned out that, yeah, Ella does need some disciplining, but he has other methods.
MORE: Mark Wahlberg: I regret seeking pardon over assaults committed as teen
"We're giving you positive-encouragement raps," Wahlberg said. "It's good information to help you behave, and then you're going to earn that phone back, girl."
As he explained, he'd taken Ella's phone privileges away after an incident, but she didn't think it was fair. "My brothers or anything didn't lose their [iPad] when they were bad."
"If I took their iPads they wouldn't care," he said. "They'd just go throw a ball or bounce their head off the wall and they'd still be happy. You live for the phone, so I got to get you where it counts, kid."
And apparently that includes rapping at her!
Follow Randee Dawn on Twitter.