Watch out if you start working for "Law & Order: SVU": You might end up with children before you know it.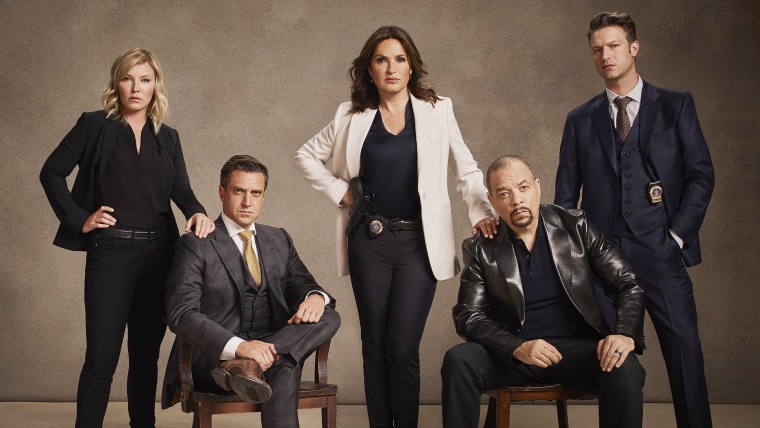 "You can't be a cast member on this show and not have like a baby a year," joked Mariska Hargitay (Lt. Olivia Benson), who spoke with TODAY on the "SVU" set Thursday ahead of the series' 18th season.
"I have three kids, Ice-T [Det. Odafin Tutuola] and Kelli [Giddish, Det Amanda Rollins] [have one baby each], Peter [Scanavino, Det. Dominick Carisi Jr.] has two, and there are days when the kids are here and you're like, 'Is this a day care center?'" she added.
MORE: Happy birthday, Mariska Hargitay! 5 times the 'Law & Order: SVU' star was awesome
It's true, though; the baby boom behind the scenes at "SVU" has been making headlines for almost a year.
Scanavino says he's brought his children (who are 4 and 8 months) to the set for special photo ops.
"You bring them in here, put them in jail, take photos," he laughed. "Of course! And all our kids know each other."
"It's like 'Romper Room' back there," noted Raúl Esparza (ADA Rafael Barba). "You'll get pelted by a giant ball in the hallways on your way to the west wing, where the writers are."
"Ludo [Giddish's 9-month-old] and Chanel [Ice T's 10-month old] are like girlfriend/boyfriend situation," grinned Ice T. "We got good kids. This show is like a sitcom behind the set."
MORE: Mariska Hargitay: Taylor Swift's 'Shake It Off' 'touched me deeply, profoundly'
He then made sure to pull up a melt-worthy image of Chanel holding Ludo's hand during a recent photo shoot on his cell. We found it on Instagram and are now puddles on the floor:
Cast members agree having kids around is a good thing.
"You go home and you look into your children's eyes and it changes everything," says Hargitay. "It's like, everything's OK because you're right here in front of me and now I see life and newness and hope and beauty and all those things we see.
"Our kids can take the day off us ... It's a love chain here. We are in it together," she says.
Including the next generation!
"Law & Order: SVU" returns to NBC on Sept. 21 at 9 p.m. ET.
Follow Randee Dawn on Twitter.