Bryan Morseman has been a competitive runner for more than half his life, but his miles — and milestones — have become more meaningful since his son was born last year with spina bifida.
Morseman, 29, has been trying to earn prize money to help with medical costs for 9-month-old Leeim. He already had an impressive string of marathon wins before last month, when he racked up an astonishing three more victories in an eight-day stretch, pulling in $5,750.
"I don't do it for myself. I do it for him," says Morseman, who works full time as a precious metals clerk. He trains during his lunch break and at night on his treadmill. "That disability my son has has inspired me to achieve the most from my running."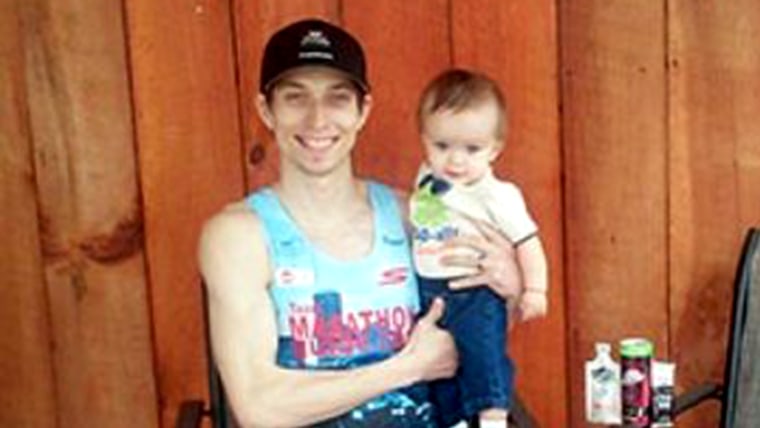 He thinks about Leeim "24/7," and always when he's running, no matter if he's grinding out a lightning-fast marathon win (his personal record came last year at 2:19:57) or just going for an easy run and starts to feel the strain.
"When you think about your son who's going through pain — even though he's smiling and happy, he's going through pain —it just makes your pain a lot less," he says.
Morseman and his wife, Sarah, learned during her pregnancy that their unborn child had myelomeningocele or the most severe form of spina bifida, an opening in the spine that exposes the spinal cord and can cause paralysis below the opening.
To improve the chances that their son would be able to walk, the couple left their home in Bath, New York, so Sarah could undergo prenatal surgery at the Children's Hospital of Philadelphia to repair the opening. Leeim was born there at 34 weeks on June 20.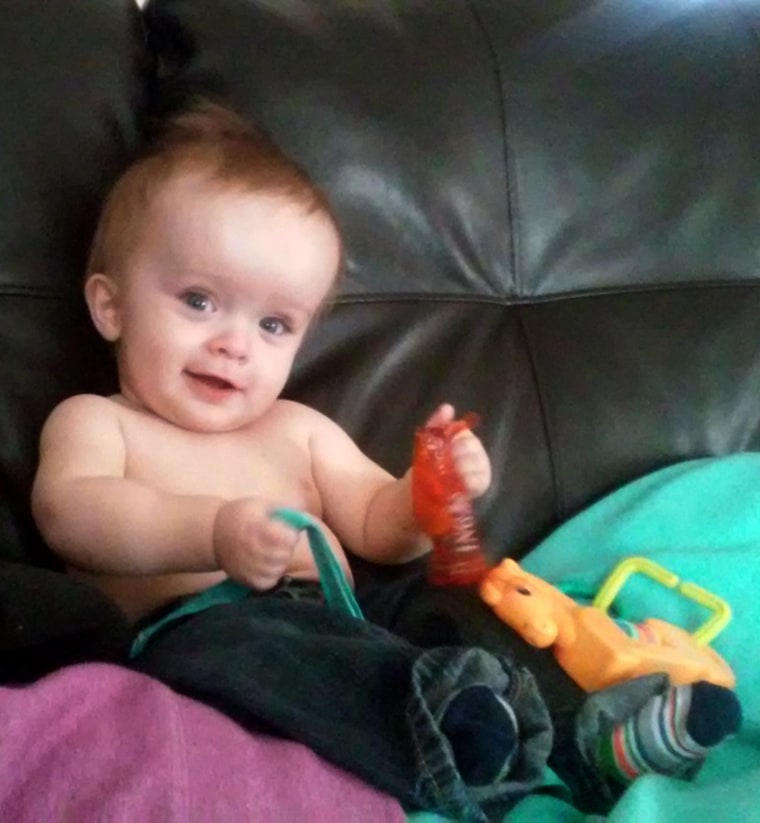 Today, he is a smiling, interactive baby who is not yet crawling but can use his arms and tries to play with his 2-year-old brother, Alden. "He is the most happy baby in the world," his mom says.
Leeim receives physical therapy several times a week, and his parents are also working to strengthen his leg muscles. They say it's too soon to know whether he will walk or have cognitive impairments.
"We don't look at him any differently," Morseman says. "He's still a precious little boy."
"He's that little spark you need when you don't have it," he added. "You have a bad day, look at him in the eyes and it's not a bad day, not a bad day at all."
While the Morsemans have health insurance, they face the extra costs of traveling to doctor's appointments, and are trying to save for Leeim's future needs.
Sarah is proud of her husband's accomplishments.
"He's an amazing father," she says. "He's just so dedicated to running and winning this money to take care of these boys, and Leeim in particular. He's amazing."
When it came to Morseman's most recent 26.2-mile victories, he wasn't even sure which races he would run, though he was registered for all three.
The family traveled to Alabama, where he won the Montgomery Marathon on March 14 with a time of 2:24:40. On the way home to upstate New York the next day, he figured "why not give it a try" to win the Tobacco Road Marathon in Cary, North Carolina, which he did in 2:32:39 after spending the previous day racing and sitting for hours in the car.
After his first back-to-back marathon wins, he returned home for the work week, and on Friday afternoon, the Morsemans were back on the road, headed for Virginia and the Yuengling Shamrock Marathon. After a few hours of sleep, he was even faster than the previous weekend, clocking in for the top prize at 2:24:10.
"I looked at him as he crossed the finish line, and I said, 'You're insane and you're a machine and you're amazing,'" Sarah Morseman says of her husband's win in Virginia Beach. "I was literally blown away."
Morseman followed his father and older brother into running, joining the cross country and track teams when he was 11. He continued in high school and college, where the longest event, the 10,000 meters, left him itching to compete in longer races.
Shortly after graduation, he placed a disappointing second in his inaugural marathon in 2008. But he has now won 23 of the 42 marathons he has run, and lives to keep ahead of the pack.
"I'm not afraid of competition," says Morseman, who hopes to beat the 2:18 cutoff to qualify for the 2016 U.S. Olympic Trials. "It's something I was born into. It's what I thrive off. It's an addiction."
Since Leeim arrived, Sarah has seen her husband become a better person through running.
"I know he has an absolute love for it, but now I have seen him just grow through it because of Leeim and because of how good he can be," she says.
The combination of his longtime passion and his deep love for his son makes the victories that much sweeter. Morseman's goal is to keep earning money by doing what brings him joy and to give Leeim "the best life possible."
"I love doing it, from the competition to the determination, and now I'm doing it for something else that I love," he says. "No matter what, I got his back."
The family is also raising money through a GoFundMe page:
Lisa A. Flam, a regular contributor to TODAY.com, is a news and lifestyles reporter in New York. Follow her on Twitter.