Editor's note: This story was first published on Dec. 3, 2015. We are sharing it again because it's delightful. Share your own stories of Santas who went the extra mile on our Facebook page.

Sitting on Santa's lap can be a horrifying experience for many children, but for someone with autism, it can be excruciating. The crowds, the lines, the lights, the noise.
After learning their son, Brayden, had autism, Erin Deely and her husband abandoned the notion of ever getting a traditional Christmas snapshot of the boy with Santa.
But thanks to the Caring Santa program, organized by the group Autism Speaks, Deely's 6-year-old son was able to head to a mall in Charlotte, North Carolina, and spend some quality time with Father Christmas after the stores had closed. And he got to meet the man on his terms.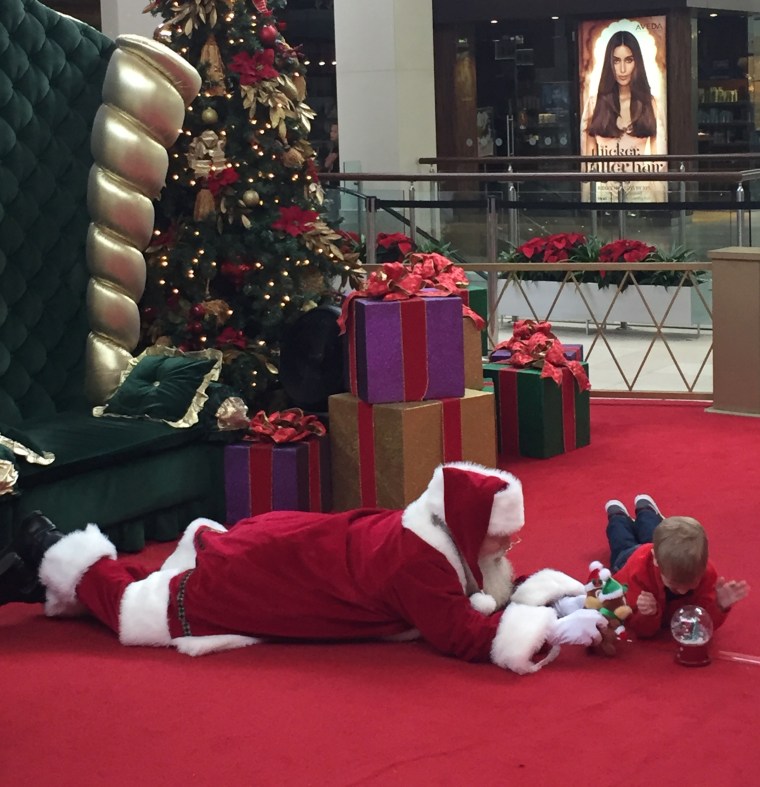 "They let you take all the time you need to let him warm up to Santa, so Brayden started out far away," Deely said. "He knew who Santa was, but he was shy."
After a few minutes, Santa took a musical snow globe, put it down on the floor and went back to his big chair. Intrigued, Brayden crawled over to the toy and started playing with it.
Eventually, Santa joined him on the floor — on his famous belly.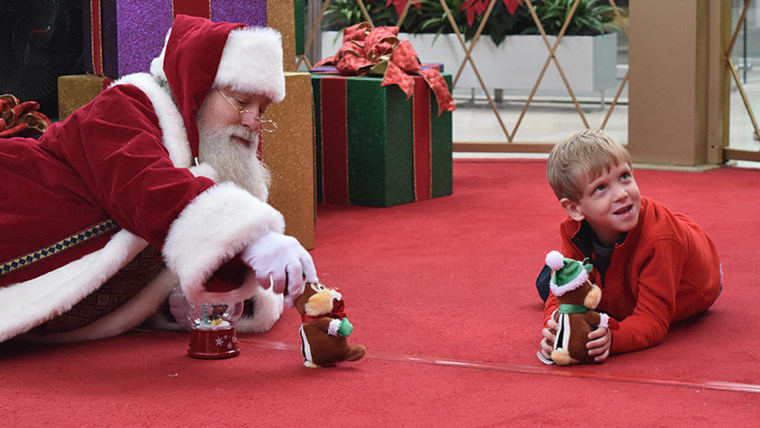 "He got down on his stomach and just started playing with him," Deely said. "They didn't event talk to each other, really, they just bonded and played, and Brayden started to be really excited and started looking at him and smiling."
Lisa Goring, an Autism Speaks executive vice president in charge of programs and services, said the Caring Santa program provides a controlled environment so that meeting Santa can become a calmer, stress-free experience for families.
"We know for some kids with autism, the idea of going into a mall and an environment they're not used to has a lot of sensory challenges," she said.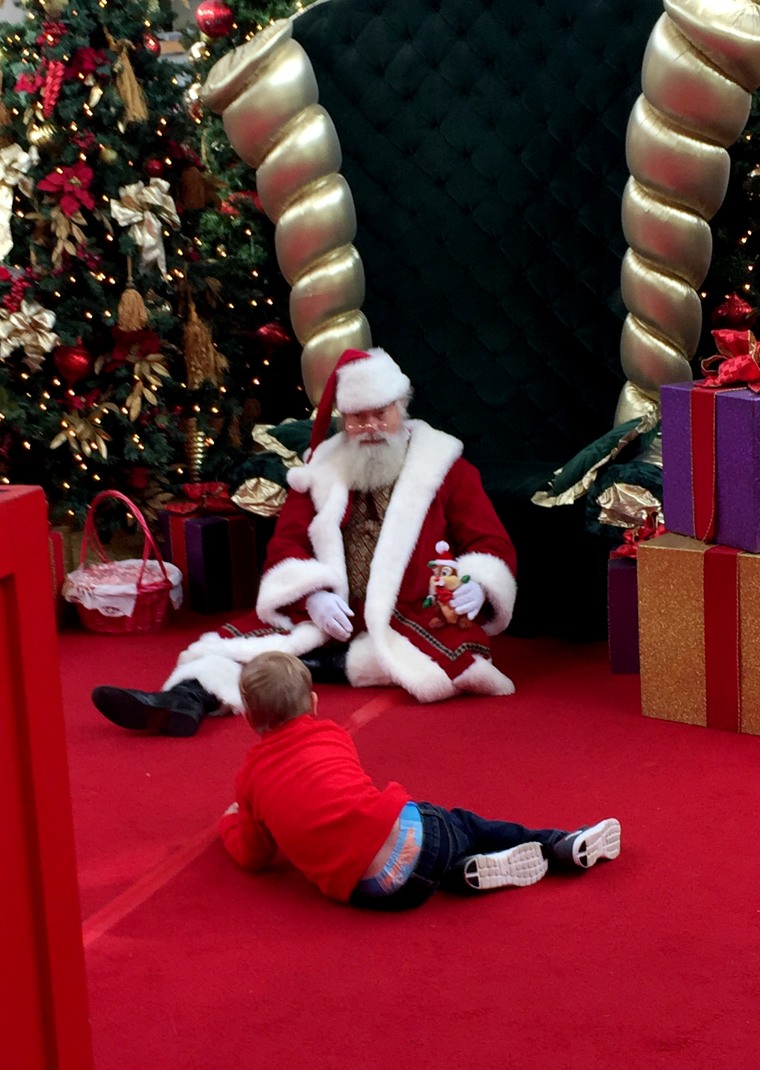 High-pitched noises, flashing neon or overhead lights, long lines and being asked to sit on the lap of a stranger can be terrifying for many young children, but those fears are heightened for children unable to communicate verbally, she said.
The Caring Santa program has locations in malls at 120 cities. Many of the Santas already serve in the role for malls, but receive additional training and guidance through the program to learn better ways to connect and accommodate children with autism.
"It's a great way for families to experience a holiday tradition," Goring said.
Deely agreed.
"This was our only way. We wouldn't get traditional Santa pictures otherwise. For years we didn't because it was too much for Brayden," she said.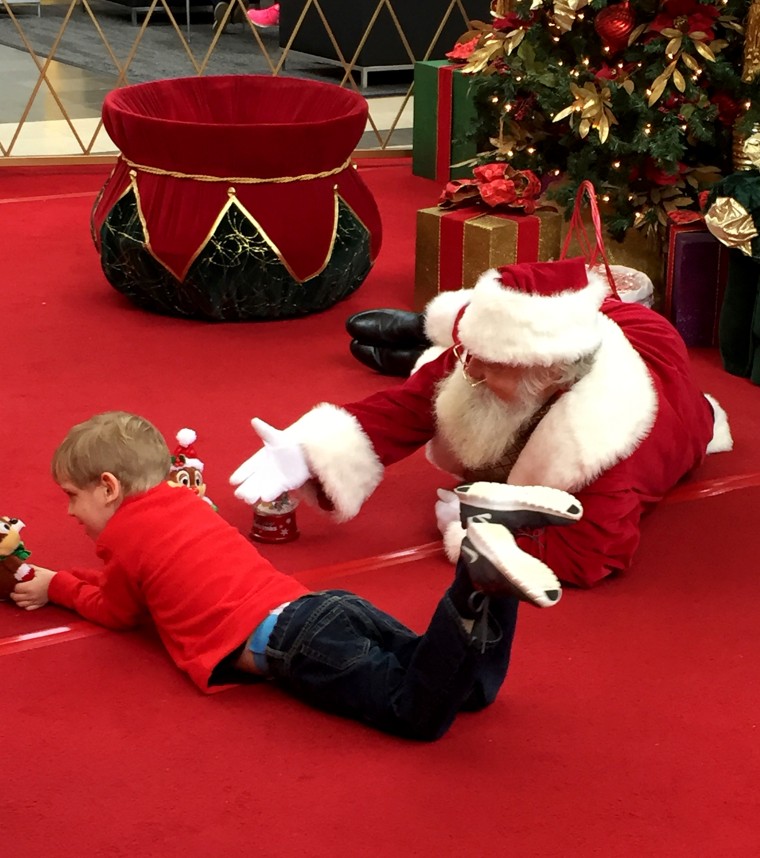 When Brayden was diagnosed with autism shortly before he turned 3, Deely said she and her husband gave up their ideas of "perfect Christmases and perfect birthday parties" because of the sensory challenges involved in both.
"So to be able to do something that's 'normal,' like have a traditional photo and a traditional childhood memory is great," she said. "Now we can have an actual Christmas picture, and our son feels safe. He's not forced into it. He's not all dressed up in fancy clothes, being put on a strange man's lap and told to say cheese. It's him literally being himself, and Santa getting on his level and accommodating him, rather than the other way around."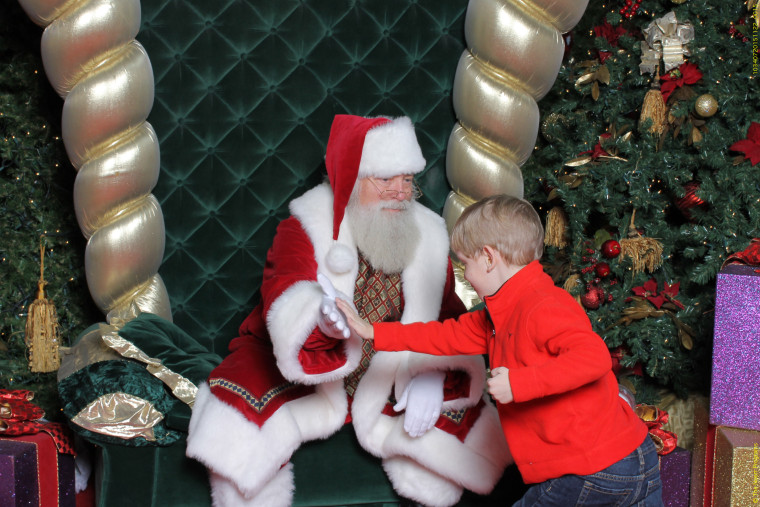 In all, the family spent about 20 minutes with Santa, who even got a high-five out of Brayden before they left.
"At the end, Brayden didn't want to leave. He kept saying, 'More Santa.'"
Follow TODAY.com writer Eun Kyung Kim on Twitter.