Maddie and Mackenzie Ziegler, formerly of the reality show "Dance Moms," have resumes far longer than most kids. After appearing in a Sia music video that received over a billion views, 13 year-old Maddie is beginning her first season as a judge on 'So You Think You Can Dance,' while 12 year-old Mackenzie is preparing to release new singles as Mack Z.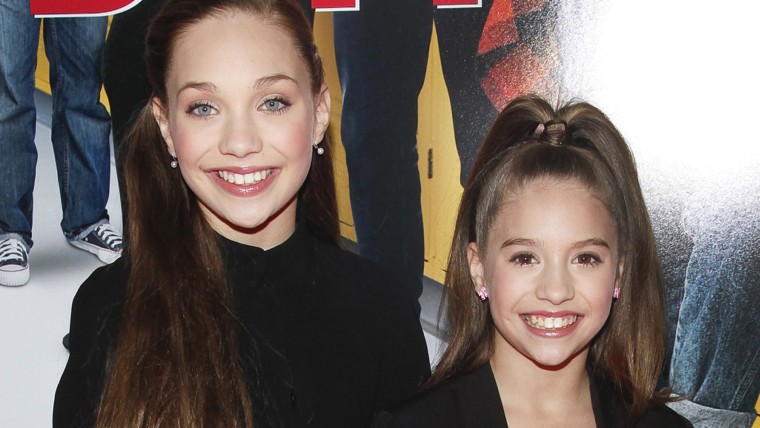 But if the Ziegler sisters have one thing in common with kids their age, it's their horror at seeing parents on social media.
It's "embarrassing that my mom (Melissa Gisoni) is on Instagram," Maddie said, adding that her dad has "no clue" what the site does. "At least we only have one parent on social media."
Maddie and Mackenzie are also starting to find their mom's presence at star-studded events a little cringe-inducing. Their worst memory: when Gisoni yelled, "Take off your shirt!" at Zac Efron, who was presenting at the Teen Choice Awards.
RELATED: Snapchat 101: Colleges take up 'snapping' to reach prospective students
"Good thing she was in the back so no one could really hear her," Maddie said. "The people around us looked at (our mom) and were like, 'What are you doing?'" Mackenzie recalled.
However, the Ziegler sisters are grateful that their parents have allowed them to pursue their passion for dance. "They want us to have all of the cool experiences (in our careers), even though when we used to go to school, we would have to miss a lot of days," Maddie said. "We missed, like, 50 days of school one year. But it was all worth it."
Since 2013, the girls have been home-schooled by the same tutor in Pittsburgh. "It sometimes gets annoying, obviously, because I'm with my sister...(and) we don't have any friends there," Mackenzie said. She's the reader of the family, devouring books while doing the splits, whereas Maddie is "obsessed with fractions."
Both sisters miss learning alongside other kids but recognize that it's "hard to go back to school after you're in the public eye," Maddie said. Maddie also rightfully suspects that prom and other rites of passage would be anticlimactic after all she's accomplished.
"I think (prom) would be fun, and it would be so cool to live a normal life for a day. But at the same time, it would be like, 'Well, when I was younger I thought prom would be way cooler,'" Maddie explained.
She and Mackenzie have likewise made peace with their choice to leave 'Dance Moms' after the sixth season.
"As much as it was sad, it was the best thing we've ever decided on," Maddie told TODAY. "We loved the shows...but we want to go and do other things," Mackenzie added.
The girls were visiting New York together to promote Clean & Clear. Maddie said she and Mackenzie are also terrified of acne — "it's the end of the world" — and are eager to prevent it.
RELATED: Super breakfast smoothies help make back-to-school a breeze
Although the sisters are now living on opposite coasts, Mackenzie's music has helped them stay close. "Her new songs that no one has heard yet, I play them all the time. I love them," Maddie said of Mackenzie's unreleased singles.
"(Mackenzie) will be in Pittsburgh and I'll be in LA, and she's like, 'What are you doing?' And I'll send her a video of me in the car singing her songs," Maddie explains, while her little sister rolls her eyes. "She's like, 'Oh my god, that's so embarrassing.'"