The first time our son Wilson asked about 9/11, he was 2. It was the 10th anniversary of the attacks, and we had to pass through an armed checkpoint in our Lower Manhattan neighborhood to get to our weekly Bubble Babies lesson. Why, he wanted to know on our way to swimming, was someone trying to hurt us? 

Soon after, Wilson started noticing other things: the photos in our favorite local diner (first responders covered in ash), part of the burned chief's car framed in the firehouse around the corner, the enormous cranes towering over his playground.
We try to answer his questions truthfully, but in a way that makes him feel safe. After all, how do you explain to a 4-year-old that Mommy and Daddy chose to raise him in a neighborhood that once saw so much destruction?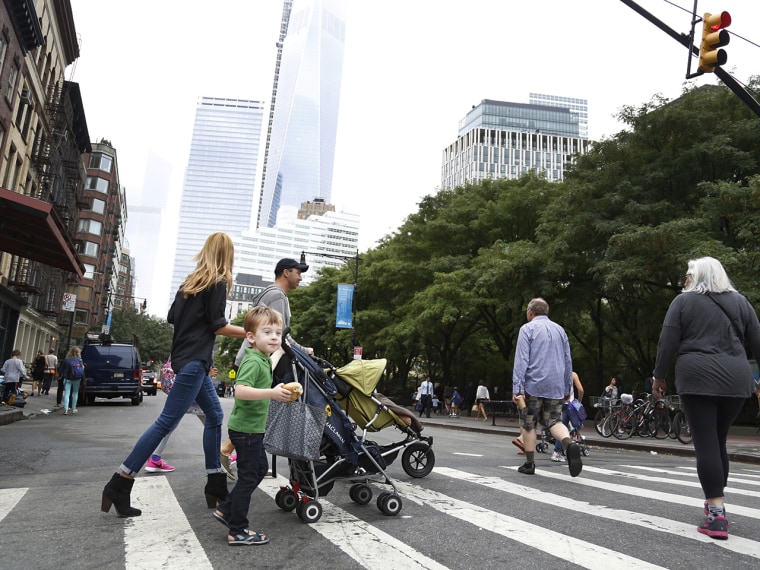 While the rest of the country marks September 11 in remembrances and tribute, for children living in Lower Manhattan, it's a calendar day not unlike every other day.
That tragic morning and loss of life is something that families who live here grapple with all the time. And striking the right balance between honoring those who were lost, answering our children's questions appropriately, and ensuring that they always feel safe in their daily lives is an ongoing challenge.  

Kristin Bartlett is a Lower Manhattan pre-school teacher whose mother worked at the Pentagon for 30 years and was in her office the morning of September 11th, "only one corner away from the section that was hit."
"I am very sensitive and extremely cautious about the issue of 9/11," Bartlett says. "Especially when it comes to my students [who are] simply not equipped to make sense of such a complex and tragic event in our history," no matter how bright they are or their proximity to Ground Zero.
Of her students who ask about it, more than anything else, the 4-year-olds want to know whether they are in danger of a similar attack. "I always use age-appropriate language and reassure the student of his or her own safety," explains Bartlett. "I tell them our government works all day, every day, to make sure nothing like 9/11 will ever happen again."
Elementary schools next to the Freedom Tower discuss September 11th with students, every year, in the first few weeks of school, tailoring their focus for each classroom, said Catherine Park, a mom of a kindergarten and fifth-grade student at PS 234 in Tribeca. It was one of the schools evacuated that morning, she says, so educators are quite attuned to students' concerns about safety.
And according to Park, after they discuss September 11th, the teacher sends a note or email telling parents "how it went" and what kinds of questions students asked, so parents can continue the dialogue at home.
"You have to remember, for many of these kids," Park points out, "Ground Zero was always this big construction site near their school and park. They don't understand that there were two towers there and it wasn't always a sad place."
For that reason, Park said her daughter's class read the children's book "The Man Who Walked Between The Towers," about the French aerialist, Philippe Petit, who in 1974 strode a tightrope for an hour between the World Trade Center Towers. The book opens like a fairy tale: "Once there were two towers side by side. They were each a quarter mile high…The tallest buildings in New York City."
For Anna Grossman, director of The Hudson River Park Mothers Group, a social and support network for moms in Lower Manhattan, the 9/11 anniversary is about reflection and honoring those who were lost.
Every year around the 11th, Grossman says, she and her husband take their son, Julian, 9, and daughter, Ella, 4, to Ground Zero, to talk about the kind of "sadness that doesn't really go away" and pay their respects to all the people who died. This past Sunday, she says, was a particularly peaceful family time— beginning with the trip to the memorial, a stop at the apartment where Julian was born (two blocks from the towers) so she could talk about her experience on that morning, and ending with a walk through their neighborhood along the river.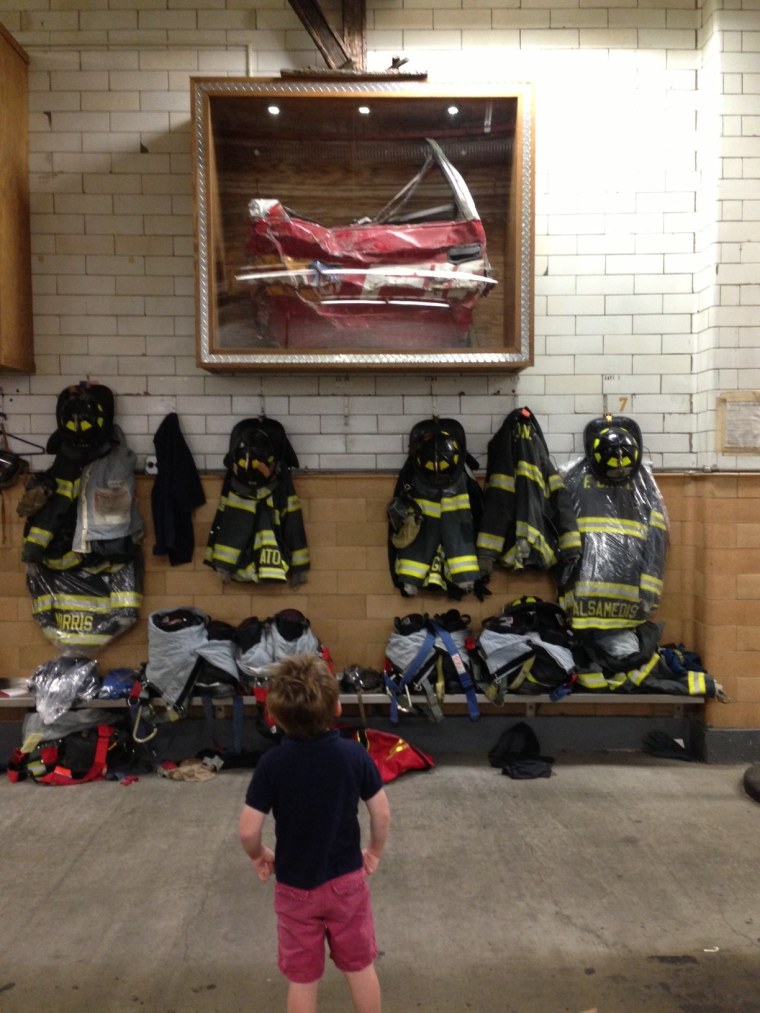 "We need to initiate certain conversations," said Elissa Brown, PhD, professor of psychology at St. Johns University and director of the Child HEALTH Partnership, "no matter how difficult they might seem at the time." After the terrorist attacks, Brown provided therapy in schools, offering mental health services for students, teachers, and administrators south of Canal Street.
"You also have to be receptive when children ask questions," Brown tells adults. But don't "jump right in" and "package the information," she warns of the tendency many of us have when our kid is frightened about something. Take a step back and find out what your child knows, by asking open-ended questions: What have you heard about 9/11? What are you worried about?
For all families, 9/11 presents an opportunity to talk about the other side of the coin— the extraordinary flood of support and generosity for New York City and the country after the attacks.

Jay Winuk co-founded 9/11 Day Of Service, a non-profit movement to observe September 11 every year as a day of charitable work and doing good deeds, after he lost his younger brother Glenn Winuk, a law partner and volunteer fire fighter who ran back into the burning buildings after evacuating his firm. In 2009, the Edward M. Kennedy Serve America Act recognized September 11th as a national day of service, and the organization also provides "toolkits" for educators to use in schools.
"We have to show kids how people respond when the chips are down too, the incredible unity that exists after a disaster happens," Winuk says.
The anniversary of 9/11 is a remarkable teaching moment between a parent and child, according to 9/11 Day of Service co-founder David Paine. You don't have to stray far from your comfort zone to do a small act of kindness and show your kid the kind of resilience and compassion that was also part of that tragic moment. Clean out your closet for winter clothes donations, Paine suggests, or pick flowers for an elderly neighbor, or visit an animal shelter.
For our part, my son and I plan to bring cupcakes to the fire station around the corner from our apartment. In the evening, after supper, we'll walk as a family over to Freedom Tower. It will be a special day of remembrance —and an ordinary one— in the neighborhood we call home.
Jacoba Urist is a business, health, and lifestyle reporter in NYC.