Created as a tribute to peace, friendship and children around the world for the 1964 World's Fair in New York, the "it's a small world" boat ride through a colorful, indoor land filled with hundreds of singing, animatronic dolls from many nations is now featured in all five Disney parks around the world.

The 10-minute ride — with its earworm-inducing theme-song that plays in a continuous loop — (you're singing it now, aren't you?) turns 50 this year, and to celebrate Disney has launched a website that features singers from around the world performing the song. Fans are invited to record and upload videos of themselves singing the tune as well.
"'It's a small world' is one of those iconic Disney attractions that very small children can ride and consequently, it's been one of the earliest Disney vacation memories for several generations of visitors,'" said Suzanne Rowan Kelleher, family vacations expert at About.com. "The song may sound kitschy today but it's certainly an earworm — you can't go anywhere in the Magic Kingdom without hearing someone humming it."

For many Disney visitors, the catchy tune is either beloved or maddening. 
"We took our two year old on it yesterday while in Florida! He loved it, and it's one of my only memories of Disney from my first visit when I was three!" writes Susan Ricci on TODAY Moms Facebook page. 
"Worst nightmare! Stuck in the broken down 'Small World; for 45 minutes with two 4 year olds that had to pee & the song playing over & over & over. That was in '95 & I still cringe at the thought of it," writes Carol Chard Stanley.
Whatever your opinion on the song, Disney Parks is featuring a live "it's a small world" (Disney does not capitalize the name of the attraction) sing-along event on April 10.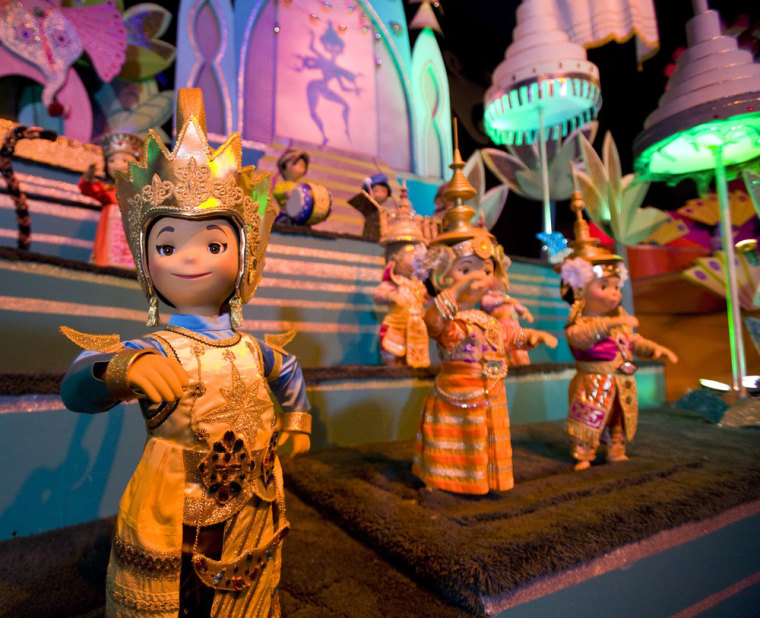 In Hong Kong, "it's a small world" will be sung in Cantonese by students and visitors, with a traditional Chinese dragon on hand help out with the celebration. In Tokyo, they'll be singing "it's a small world" in Japanese at Tokyo DisneySea Park. And at Disneyland Paris, an international team will sing a version of the song in front of Sleeping Beauty Castle.

At Disney World in Florida, representatives from 11 countries featured at Epcot will gather at Cinderella Castle to lead guests through the "it's a small world" song.
At Disneyland in Anaheim, Calif., the sing-along will take place in front of the façade at the original attraction. It was closed in January for maintenance but is expected to reopen April 9 for the celebration, the Orange County Register reports.