/ Source: TODAY Contributor
When Rabbi Brian Zachary Mayer stepped outside his home in Portland, Oregon, early Monday morning to walk his dogs, he did not expect to confront hate speech literally on his front doorstep. But there were the anti-Semitic and racist words, scrawled in chalk right in front of his home.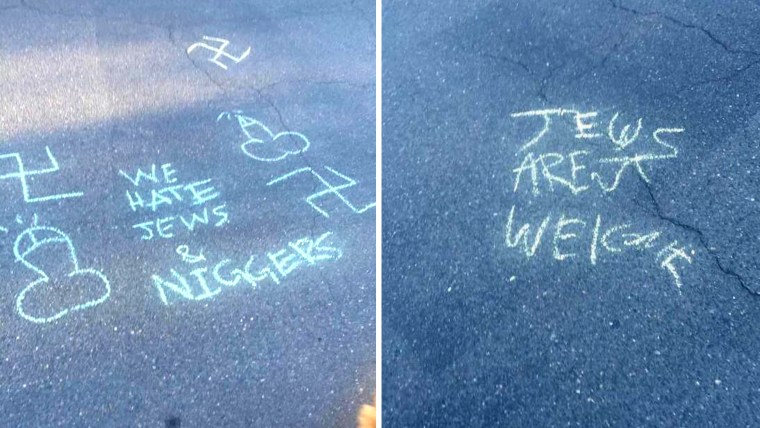 Though he was shaken, he and his wife, Jane, decided not to clean up the words or to hide the incident from their daughter, 7, or their son, 9, and instead chose to use it as a chance to teach their children that "love always wins."
Rabbi Brian, as he is known in his community and at his blog, where he wrote about the experience, told TODAY Parents that he and his wife decided to "handle hatred and erase it together" as a family. "We do not and cannot pretend that we live in a world without hatred, intolerance, and violence," he said. "We do. We must face this world and react to it, not in kind, but with kindness."
Never miss a parenting story with TODAY's newsletters! Sign up here.
The Mayers' 7-year-old daughter noted that she finally learned what the "N-word" was from the words written in front of her house. "They live lives of privilege as it is," Mayer said of his children. "How can they understand the plight of minorities if we shield them from this, the 'sidewalk chalk' of hate crimes?"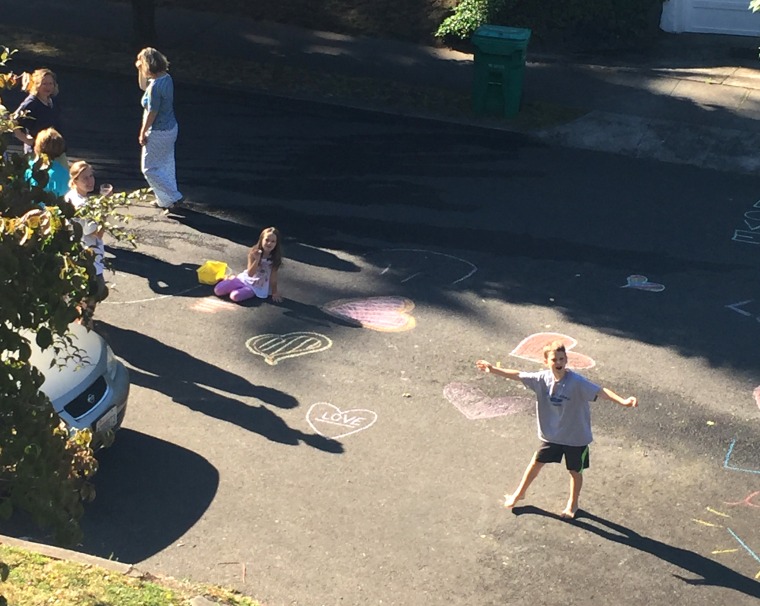 The family took turns using a hose to wash the words away from the sidewalk. Each child cleaned up half of the graffiti. Then, with the help of neighbors who joined in, the Mayers colored the wet pavement and drew symbols and words of love where the hate speech had been just hours before.
"This is not the first time we have talked to them about hate or about love as the proper response," said Mayer. "We have had talks about bigotry and hatred and about love and acceptance. We have had many talks about how we can make a choice to put up walls or be more loving."
RELATED: Rabbi uses martial arts to teach kids 'inner power' in fight against cancer
In the days since, Mayer said, his children have been curious as to why so many neighbors have brought over flowers, but they have not expressed fear in the wake of the incident.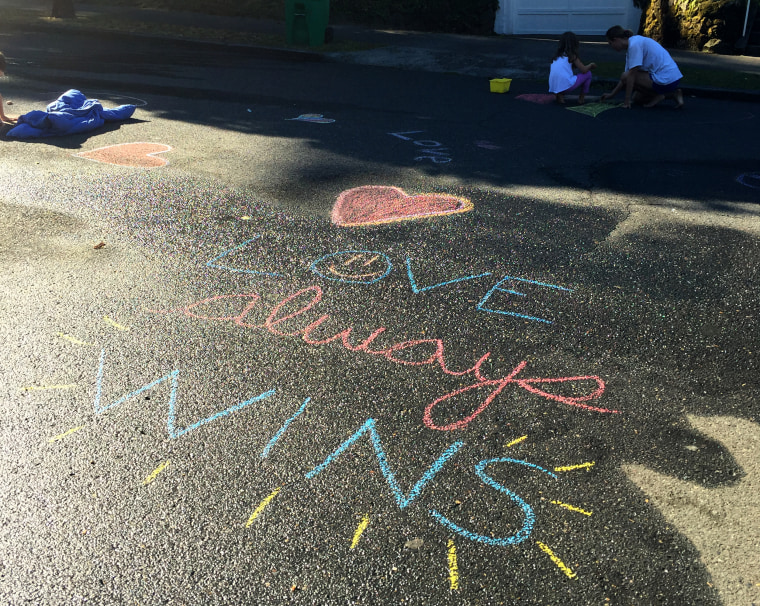 Mayer said he hopes other parents will teach their own children about responding to hate and bullying with love and not worry about shielding them from it. "The lesson that love always wins is not a lesson that can be just heard and accepted," he said. "This lesson of taking the high road — of reacting to hate with love — is one that must be taught slowly over time, and it must be taught by example."