After years of patiently waiting for her daughter to receive a kidney, Karol Franks decided on a different method to get her message across.
"Daughter needs kidney type O," Karol wrote on the back of the family's car, along with her email address.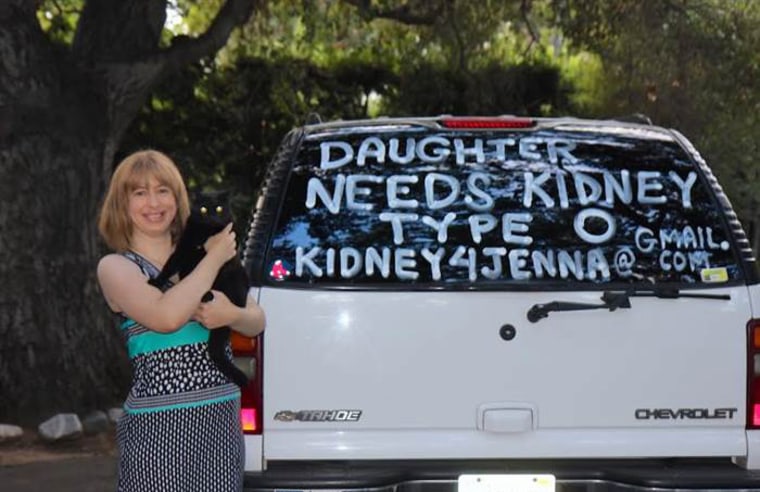 Jenna Franks, from Pasadena, California, was diagnosed with kidney failure at 14 years old. Now, at 29, she uses dialysis daily.
RELATED: Deliveryman paints message on SUV in a search of a kidney donor
"My life pretty much revolves around my illness," Jenna told NBC News.
Karol spends much of her time in a donor search group on Facebook, where she connects with other families going through similar struggles. A couple months back, she got the idea to paint her car from another member of the group.
"I didn't know how it would work for those in small towns, but we live in Los Angeles with thousands of people on the road, so we figured we'd give it a shot," Karol told TODAY.com.
She went to get paint at Wal-Mart and painted the back of her husband's and son's cars. They haven't found a donor from it yet, but they've received a couple leads.
After a day trip to Orange County last week, they returned home to an email from a man who had seen their car on the highway. He's already in the process of donating his kidney, but if it doesn't work out with that patient, he promised to donate it to Jenna instead.
RELATED: Boy from 'Success Kid' meme turns to Internet to help his dad find new kidney
"It seems like every time we get on the freeway we get responses from people," Karol said.
While driving to a baptism in Santa Monica last weekend, Tatum Bateman saw the Franks' car on the highway and tweeted a photo of it with the caption, "This honestly needs to go viral."
"I just thought it was a really great idea to spread the word," Bateman told NBC News.
The tweet has now been retweeted more than 9,000 times, and more than 25 people have stepped forward and gotten tested to see if they're a donor match.
RELATED: Dad's gift of kidney for son is testament to fatherly love
While Jenna's brother, Johnny Franks, was sitting in his car at a red light on his way to work last week, a kindhearted man came over and apologized for not being able to donate his kidney, but said that he still wanted to help his sister, so he handed Johnny $40.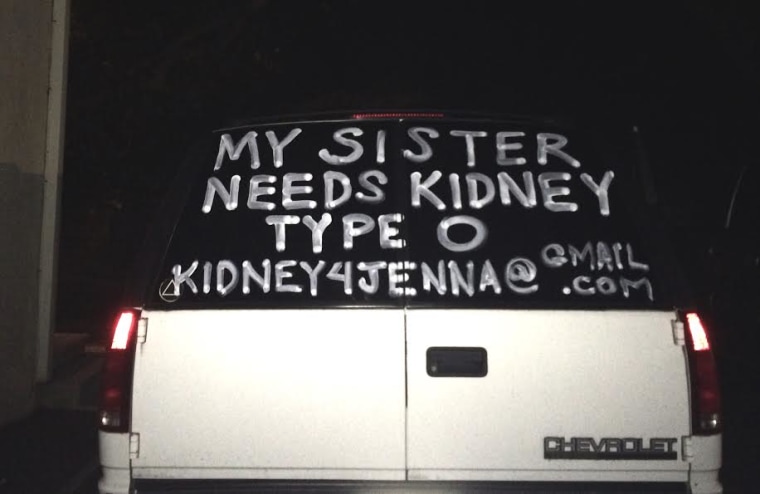 "Jenna never complains and just takes it day by day," Karol told TODAY.com. "This has taken over her entire life and we want more for her, which is why we're trying everything we can."