Now that she announced her second pregnancy, TODAY's Savannah Guthrie can exhale — literally. She told her colleagues Tuesday she no longer has to hide her growing baby bump, which was already a problem from the second she learned she pregnant.
"Moms have told me that the second baby pops out kind of early, so I feel like I've been popping out from the beginning," she told her colleagues after announcing the news of her second pregnancy. "I don't know where the belly fat ended and the baby begins, but I'm so happy to exhale now!"
And now the fun starts.
Appearance is crucial for someone who has a professional life working in front of millions of viewers daily, and dressing a pregnancy can be perilous.
Savannah noted this herself when she was pregnant two years ago with her daughter, Vale, and heard many strong opinions about what an expectant woman should wear.
"Pregnant or not, when your job means that you are on television every day, folks definitely feel free to comment on what you're wearing. I may not always love that, but I get it. It comes with the territory and I am used to it," she wrote in a blog post at the time. "But I guess everything is bigger during pregnancy, including the commentary on your looks."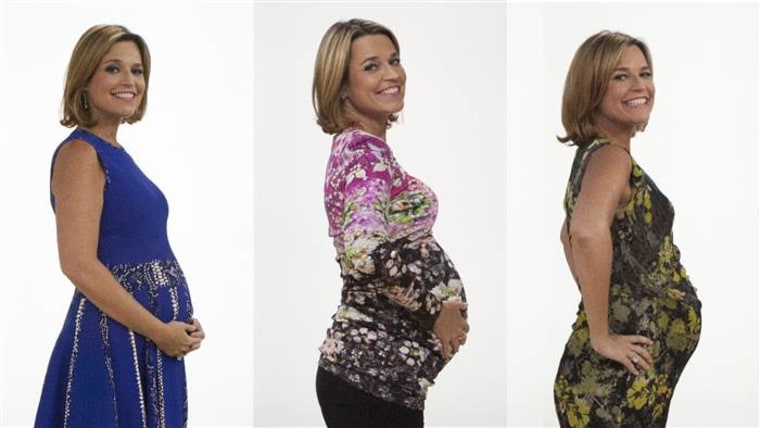 Other anchors across the country can personally attest to the criticism they received from viewers from everything about their changing body looked to their fashion choices.
RELATED: Pregnant TV anchor responds on air to hate mail over maternity wear, 'gross' body
TODAY Style Editor Bobbie Thomas knows a thing or two about looking good on the outside, even when you're feeling completely opposite inside — or just sick to your stomach. Her expertise comes from both being the show's go-to fashion guru, as well as from personal experience when she had to dress her own baby bump while pregnant with her now 10-month-old son, Miles.
Her biggest advice during the first few months: Become best friends with the blazer.
"I couldn't love blazers more, especially for women in the first trimester," she said, explaining they can help women through that awkward early period when the body is squishy, in transition and completely unpredictable.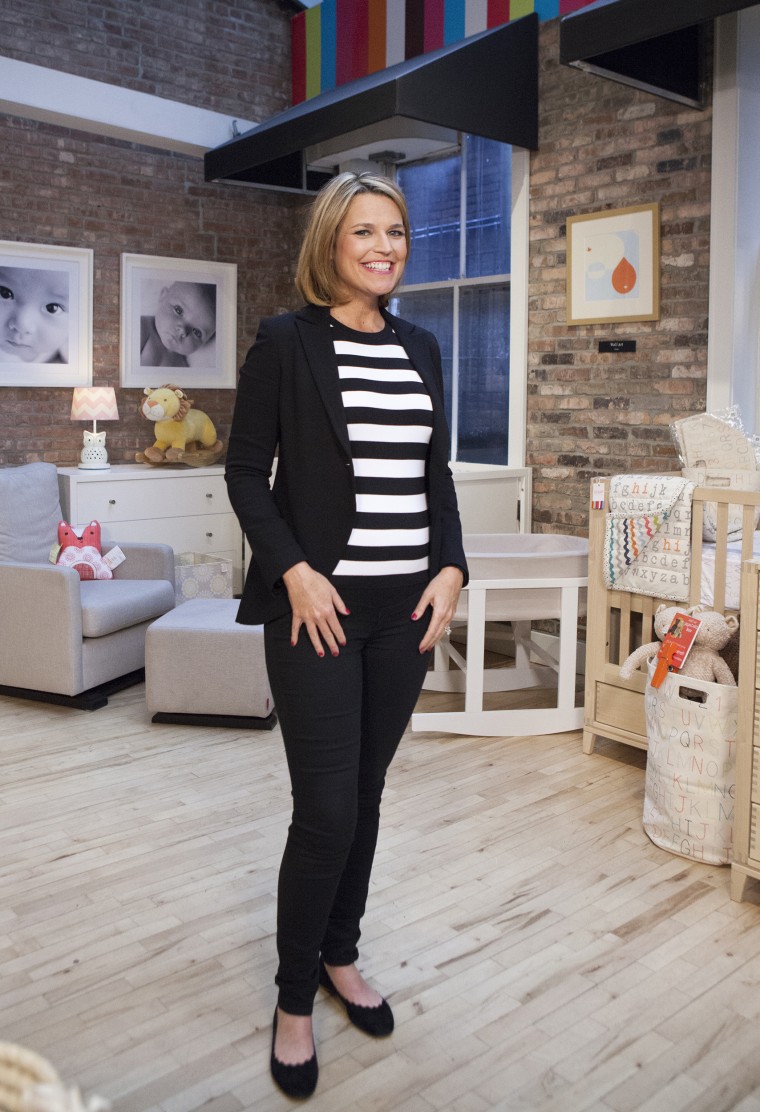 "Some people may not be feeling their best during this period. If you're bloated or not bloated, a blazer is great because it gives you shape. It's a tailored cut," she said. "It's a great staple and it's a signature piece that isn't necessarily tied to just maternity wear."
RELATED: Sign up: Stay up-to-date with all the TODAY pregnancy and baby news with our newsletters!
Blazers can be slipped over a dress or a pair of jeans and a t-shirt. And because it's not something that needs to be buttoned or zipped down "your bust line can grow or shrink with it." Blazers also can be used post-pregnancy and beyond.
Once the first trimester has passed, Bobbie suggests women embrace their bump, which she admits may go against conventional thinking. But instead of wearing something too loose and shapeless, putting on something that emphasizes shape can be uplifting.
"For some women it might provide a great confidence boost to find a lower drop waist dress so they can show off that growing baby bump," she said.
Traditional maternity clothing may be inevitable toward the end of a pregnancy and there again, Bobbie suggests finding something that emphasizes the figure. Look for stretchy dresses and other clothing that "hug your figure comfortably," she said.
But the best look on a pregnant woman, on camera or off? Confidence. And trusted friends and loved ones are the best providers.
"If you're feeling yucky and you want feedback on how you look, go to people who love you, know you well, and can give you an honest opinion from a loving place," she said. "You don't need to go to someone who has no idea what's going on in your life."
And that means avoiding social media — or going to it only in the right mind frame, with an intent to seek the positive.
"The one crazy friend that will say something unfiltered is probably one in 500 congratulating you or saying something wonderful," she said. "Look for the love."
Follow Eun Kyung Kim on Twitter or Facebook.