She received her first Bitty Baby doll when she was 5, and grew to love the other American Girl dolls she acquired over the years. After her 11th birthday party, at an American Girl store, Isabelle knew she wanted to work there herself one day.

Her mother Marjorie Madfis doesn't know if Isabelle, who has autism spectrum disorder, will ever be able to fulfill that dream. But she's making it come true in her own way, and helping other young women with autism learn life skills in the process.
Madfis founded Yes She Can Inc., a nonprofit that aims to develop job skills and job opportunities for young women with autism. Its first effort is Girl AGain, a small resale boutique for American Girl products, which opened in February in Hartsdale, N.Y.
"Ever since [her 11th birthday], my daughter's career ambition was work at the American Girl store to do doll hair," said Madfis.
"I know a lot about them," says Isabelle, now 18 and a high school junior. "I really like the historical girls."
Isabelle is among a half dozen young women with autism spectrum disorder working as interns in the 125-square foot shop. Several of the women, who range in age from 18 to 25, share Isabelle's deep passion for the dolls, and Madfis tried to recreate the experience of working in the American Girl store.

"There's a number of young girls and women on the spectrum who are very passionate about American Girl and very knowledgeable," Madfis said. "It is an expertise they can then use as the basis of learning new skills."
Her tiny pink and red shop is an "incubator" where young women can learn in a supportive, noncompetitive setting, an experience she hopes will help them get mainstream jobs someday.
Isabelle enjoys working in the shop. She says she likes to explain things to customers and offer tips. The experience, she feels, is helping her.
"It's working me towards my dream," she says happily.
There have been challenges, Madfis says, like her daughter wanting to be the store's best customer. But she sees a new confidence in Isabelle, a social yet somewhat lonely girl who is moderate- to high-functioning on the autism spectrum.
"She's been very good with interacting with our customers," girls ages 6 to 12, Madfis said. "That's one of the real pleasures, to see her able to connect with them. They don't look at her as though she's weird. They look at her as though she knows something about what they love."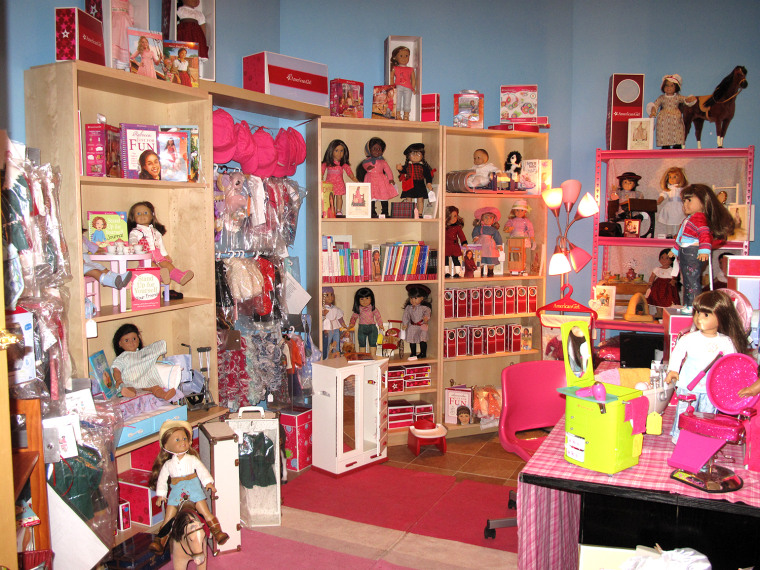 Isabelle knows most of the dolls' story lines, their histories and which accessories go with which dolls. She reads the books and watches the videos, sometimes enjoying the same segment over and over and repeating the dialogue aloud. She does her dolls' hair and sets up tea parties. At night, she tucks all eight of her dolls into their own beds. An only child, they are like her sisters.

"She adores them," Madfis says. "She's constantly thinking about them."
Isabelle has the kind of intense or unusual interest that is very typical for children with autism. "It's almost defining," says Dr. Ann Neumeyer, a pediatric neurologist and medical director at the Lurie Center for Autism at Massachusetts General Hospital.
"It varies by kid, but it serves as a backbone for some children as for how they relate to the world," she said. "It helps them to view the world in a way that they can understand it."
The interests are comforting and reassuring for autistic children, who often have trouble transitioning from one activity to another, she said. "It's a pleasant preoccupation," Neumeyer said.
With autism spectrum disorder almost five times more common in boys than girls, common obsessions Neumeyer sees are with Thomas the Tank Engine and other transportation vehicles, Disney characters, SpongeBob and the Sesame Street gang. Girls often like Disney and fairies, which are also passions of Isabelle's. Kids may be fascinated with something they are exposed to in childhood, like the cartoon characters, or something a bit more unusual, like maps, fans or planets, Neumeyer says.
At Girl AGain, Madfis works with one or two women at a time, teaching them how to assess the secondhand merchandise and determine pricing, write pricetags and display the items. She is coaching them on how to talk appropriately with customers, an important part of the training.
"It's not that they can't do the actual work tasks, it's the whole social engagement part of what happens in the workspace that is so baffling to them," Madfis says, adding that an intern may be inclined to talk about her own dolls rather than about what the customer is interested in.
Madfis is also trying to help the women to deal with the "gray areas" of life, which can challenge the rule-following ways that often come with autism.
One woman became flustered when faced with something she hadn't seen: A young customer wanted to pay for part of her purchase with 100 $1 bills, and put the balance on her mother's credit card, a payment method the intern found hard to deal with.
"These are the kinds of things that happen in real life, and we want them to have the resilience to be able to deal with it," Madfis says.
The effort is going well, Madfis says, though it is hard to anticipate how the interns may react to situations.
"It's challenging, of course it's challenging," she said. "But it's very exciting to see when they're successful when they do things well. When I see them having a conversation with a customer, to me, that's thrilling."
Madfis, who has invested her own money into the effort, is hoping to land grants so she can offer paychecks, formal job coaching and a training curriculum. She runs the shop, with help from several non-autistic interns and a psychologist who volunteers as well.
"We are aware of the Yes She Can organization and the good work they do on behalf of young women with autism," American Girl spokeswoman Julie Parks said by email.
The interns' parents are also pleased with the experience for their daughters, Madfis said.
"They're finally being valued for something that was not considered age-appropriate," Madfis said, "but now it's valuable and useful."
Lisa A. Flam is a news and lifestyles reporter in New York. Follow her on Twitter: @lisaflam