When 3-year-old Gracie Wilson and her family happened upon a man with a white beard, red overalls and a merry twinkle in his eyes eating breakfast by himself at a local restaurant last week, the toddler immediately expressed concern about Santa Claus having no one to talk to.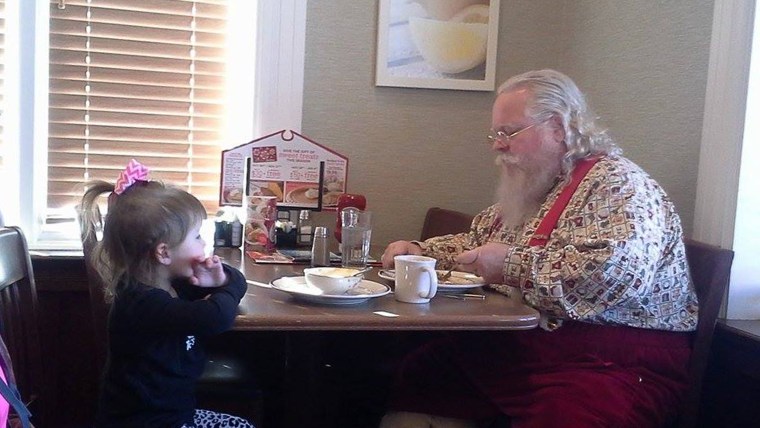 Gracie's mom, Lindsey Wilson, told TODAY Parents that she and her family didn't want to bother the gentleman eating at Bob Evans, but that he made it clear to them that he didn't mind Gracie saying hello.
"As soon as we walked in, Gracie was saying, 'Look Mommy, he's here,' and "Daddy, look, its Santa!' He obviously heard her because 3-year-olds aren't quiet by any stretch of the imagination. We didn't know if he wanted to eat and be left alone, but he said that if she wanted to come talk to him, it didn't bother him at all. He was open-arms welcoming to her," said Wilson.
And so, the Wilsons sent Gracie over.
"She gave him a hug and said, 'Hi, Santa,' and asked if she could sit and talk. Santa said yes, of course, so she pulled a chair up to the table. They just sat there, having a conversation like they'd known each other for years," said Wilson.
So what does a 3-year-old talk to Santa about during her own private breakfast?
"She told him she liked his outfit. She had her cowgirl boots on and he told her he liked them, so she told him she liked his boots, too. And they talked about 'Frozen,' 'Doc McStuffins' and 'Jake and the Neverland Pirates,'" said Wilson.
The Henderson, Kentucky mom says that as the conversation wound down, Santa asked his classic question. Gracie's answer, she says, totally surprised her.
"He said, 'Well, Gracie, I have a serious question to ask you — what would you like for Christmas this year?' She looked over at me and said, 'Baby James.'"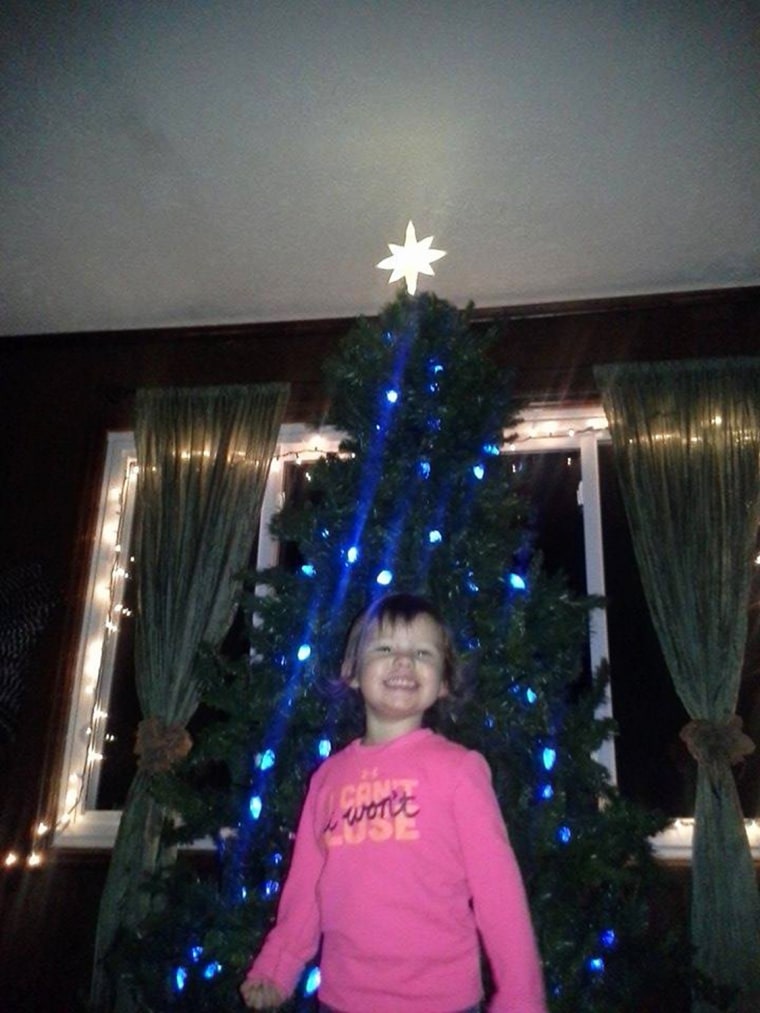 Wilson is due with her second child in early December, a baby boy who she and her husband plan to name James.
"We'd been asking her what she wanted and she hadn't told us anything yet. It was really neat to hear that a 3-year-old didn't want toys and more stuff — that all she wanted was her baby brother."
Wilson says after her special breakfast with Santa, Gracie was so excited that she asked them to decorate for Christmas a few weeks early. And, since Baby James is expected to arrive soon, Wilson says she was happy to oblige.
"She's been wearing her Santa hat around and saying she wants to go see Santa again," said Wilson.
Seeing Santa again is a definite possibility for Gracie, as he can be found listening to the Christmas wishes of kids at their local mall, the Eastland Mall in Evansville, Indiana.
Local NBC News affiliate WFIE of Evansville tracked Santa down, asking him his thoughts about having breakfast with Gracie. Santa told the reporter that Gracie was, "quite a special young lady."
He also made her a promise, saying, "I am gonna have a few surprises (for her) this year."
According to this adorable 3-year-old, a baby brother is the only holiday surprise she needs.