The American Academy of Pediatrics discourages use of electronic media by kids under age 2 and recommends older kids be limited to one to two hours of educational programming daily. That may make intuitive sense to any parent who has watched a kid grow slack-jawed in front of the tube or beg for just five more minutes on the iPad.
"That look on their faces – it's panic-inducing. They look transfixed," says Hanna Rosin, a national correspondent for The Atlantic, whose recent article, "The Touch-Screen Generation," is about how parents are grappling with how much screen time they should allow their kids.
But a funny thing happened while Rosin was talking with scientists and app developers for her piece: Her knee-jerk negative reaction to her kids' screen time changed, and her kids now have different limits based on their different needs and uses. Rosin is like a slew of other parents who, while figuring out how to dictate screen time, are coming up with their own creative formulas.

After experimenting a bit with her youngest son, now 4, Rosin's approach to screen time is that she tailors rules based on what kind of media each of her children is using and in what context. And she tries not to convey the vibe that electronic media time is automatically frivolous and mindless. "If you can just calm down a little, something good may come of it," she says.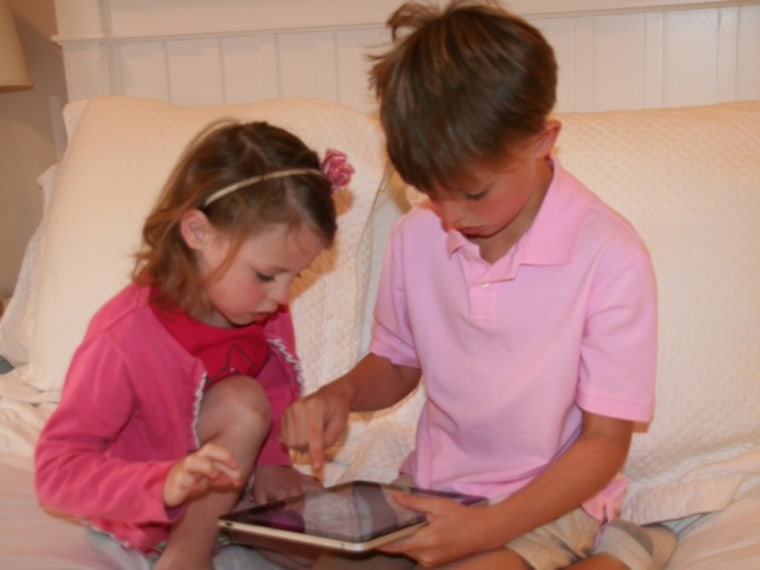 Parents have a variety of approaches to this issue – some closer to Rosin's new, more relaxed demeanor, and some not. "I would rather see my children do almost anything else," says Jennifer Salopek, a 47-year-old freelance writer in McLean, Va. "I feel that we have more than enough technology in this household."
Salopek's 15-year-old son, who got an iPad as a gift, uses it for web assignments and entertainment. The rule for using the iPad for fun is pretty straightforward: "Schoolwork has to be done and he has to go to bed on time," she says. But he doesn't have a set time limit on playing.
Michelle Dette Gannon has a dual perspectiveas a mom and app creator. Lingo's Market helps kids grocery shop along with their parents in French, English, Spanish or Mandarin. Gannon puts iPad apps into two categories: educational ones like her own, and ones that are strictly for fun.
Her 7-year-old son, for example, has no set time limit on his educational app use, but he's generally too busy to use them except on car rides on the weekend, says Gannon, who is from Saratoga, Calif. He "pays" for his non-educational iPad or computer game time by cashing in blue dots on an awards chart, earned for things like feeding the dog and being nice to his younger sister. One dot equals four minutes of screen time.
Also distinguishing between the types of e-content is Keesha Beckford, 40, who teaches dance in Chicago and blogs at Mom's New Stage. Her 4-year-old son, who takes dance lessons, loves to watch "Swan Lake" on the iPad. "How am I going to stop a child from watching a classical ballet on the iPad?" she asks. So she doesn't. But her son knows this is his mom's weak spot, and sometimes she'll find "Swan Lake" has mysteriously been switched over to "Batman".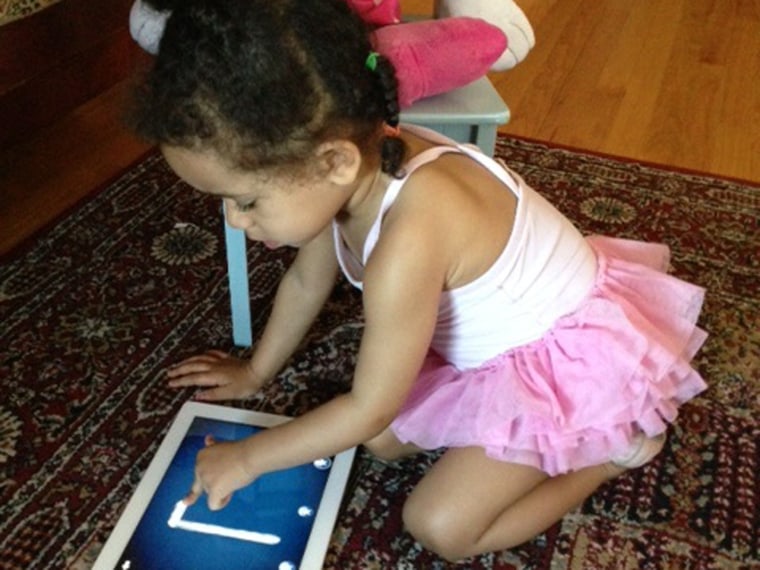 Beckford says strict limits ignore reality: sometimes the kids need to be entertained so a parent can cook dinner or do some other chore, she says. "I use the iPad to get my daughter to do her hair," she says. The two-year-old's favorite web video is 12 minutes long, which is perfectly- timed for the hairdo.

Rosin writes in The Atlantic that as an experiment, for six months, she put no limits on her toddler son's iPad use. At first, he was obsessed and used it all the time. But, she writes, "After about 10 days, the iPad fell out of his rotation, just like every other toy does."
Now, she says, it slips in and out of interest. He's recently gotten into playing the game Stack the States, which is really aimed at older kids. But, says Rosin, "weirdly, he's picked up a lot" from using the app. He can recognize the shapes of states and is learning the state capitals. "He's figuring out his own thing," she says. "And he's picking up some value."