It may be time for Leanne Ford to fix up a nursery.
The 37-year-old star of HGTV's "Restored by the Fords" is pregnant with her first child, she and her hubby, Erik, told People.
Ford, who stars on the show with her brother, Steve, says she is due with a baby girl in March. As for having a girl, well, that caught her off guard.
"Since I was little, I thought if I ever had children, they would be boys, so when the sonogram woman told us it's a little girl, we both got teary-eyed," she said. "I was like, 'Actually, that feels very right.'"
Having a little one was not always in the cards for Leanne, who credits Erik for changing her views on parenthood. "Erik is the reason I wanted to have children, because of us," she said. "Before that ... I was just trekking along in my little career, happy as could be and then you said one time ... he said, 'We have too much love not to share it.' Do you remember that? I was like, 'I hear that.'
"It's funny, somebody just changes your mind," Leanne went on. "You think you've got your whole life figured out, think you have your path figured out, and something comes and just changes your mind."
"Yeah, neither of us ever envisioned having children," Erik said. "When you see your future ahead of you, that wasn't an image that we saw, and now it's here."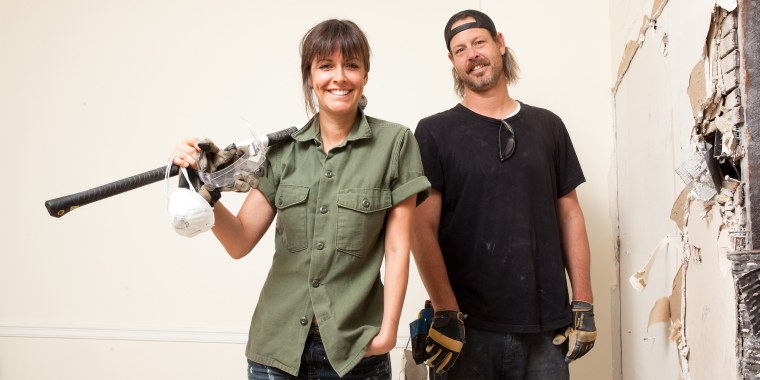 Leanne also said she and Erik were surprised that they didn't have a tough time conceiving. "So many women have trouble getting pregnant and so many of my friends have kind of had their woes about it, so I just assumed that would be the case and you just assume it's going to take a long time, and it didn't," she said.
2019 is certainly shaping up to be a big year for Leanne. In addition to her baby, "Restored by the Fords" is expected to return for a second season.
The HGTV family continues to grow, too. Back in August, "Good Bones" star Mina Starsiak gave birth to her first child and shared the moment on Instagram.
And in March, Erin and Ben Napier, who star on "Home Town," showed off photos of the nursery for their daughter, Helen, proving that the Fords may have their work cut out for them when it comes to decorating their bundle of joy's room.