Someone once told me you won't remember your life before you had a child. 
Cincinnati Bengal defense tackle Devon Still can relate.
"The times since (my daughter) was born are the times that stick out to me because those were the best times of my life," Still told me during a recent interview.
Watch Josh Elliott's extended interview with Devon Still on NBCSports.com
One of the worst days of his life was June 2 of this year, the day his 4-year-old daughter Leah was diagnosed with stage 4 neuroblastoma and doctors gave her a 50-50 chance of survival. It was a devastating diagnosis to explain to a child. Still told her she was going to have to do whatever she could to beat it.
"She's a fighter," Still said. "As a parent, you always expect your child to look up to you. But honestly, since June 2, I've really been looking up to my daughter."

Leah's fight has become a national story. When it first broke the Bengals, who had initially released Still during preseason, took the extraordinary step of signing him to the practice squad. This allowed Still to focus on Leah and also ensured him access to the NFL health insurance plan to cover her treatments.
The team also decided to donate all the profits from the sale of his No. 75 jersey to pediatric cancer research. To date, sales have raised over $1 million dollars.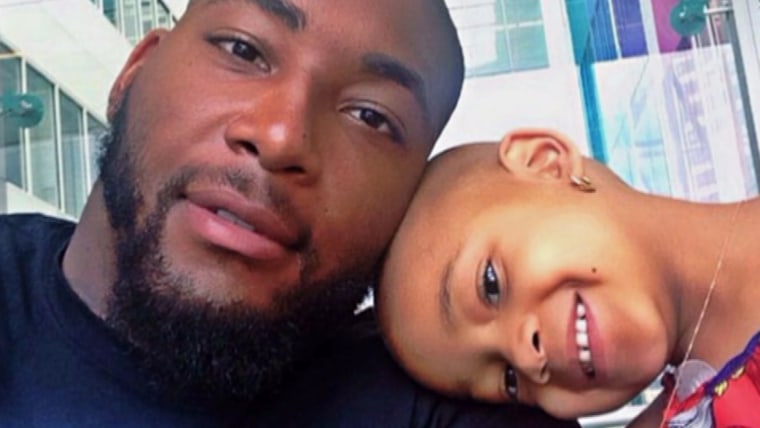 "When we first decided to make my daughter's story public, we had a vision," said Still, who has returned to Cincinnati's active roster. "We wanted to bring as much awareness to pediatric cancer as possible."
Before Leah's story came to national attention among NFL fans, she had a starring role in another initiative to raise money for pediatric cancer research – the "Truly Brave" music video starring Cyndi Lauper and Sara Bareilles and produced by TODAY's Hoda Kotb.
When Kotb met Leah on the set, she thought Leah was cute, fun, chatty…and she had no idea who her father was. It was only after the shoot that Kotb and the TODAY team made the connection between Leah and Still.
"(Leah's) so full of light and love and joy," Kotb said. "If you watch her on screen for five seconds you know exactly how much she's loved."
The "Truly Brave" video has been viewed nearly 1 million times and raised more than $387,00 on Crowdrise.
"It was a great experience for her," Still said. "She loved every moment of it. Every time she's on the TV she calls me and tells me how she is a movie star."
Leah and Still starred in a video that went viral ahead of her surgery on Sept. 25. In it, Still gave his daughter a pep talk about getting the cancer out of her.
After a nearly six-hour surgery later that day, doctors were able to successfully remove Leah's tumor. Months of treatment lie ahead before she can be considered cancer free.
"She's way stronger than I ever have been," Still said. "For her to be able to continue to smile through all this, and continue to still have that same personality, it's amazing. And it's definitely inspiring to me."
Take a few minutes out of your day to watch the "Truly Brave" video: