/ Source: TODAY Contributor
A little over a year ago, Macy Mathis gave her mother, Cindy, a birthday gift that would have been a special treasure for any parent of a teenager: 25 letters from her, sealed in envelopes and marked for occasions such as "When You Need to Smile," or "When You Need to Know How Much I Love You," or "When You Can't Sleep."
But Macy, 16, didn't know when she gave her mother the gift that the letter she would need most was the one she instructed her to open "When You Miss Me."
In November, Macy, 16, and her boyfriend, Georgia Tech student Adam Sattler, 18, were both killed as a result of a car accident less than a mile from her mother's home in Tifton, Georgia. The two had been out together while Sattler was visiting for the weekend from college. Macy passed away five days after the accident, while her mother held her.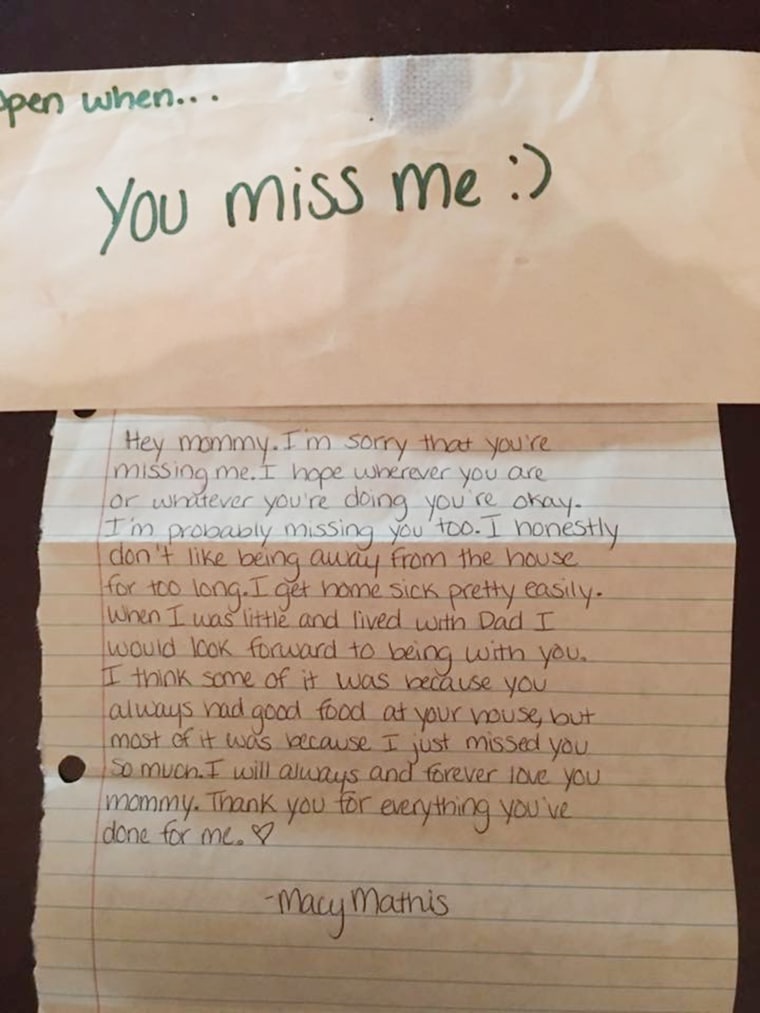 "I'm sorry that you're missing me. I hope that wherever you are or whatever you're doing you're okay. I'm probably missing you too," the teenager wrote.
Macy's birthday gift of letters to Cindy, 35, the year before had not been the first time she had gone out of her way to tell her mother she appreciated her, Cindy Mathis told TODAY Parents. Mathis herself had a troubled early life that included "foster care, living on the streets, a lot of challenges." In seventh grade, Macy wrote a poem for school about her mother's life that ended with the line, "I'm proud to call her my mom."
Never miss a parenting story from TODAY.com! Sign up for our newsletter here.
Mathis said Macy was another mom in the house who helped her raise her three younger sons, ages 15, 13, and 6. For Mother's Day one year, Macy had all the children write notes to Mathis on slips of paper about why they loved her. But the birthday gift of 25 letters was still "a complete surprise," she said.
The mother and daughter were very close, as evidenced by Macy's letters. In the letter entitled "When You Feel Lonely," Macy wrote, "Please don't feel lonely, Mommy. You always have me."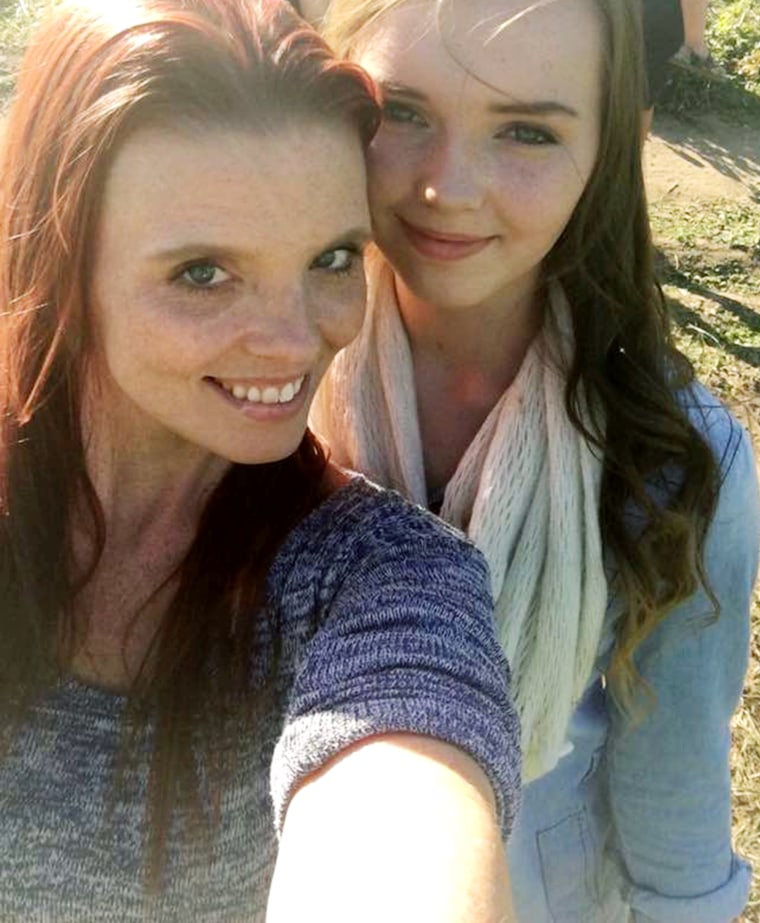 "I did feel lonely when she left me," said Mathis. "We'd talk about her moving to New York with Adam or living the good life, moving away and leaving, but not like this.
"I feel like she knew. Maybe deep down, she knew, or maybe God told her."
Since news of Macy's letters has traveled around the world, Mathis has received messages from teenagers asking her if they can use Macy's idea and write letters to their own parents. "I tell them, 'Please, I am begging you, do this for your parents too,'" said Mathis. "When they are grown up and gone, their parents will want to know how they feel. I would not take back Macy's letters for anything in the world."
Mathis said the letters have helped her in the wake of such a sudden tragedy. "I'm very thankful for them, because I don't have closure," she said. "They give me a little bit of closure to know how much she knew I loved her. They keep her alive."
Related video: