Beatriz Delgado may not live long enough to watch her daughter graduate from college or get married, but she was able to be there for an important milestone, thanks to the Los Angeles Police Department.
The LAPD holds a movie night every month at the housing project where Delgado lives with her daughter Jazmine. While at the July event, several officers noticed that the 14-year-old was sitting by herself, so they went over and started talking to her.
After getting to know her a bit, they found out that her mom has terminal brain cancer and that her parents couldn't afford to throw her a quinceañera. That's when they got the idea to give Jazmine the celebration she deserves.
RELATED: Police, firefighters surprise children of fallen officer on first day of school
Doctors told Beatriz that she wasn't going to live past May, but she's been holding out for her daughter.
"This was the first time we've ever done anything like this," Sgt. Mike Flanagan told TODAY.com. "It moved the officers so much that they felt really passionate about helping Jazmine and her mother."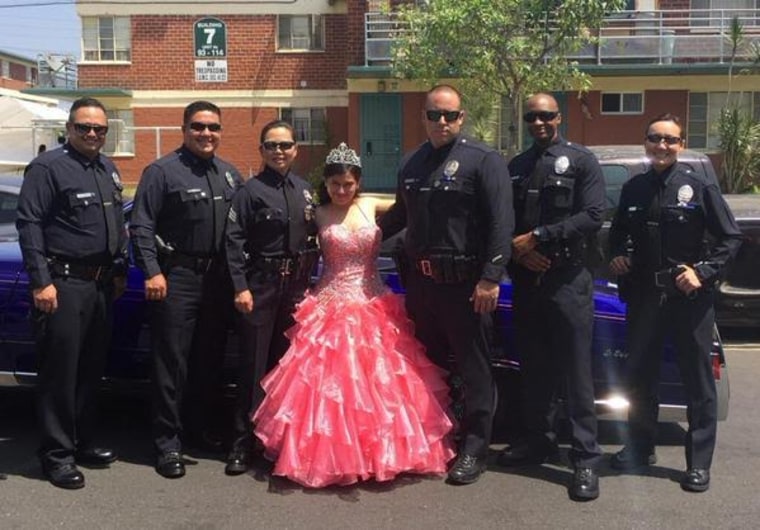 They started making plans immediately, even though her 15th birthday isn't until November, because they didn't know how long they had. Local businesses wanted to get involved, so a clothing store provided Jazmine a dress and shoes, a bakery donated a cake and the whole party was catered at no cost.
It didn't stop there. Jazmine was picked up in a limo on Saturday night and taken to and from the party with her family and the Bella Sala Banquet Hall in Los Angeles also gave up a room for the night.
"Watching Jazmine and how happy she is and how energetic and just ecstatic she is about today, that's the reward for all of us," Sgt. Janet Kim told NBC affiliate KNBC.
RELATED: Police officer shares meal with homeless man: 'Nobody wants to eat alone'
Officers attended in uniform and one even serenaded the girl of the hour with mariachi music.
"I never expected this to happen," Jazmine told the outlet. "I'm happy to be here having my party and I invited a lot of friends."
Jazmine saved a special dance for her mom. As they danced, the tears streamed down their faces and their embrace grew stronger and stronger.
"It's a moment they'll remember forever," Flanagan said.