Mom really does know best — at least, that's what Lands' End has learned.
When a New Jersey mom took to Facebook last month to complain about gender stereotyping in kids' clothes at the Wisconsin-based retailer, the company was forced to listen, and the change that came next is just the latest example of the power of social media.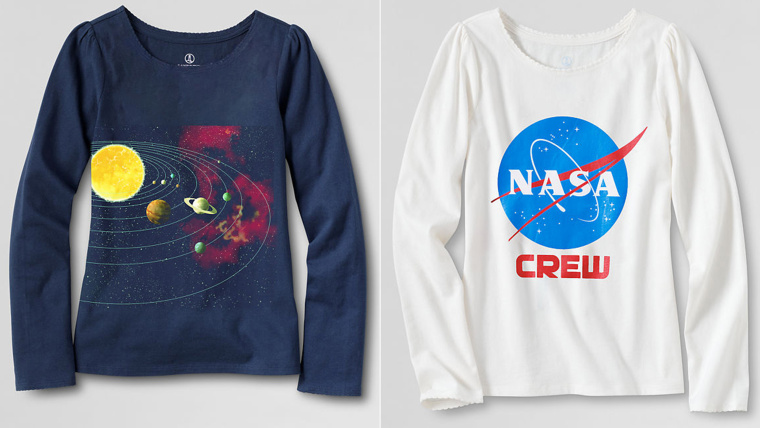 In a letter posted on the company's Facebook page on July 12, Lisa Ryder, whose 9-year-old daughter "loves science," said she was shocked to find that Lands' End offered graphic science-themed T-shirts for boys —but nothing similar for girls.
While boys' options "include realistic images of planets and our solar system, labeled diagrams of sharks and dinosaurs," Ryder wrote, the choices for girls were just "sparkly tees with rhinestones, non-realistic stars and a design featuring a dog dressed like a princess wearing a tutu."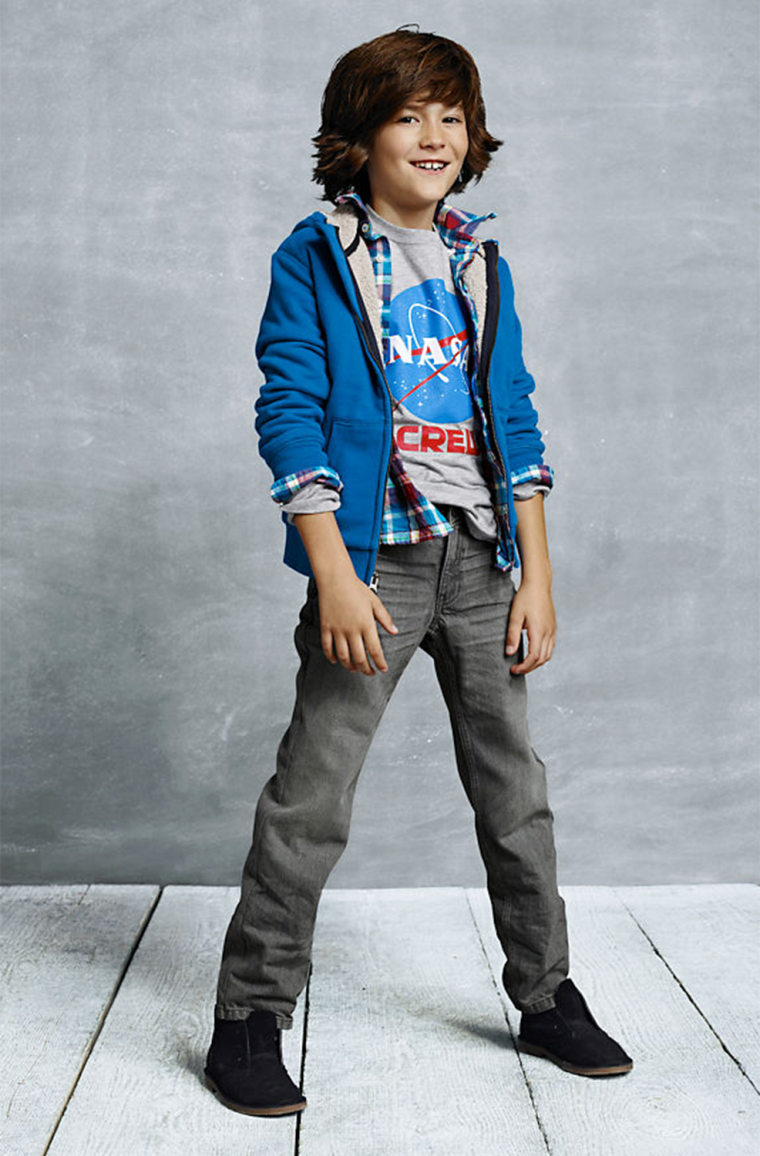 The garb gap left her daughter "confused," Ryder wrote.
"She has read more books on sharks than I ever knew existed, follows NASA news, and hopes to be an astronaut one day," Ryder told the company. "And until you recognize that it's not only boys that can fit that description, I'm afraid my family will no longer be shopping in your stores."
As Ryder's post went viral, Lands' End quickly tried to rectify the situation. Joining the Facebook conversation, the company thanked her and said it was sharing her feedback "with our Catalog Creative and Kids Design Teams."
Meanwhile, other Facebook users chimed in. "This grandma has a degree in metallurgical engineering, and would love to buy a science-themed shirt for her granddaughter," Jane Schmoetzer wrote. "I shouldn't have to flip to pages marked for boys in order to do it."
"As a female biologist who studies birds of prey, thank you for taking the time to not only encourage your daughter's passion for science, but also for encouraging Lands' End to rethink their gender stereotypes," Melissa Bobowski wrote.
In a second post, Ryder suggested that to get beyond products that "strongly promote gender stereotypes that young boys are smart and might and young girls are adorable," Lands' End should simply offer each science-themed tees "in a range of colors and sizes and let the kids choose without segregating offerings by gender."
She concluded: "I suspect you may be surprised by the results."
Sure enough, Lands' End proved it was listening and responded with results just a few weeks later, announcing on Facebook that the company was rolling out a new line of products for girls.
"You asked, we listened – take a look at our brand-new girls' science tees," the company wrote on July 30, posting a link to one of the new items, a "Girls' Long Sleeve Scallop Edge Space Graphic T-Shirt." "Based on your response to the tees, we will continue to add new styles moving forward."
Too cool for school? Not with these creative lunchboxes that will keep your food fresh and your kid happy.
And, just as Ryder had suggested, the public's response was overwhelming — the shirts that had been made available for pre-order quickly sold out, though other science-themed options like the girls' version of the NASA crew top are available online. Responding to moms disappointed they couldn't purchase the tee, the company apologized for the lack of availability and vowed to feature "more Science designs and size offerings later in the Fall season."

Parents took to the Facebook post in droves to both thank the brand for making the change and suggest more options that could be made available to reduce gender stereotypes — such as shirts for boys in purple, or medicine-themed items to appeal to little girls who want to be doctors.
Lands' End isn't alone in the way it has responded to customers' opinions on social media. This month, the Legos Group of Denmark, maker of Legos toys, delivered a new set featuring women scientists — a paleontologist, chemist and astronomer —months after a 7-year-old girl scolded the company in a handwritten letter than went viral.
In the letter, Charlotte Benjamin lamented that Legos girl figures only "sit at home, go to the beach, and shop" while the men engage in fascinating work. The new female-focused game, called Research Institute, isn't marketed directly to girls — it simply features females with great professions.
As for the parents looking to scoop up Lands' End's new science designs for girls, not all were disappointed that the first batch were already gone.
"I'm glad these are sold out, actually!" customer Meghan Miller Craig wrote. "It means that a lot of other moms (want) the same thing as me, and we might actually start seeing more of it out there!"