The ladies of "The Hills" have officially traded in bottle service at Les Deux for baby bottles. Lauren Conrad, Whitney Port and Heidi Montag are all expecting their first child, Audrina Patridge welcomed a daughter last year, and of course, Kristin Cavallari is a mom of three.
So, it's only natural that some of the newer moms have sought Cavallari's expertise.
"When Audrina was pregnant, she reached out a lot and asked me some questions, like what pregnancy jeans I liked, and that kind of stuff," Cavallari told TODAY. "I've talked to her since she's had the baby and she sounds like she's just loving life. For Heidi, I put together a little list of different products and toys that I've loved and sent that over to her."
But Cavallari says she offers the same advice to her former co-stars that she'd give to anyone else. "I have three kids and what I've learned is, each baby is so different," she said. "And every family, every person is different. So I say, be open-minded, but at the end of the day you really have to do what you think is best, and really trust your gut feelings."
Conrad and Montag have both revealed they're having sons, and Cavallari has plenty of experience with boys as the mother of two.
"My boys are so close in age, so one minute they're best friends and one minute they're hitting each other, punching each other," she said of Camden Jack, 4, and Jaxon Wyatt, 3. "They get very violent with each other and everyone says 'Well, that's just boys,' which is true. But I think just right now, that's the hardest part. As they get older, I know I would like to raise my boys to be gentlemen and be very respectful of women and have good manners and just be good, quality guys. And the best part is, they're so sweet, they're incredibly loving, and they love to cuddle and they love their mommy. And that's the best feeling in the entire world."
As for daughters, Cavallari says, "There's a different bond. They're definitely very dramatic from early on."
"She's a diva, but she's a ton of fun," she said of 1-year-old daughter Saylor. "People always say 'Oh, aren't girls the best? They just sit in the corner and play with their dolls.' I'm like, "not my girl!" She may as well be another boy, because she's the third so she wants to do whatever the boys are doing. She's pretty tough. She's getting down and dirty and isn't afraid to roughhouse."
Cavallari, 30, and her husband, former Chicago Bears quarterback Jay Cutler, 34, recently relocated the family from Chicago to Nashville, and are raising their kids far from the bright lights of Los Angeles.
"The transition has been fairly easy because we actually had a house here for six years and we could spend the offseason here," she said. "The boys are familiar with the house and we know we have our little circle here and everything. I do think that in Chicago it's hard for Jay to go anywhere. And here, he kind of blends in a little bit more and it's more about the country music scene, so it is kind of nice that he has a little more freedom."
Cavallari is also protective of her family when it comes to social media.
"Jay and I are so confident in what we're doing as parents," she said. "We're happy, our children are healthy and happy. At the end of the day, that's all that matters. Someone who doesn't know us who's judging over the phone and internet, it doesn't affect me in my everyday life, so I just kind of ignore it. I really try not to read my comments on social media, but I'd find that here or there I would look, so I recently just turned off my comments altogether and it's been the best decision I've ever made."
Cavallari has been focusing on her new jewelry line, Uncommon James, which launched in April, but says play dates with the other "Hills" moms could happen in the future.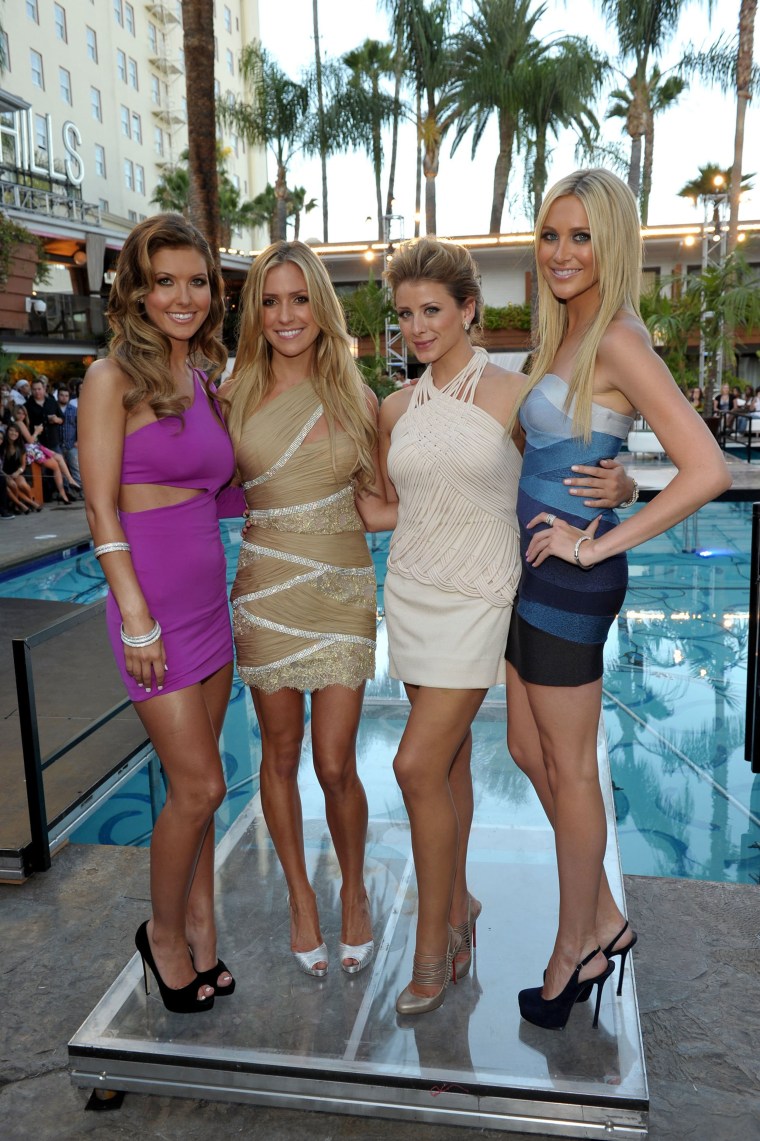 "I would love to; I would be open to it," she said. "Audrina and I talked about getting the kids together. It's just so hard because we're in Nashville and everyone's out there. But I did tell Audrina that both my boys will be in school in the fall, so when I bring Saylor out, I would love to make that happen."
While most "Hills" fans would undoubtedly watch a reboot featuring the stars' kids, she doesn't have any plans to put Camden, Jax and Saylor on TV.
"When they're 18, I can't stop them," she said. "If that's what they want to do, then fine. But I would say no until they are 18 and graduate high school. I just want them to be kids for as long as possible. It's hard enough being in middle school and high school and dealing with those pressures, but I would like to keep them as normal as possible for as long as I can."
When asked whether reality TV prepared her for parenthood — is being followed by cameras anything like being followed by toddlers? — the "Laguna Beach" alum laughed.
"I would say yes, if the experience I had was a camera in my face 24/7, but we filmed 'Laguna Beach' and 'The Hills' three days a week and it really was not bad at all. So, I'd say being a parent is much more demanding."